I headed into the third day of the draft without many expectations about what the Cubs would do. I thought they might add some left handed pitchers, some senior college bats from some small schools, and I did not think they would take many high school players to sign.
The Cubs wound up selecting a lot of pitchers again today, and a few lefties. In the 20s, they selected two players I really like. One is Delvin Zinn, whom they drafted last year, and the other is 1B Rey Rivera, a big 6'6″ 215 lb. behemoth who already has power from Chipola JC.
As for the pitchers selected, most of them have bullpen written all over them. There were a few who have a chance to starts.
The Cubs spent most of the 30s selecting high school players who committed to major programs and likely will not sign. There were a couple of college players sprinkled in the 30s who might sign.
I am going to take a couple of days to process this draft and I will be back on Monday with my draft report card.
Round 11:  Brandon Rucker – BYU – RHP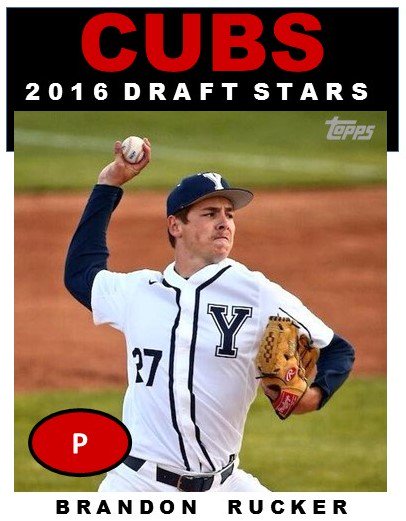 He pitched 102.1 IP in 2016. He struck out 94 and only walked 31. He had an ERA of 2.73 and opponents only hit .215 off him. His FB is between 90-93 mph fastball, and sometimes touches 96. He also throws curveball, and a slider, all below average. He's competitive on the mound but likely a reliever.
Round 12: Trey Cobb – Oklahoma State – RHP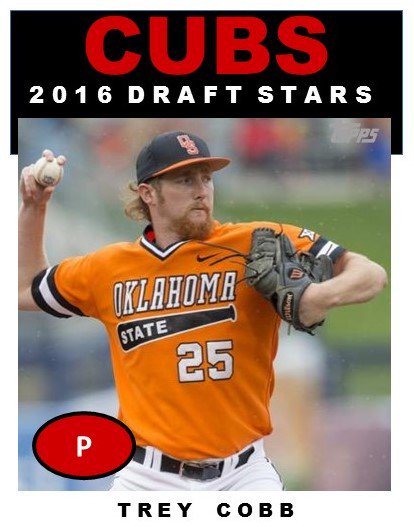 At 6'1″ and 180, Cobb will be a reliever, but he has starter stuff. This year he appeared in 58.2 innings with a 2.61 ERA. He struck out 53 and walked only 19. His FB is more of a sinker and he has a plus slider with a changeup that needs a lot of work.
Round 13 – Wyatt Short – Ole Miss – LHP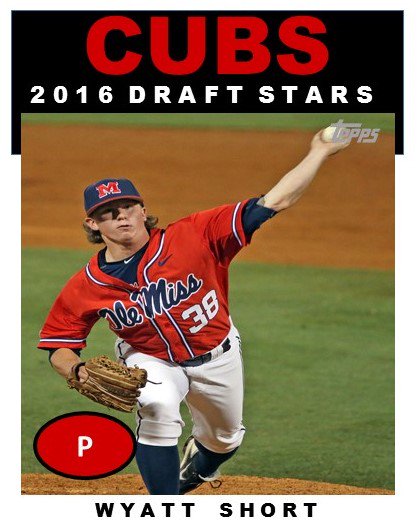 Short is a reliever at 5'8″ and 175 who has been the team's closer the past two years. I like this pick a lot because the Cubs system is a quite devoid of lefty relievers.
Round 14: Parker Dunshee – Wake Forest – RHP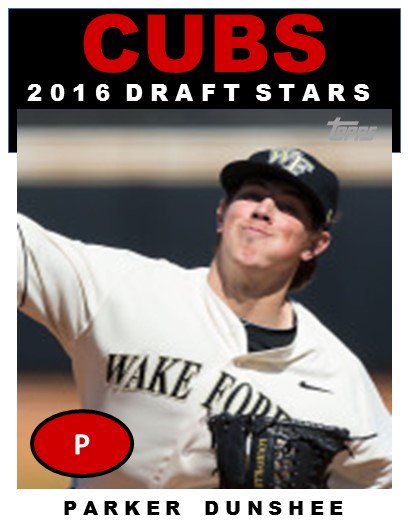 The 6'2 and 210 righty started 15 games and threw 101.1 innings and struck out 102 with an ERA of 3.20. He is known for his competitiveness on the mound. I think he sticks as a starter.
Round 15: Jed Carter – Auburn University at Montgomery – RHP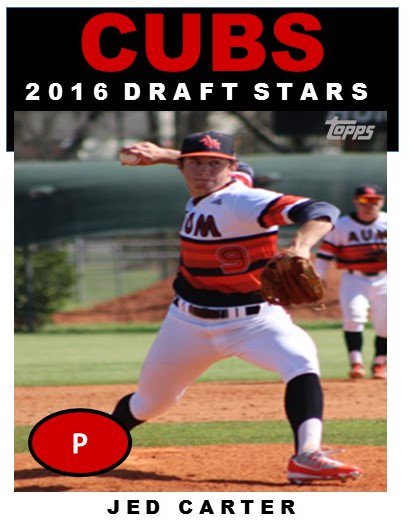 He made 29 appearances as a reliever with a shiny ERA of 1.85. He struck out 53 in 34 innings. He had 16 saves this year. He comes in 5'11 and 180 pounds.
Round 16: Holden Cammack – Oral Roberts – RHP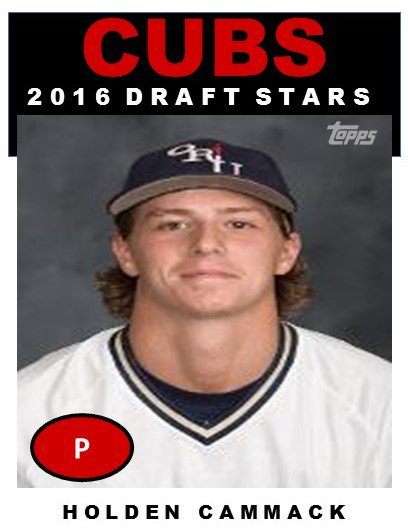 A former catcher, he transferred from Coastal Carolina and pitched 31 innings this year. He had 2.32 ERA in 20 games with 40 Ks. He has reliever written all over him with his 6'1″ and 190 pound frame. He doesn't have any mileage on his arm either. This was his first year pitching.
Round 17: Zach Short – Sacred Heart – SS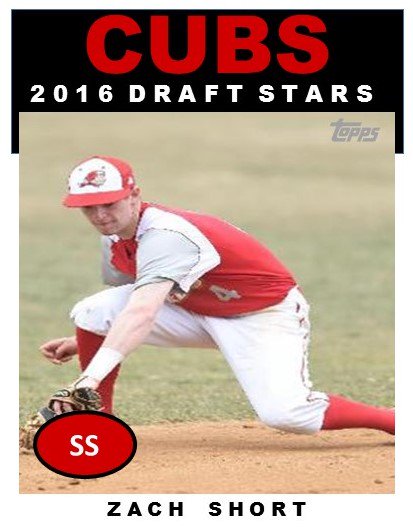 A bit undersized at 5'11 and 175, he only hit .241 as a senior. There is some developing power. When he was a freshman, he was 5'9″ and 155 pounds. So, there's some projection left. Well thought of in scouting circles.
Round 18: Marc Huberman – USC – LHP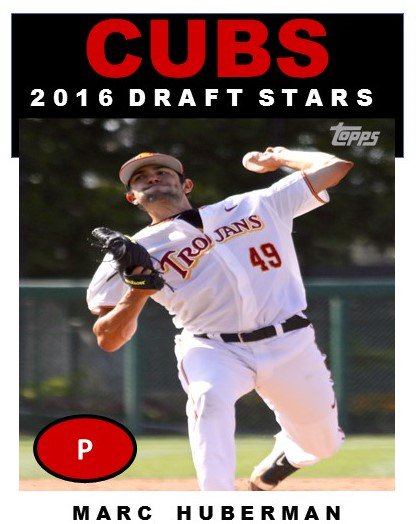 Huberman had the lowest ERA on the Trojan staff this year at 1.92. He appeared in 26 games and had 3 saves. He struck out 45 in 42 innings but did walk 32, too.
Round 19: Matt Swarmer – Kutztown University – RHP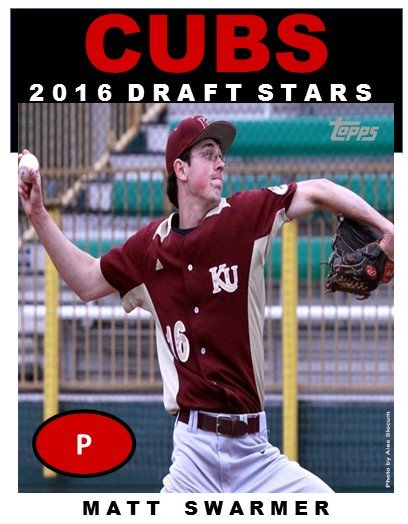 AT 6'4″ and 175, there's a lot of projection left. He throws his FB in the upper 80s and will have to develop his secondaries like every other pitcher.
Round 20: Colton Freeman – Alabama – LHP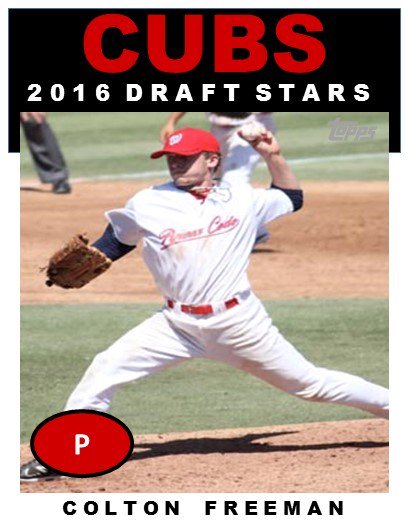 The 6'1 lefty only saw action in 7 games this year, all as a reliever. I got some feelers out there about him, including Mick Gillespie.
Round 21: Sam Tidaback – North Georgia – Catcher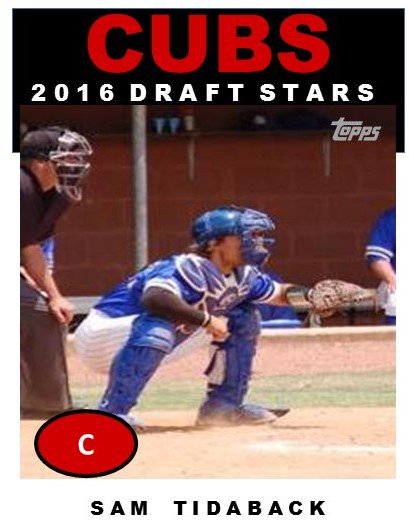 Originally went to Ball State and then transferred to North Georgia. He hit .321 with 9 HRs and 17 RBIs in his senior season.
Round 22: Dante Biasi – Hazelton, Penssylvania – LHP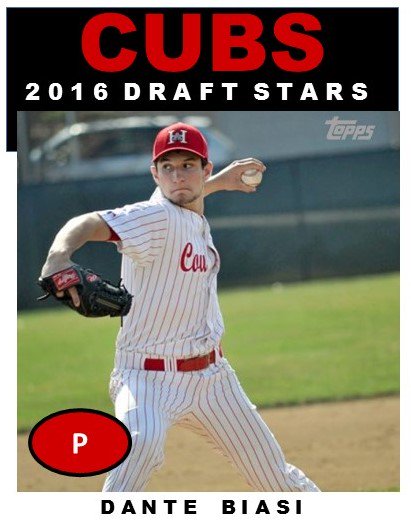 From Manager Joe Maddon's hometown, the 6'0″ lefty had  TJS in March. He could sign as it would be better to rehab with the Cubs than Penn State.
Round 23: Delvin Zinn – Itawamba JC – SS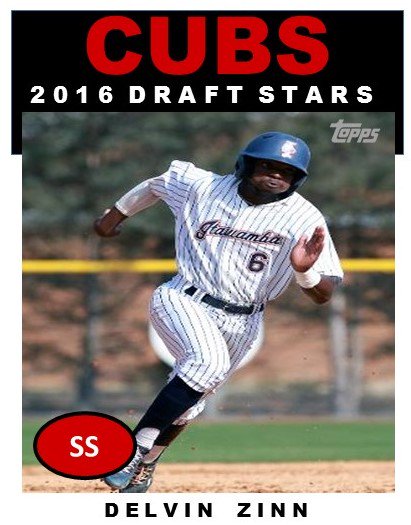 Cubs got the best pick of their draft here. He is a redraft from 2015. He went to Mississippi State and transferred to Itawamaba at the semester where he hit over .400. He has great speed, a good hit tool, and I wouldn't be surprised to see him possibly shift position or at least play a second position – he's that good of an athlete!
Round 24: Rey Rivera – Chipola JC – 1B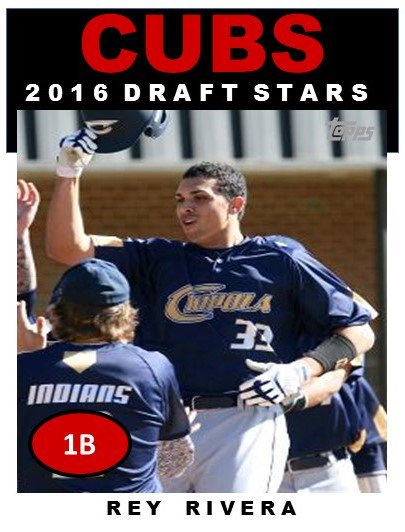 Just 19, the 6'6″ 215 pound left handed hitting first baseman brings some power that is not a potential, he already has it. I love this pick! Don"t know if the Cubs can sign him. Would love it if they do.
Round 25: Trent Giambrone – Delta State – 2B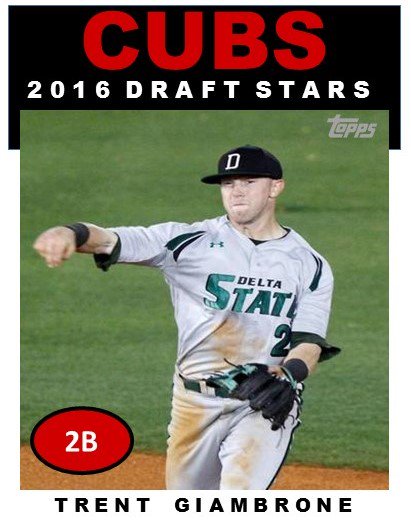 He's got some pop in his 5'11" frame. He hit 9 HRs and drove in 52 in 59 games. He hit .386. He struck out only 26 times and walked 18. Defensive wizard.
Round 26: Austin Jones – Wisconsin Whitewater – RHP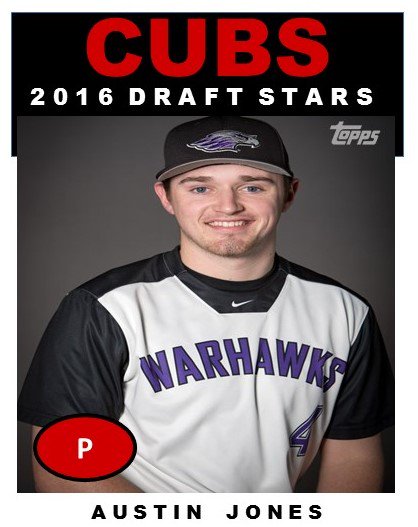 He was a two way player. He missed all of 2015 and made only 10 appearances this year. In 2014, he threw 39.2 innings and Kd 25 with a 2.25 ERA as a freshman. He is 6'2″.
Round 27: Connor Myers – Old Dominion – OF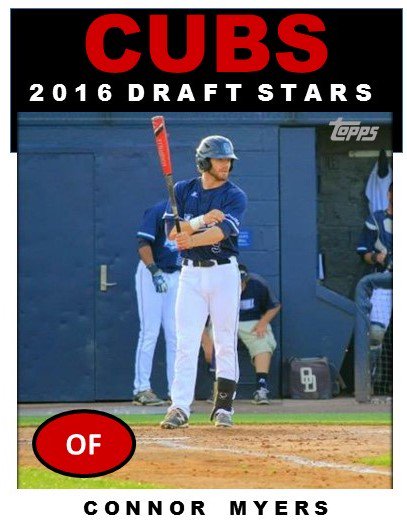 A 5'11 and 180 pound speedster has a good hit tool with his .310 average. He was a teammate of PJ Higgins. He bats right and throws right and is known as an outstanding defender.
Round 28: Rian Bassett – Clark CC – RHP
Another big one at 6'5″ and I am not finding much on him yet. I did find some basketball video on him, though, and a couple of bullpen sessions.
Round 29: Tyler Peyton – Iowa – RHP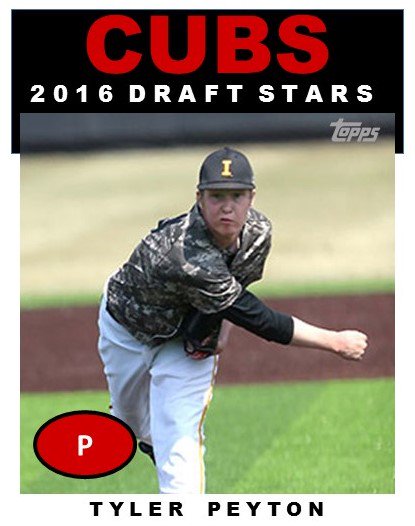 He has a nice frame at 6'3″ and 200 pounds. He played both ways and was recently arrested in June in Iowa for OWI (operating while intoxicated). He was 4-5 with a 4.24 ERA in 2016.
Round 30: Montana Parsons – San Jacinto JC – RHP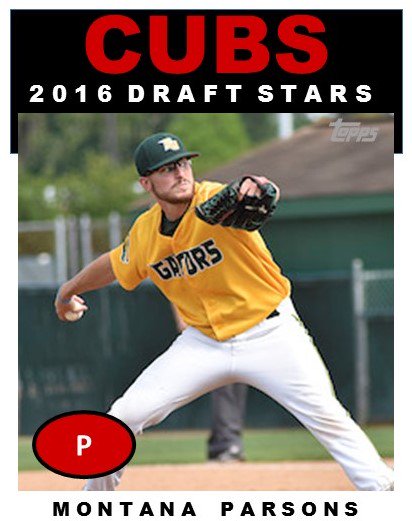 In 2016, he had a 2.38 ERA in 13 starts. He struck out 74 in 64.1 IP. Nice projectable frame at 6'3″ and 180 pounds. I think he signable.
Round 31: Brenden Heiss – Jacobs High School – RHP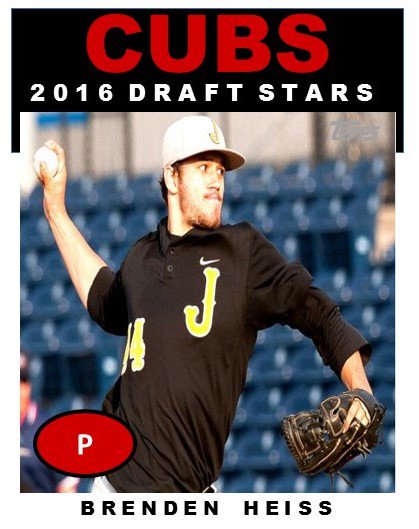 He's a big arm with a FB in the mid 90s. He throws 3 other pitches including a plus breaking ball. He will be hard to break from his commitment to Arkansas.
Round 32: Zach Davis – Texas Tech – OF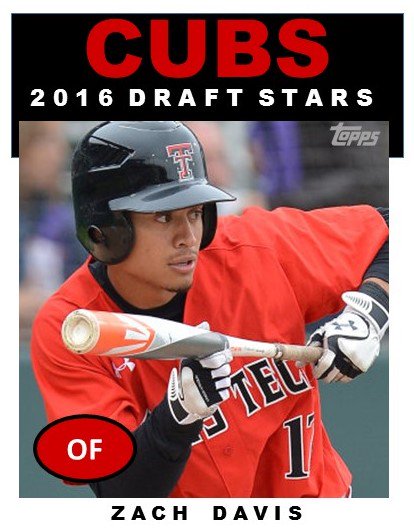 He's a little undersized at 5'8″ and 160. Only hit .256 this year. As a sophomore, he hit .357 with a .441 OBP. However, that was two years ago. Hoepfully, he can get some instruction to get back to that level.
Round 33: Nathan Sweeney – Cherry Creek High School – RHP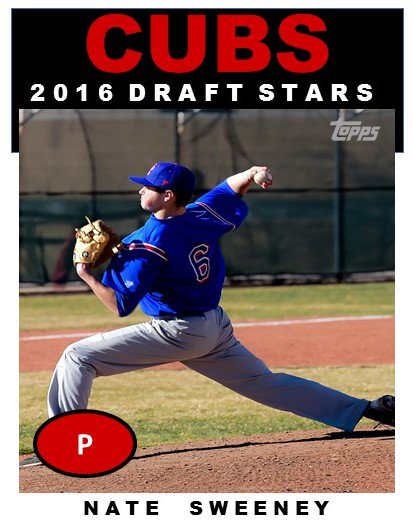 The 6'2″ righty throws in the low 90s. Likely, he will be a hard sign. He has committed to Arizona.
Round 34: Davis Daniel – The St. James School – RHP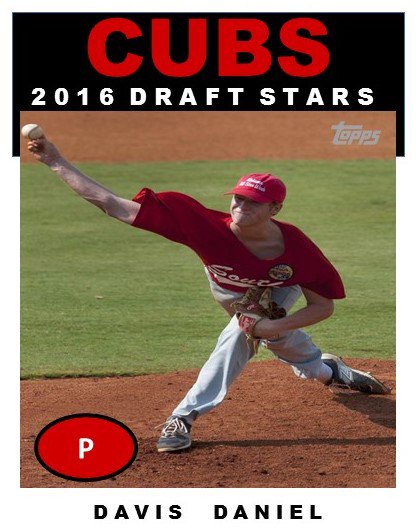 Another RHP who will be hard to break from his commitment. Davis signed his letter of intent with Auburn.
Round 35: Ryan Kreidler – Davis Senior HS- 3B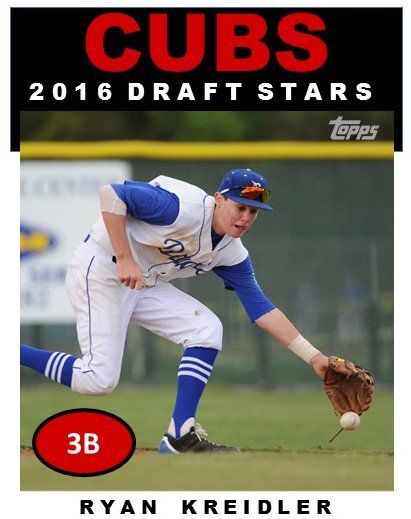 He's committed to UCLA. Another fluid player, played mostly SS in high school. He's a big rangy kid at 6'2″ and 175.
Round 36: Jake Slaughter – Ouachita Christian School – SS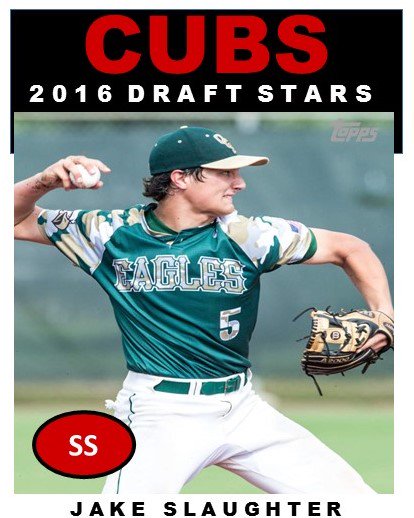 Another hard sign. He's committed to LSU. 6'3″200 lb. That's a good sized shortstop.
Round 37: Davis Moore – Los Osos HS – RHP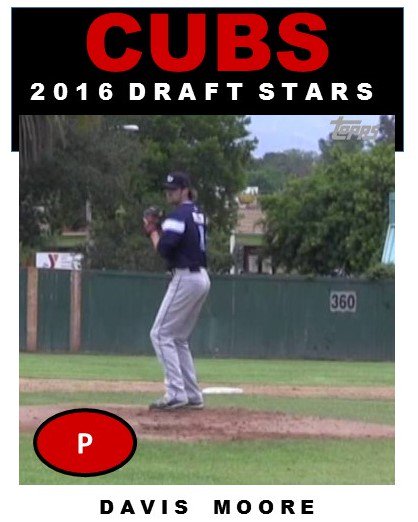 The 6'4″ righty has committed to Fresno State.
Round 38: Tolly Filotei – Faulkner State CC – OF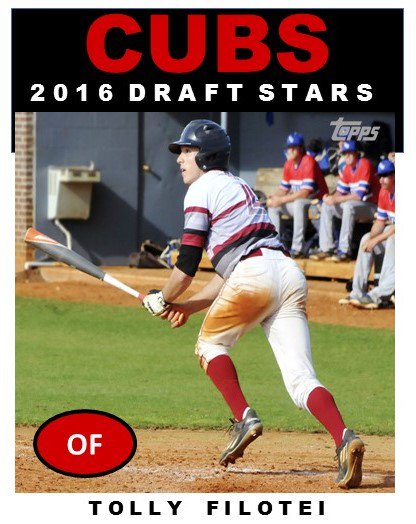 At 5'7″ and 160 lbs, he bats left and throws right. He was drafted by the Rockies in the 37th round in 2014. He is known for his speed. I think he could be snagged.
Round 39: AJ Block – Newport HS – LHP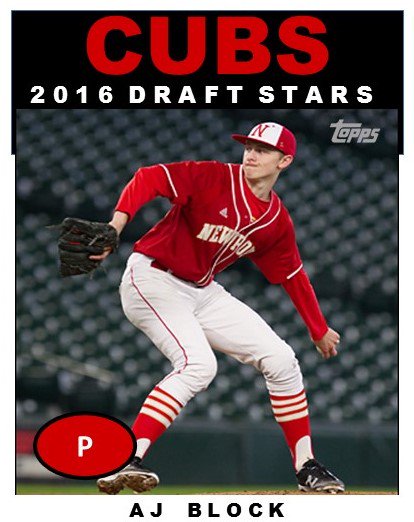 The big lefty is committed to the University of Washington.
Round 40: DJ Roberts – Atlantic Coast HS – RHP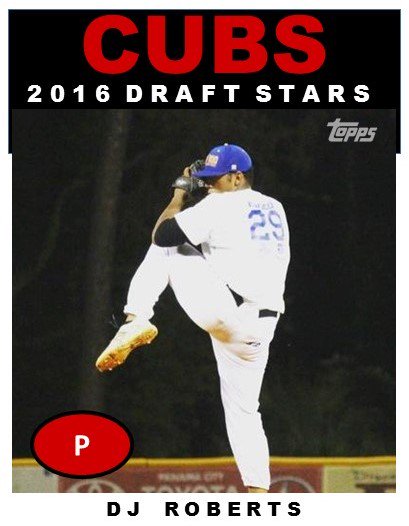 He has a solid frame at 6'2″ and near 220 lbs. He committed to the University of South Florida.