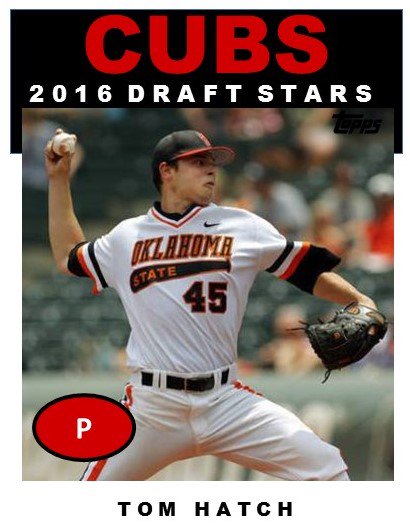 It was a very busy week in the minors and the Cubs system. The Dominican Summer League began play, the two "Cubs" teams in Iowa and South Bend duked it out for first place in their respective leagues, and the MLB draft took place. Cubs Central followed and blogged the action live on Friday and Saturday. Those players will be signing soon to begin play in Arizona and Eugene, who both start their seasons on Friday.
The biggest news for the week was the number of promotions that took place, mostly position players. Here's who went where:
Iowa – Corey Black, Jeimer Candelario, and Mark Zagunis
Tennessee – Keith Lockhart, Trey Martin, David Bote, and James Farris (who actually went 2 weeks ago)
Myrtle Beach – Daniel Spingola, Tyler Pearson, and Andrew Ely
South Bend – Robert Caro
Also, Shawon Dunston, Jr. was traded to the Giants for a player to be named later.
While the AA promotion is always the biggest adjustment to players, to me, the most exciting promotions are the ones to AAA as those players get one step closer to Chicago. So far, Zagunis and Candelario haven't missed a beat and Corey Black made his debut last night with a scoreless inning.
In addition, Aaron Brooks returned to Iowa from the DL and pitched last night. It did not go well. However, Jen-Ho Tseng returned to Tennessee and went 5 IP and only gave up 2 hits in an outstanding start.
Three Key Draft Names
When the draftees sign, the college pitchers will be on strict pitch counts because they've already pitched a full season. On the other hand, the position players will be let loose. Three names to watch for are Michael Cruz, Delvin Zinn, and Rey Rivera, if they can all besigned.
The First Half Is Almost at an End
Iowa: 29-30 / 2-4 this week
It was not a good week, but they are still just a half a game out of first.
Tennessee: 26-36 / 2-5 
The starting pitching is still good, everything else needs some work.
Myrtle Beach: 33-28 / 4-2 
This team will be making a run in the second half.
South Bend: 37-24 / 4-2 T
They are still one game up and in first with one week to go. They need to stabilize their starting rotation a bit.
Eugene/Arizona – They begin play June 17
With extended spring training over, here are some unofficial stats from the session. Look for 3B/OF Wladimir Galindo, SS Yeiler Peguero, 1B Chris Pieters, 3B Isaac Paredes, C Marcus Mastrobuoni, SP Dylan Cease, SP Pedro Silverio, and Bryan Hudson to make the biggest noises at Eugene and Arizona.
Dominican Republic 1: 2-5
Jonathan Perlaza has moved from SS to 3B and seems to be hitting fine. Jonathan Sierra took about 4 games to get warmed up before going 2-for-3 Friday and 1-for-2 yesterday.
Dominican Republic 2: 4-3
Aramis Ademan, the highly touted SS, got off to a slow start, too. Yesterday he went 2-for-4 and is now hitting .261 after a week of play.
Players of the Week


Hitter of the Week – Willson Contreras
Willson just continues to hit. He is in the midst of a 17 game hitting streak. This week, he went 8-for-14 or . 571.
Runner Up – Carlos Sepulveda – He hit .450 on the week bringing his average up to  .329 on the year.
Starting Pitcher of the Week – Trevor Clifton
Clifton continues to not just pitch well, but to dominate. His lone start this week saw him get 15 runs of support which I think is more than he had combined through July at South Bend last year (I exaggerate, but it was close). On Sunday, he went 6 IP, 6 Ks and no runs allowed. That seems to be his consistent stat line every time out.
Runner Up – Zach Hedges – 7.2 IP, 4 Ks, 1 R
Reliever of the Week – Scott Effross
He went 3 IP, got one win, got one save, and struck out 3.
Runner Up: Greyfer Eregua – He went 4 IP and did not give up a run. This is more like he was in April than in May, when he was roughed up at times.
Team of the Week – Myrtle Beach – A 15-0 thumping of Potomac set the tone for the week. They went 4-2 and seem ready to make a run when the second half begins. Good job of managing by Buddy Bailey.
Here's What's Coming Up Next Week at Cubs Central
Monday – 10 Things I Think: The Draft Edition
Tuesday –  An Updated Top 21 List
Wednesday – Second Half Breakout Predictions in Two Parts
Thursday –  Eugene Preview
Friday – Arizona Cubs Preview
Saturday – 1st Half Breakouts Review