The second half of the minor league season is quite different. It is played in the heat of the summer. Four new teams begin play (Eugene, Arizona, and two Dominican League Teams) and the number of players in the Cubs' system doubles. I love the second half as I get a glimpse of players who could be at full season South Bend for next year and some prospects the Cubs signed in international free agency or just got in the draft. It's also fun to see how prospects develop over the course of a year.
I think it's exciting to watch a prospect begin to fulfill their potential by putting up some gaudy numbers in a short timeframe. That might be one of the most interesting thing about talent evaluation in the minors is that it is done in short time frames. Sure, players are judged on their yearly stats, but I think their development is judged more on short stretches of adjustments throughout the course of the year.
Here are the hitters who I think will break out in the second half of the 2016 baseball season:
1. Wladimir Galindo – This dude can rake and all he has to do is just stay healthy. He's only 19 years old but he has gap to gap power. He hit two homers in one game already for Eugene.
2. Yeiler Peguero – The young 18 year-old shortstop hit .325 in extended spring training with 11 RBIs and five stolen bases. He is in Eugene and it looks like he will play second base most of the time.
3. Isaac Paredes – He's only 17, but this international free-agent from Mexico has a pop in his bed and can drive in some runs. The only question is will he hit for average.
4. Eddy Julio Martinez – Since April, he's has completely changed his approach at the plate. He's hitting 300 for the month of June and getting more and more walks.
5. Michael Cruz – I think this left-handed hitting catcher out of Bethune Cookman will do just fine this year. I would like to see some of the power develop quickly this year, first at Arizona, then at Eugene.
6. Andruw Monasterio – He's young, he's athletic, he's only 19, and he showed a nice uptick in Arizona last August hitting .291 for the month. I like that he's a switch hitter, and after Gleyber, he is likely the next best shortstop in the minors that the Cubs have. He is Mr. High Energy and a lot of fun to watch on both sides of the plate.
Pitchers Who I Think Can Break Out
While I only listed six pitchers who I think might break out, there could actually be a lot more. Within the next month several of the pitchers the Cubs selected in the draft will move into the system. I think it'll be fun to see how the Cubs disperse the large volume of arms.
In the meantime here are six arms I see putting together great second halves.
1. Dylan Cease – I don't know if he's really going to break out, but I think he's going to pitch a lot longer in games that he has in the past. For him five innings is going to seem awfully long after two years of three innings with 30 to 50 pitches. Now we are taking 70 pitches.
2. Bryan Hudson – He still has some work to do to on a change up, but I think the Cubs are gonna be very happy with his curveball. Then again like Cease, he's not sneaking up on anybody
3. Pedro Silverio – To me, he's going to be the breakout pitcher of the summer. He's pretty experienced after two years in the Dominican.
4. Ryan McNeil – He is now the closer for Myrtle Beach. At 22, I think he is ready to step on the gas this summer. He been in the low to mid 90s all summer, he might get back to the mid 90s three years removed from TJS. If not, he's still good to enough to dominate.
5. Enrique de los Rios – In terms of stuff, de los Rios may be the most improved pitcher in the system and extended spring training. He was pitching in the middle to upper 90s most days. Whether he can control that is another story
6. Jose Paulino – Last year the big lefty was a reliever at Eugene. This year he gets to be a starter at Eugene and I think he's going to do extremely well.
Drafted Starting Pitchers
Most of the pitchers the Cubs drafted last week will be on pitch and inning limits because they've already pitched a full season in the spring. I think we'll get snippets of what they can do, but I don't think we'll see the full effect until next year.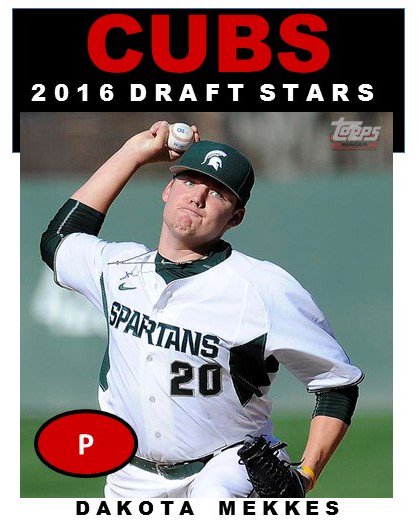 Drafted Relievers
Depending on who signs, and that probably is an issue, we are going to see really quick the quality of players the Cubs selected. The four relievers that standout the most to me are Trey Cobb, Chad Hockin, Dakota Mekkes, and Wyatt Short. All were closers for major programs in college and that usually transfers well in the minors. Hopefully, they are not gassed from the season.