Soon after the draft was completed, I predicted that the Cubs would be doing well to sign 15 to 20 of their draft picks. The thought behind my reasoning was that the Cubs only had $2.2 million for their bonus pool. With Just 10 days to go until the July 15 signing deadline, it looks as though the Cubs are going to sign close to 25 of their 38 picks. I find this to be amazing considering the lack of money the Cubs were assigned by MLB. Those 25 signed players breakdown into 16-18 pitchers and 7 position players.
Who Has Signed?
While 3rd round pick Tom Hatch awaits a pending physical, most of the Cubs' top 21 picks already signed. There is some uncertainty about 22nd round pick Dante Biasi, a high school pitcher from Hazleton, Pennsylvania, who has yet to make a decision whether he's going to sign with the Cubs or go to Penn State. He is right in the middle of rehab from TJS. It also looks that most of the players in the 20s will be going to college. Only Trent Giambrone, Connor Myers, and Tyler Peyton from the 20s signed.
Draft picks in the 30s turned out to be a little surprising. 32nd round pick Zachary Davis out of Texas Tech signed along with 38th round pick Tolly Filotei. Surprisingly, 33rd round pick Nathan Sweeney out of Cherry Creek, Colorado appears to be close to signing. It's very refreshing to me that the Cubs have a chance to sign two high school picks from the back half of the draft class.
Then, late Tuesday afternoon I saw this tweet and about had a heart attack:
Per @LetsGoICC, @Cubs 23rd round pick @delvinzinn3 is expected to join AZL next week w/ "possibility of a quick move up to @EugeneEmeralds."

— Wes Saver (@Savermetrics) July 5, 2016
To be quite honest, I didn't think the Cubs had a snowball's chance in hell to sign him. He is an amazing athlete and displayed that at SS this year while hitting over .400. This is the second year in a row the Cubs drafted Zinn. He was supposed to attend Mississippi State last year and transferred in the fall to Itawamba Community College making him eligible to be drafted again, with Zinn's consent. I think his signing is a steal (no pun intended)!
Did Not Sign
I think the  announcement that Trey Cobb was going back to Oklahoma State was a little surprising, considering he's been a lifelong Cub fan. I think Parker Dunshee's announcement to return to Wake Forest was as expected. Most of the picks that were in the 20s and 30s were either junior college or high school players. The Cubs took a chance on taking them in case one of their top 10-12 did not sign.
Getting Started
I don't expect to see pitchers play for a couple more weeks as they get their arms warmed back up after being off a while. When the college arms do get going, they will only be pitching 1-2 innings. Some maybe starters, like Preston Morrison did last summer, but a reliever or other starter would piggyback with them in the third inning. I look forward to watching Hatch and Tyson Miller get after hitters. I think most of the arms the Cubs selected project as relievers. I think 4-5 of these guys could wind up as starters though.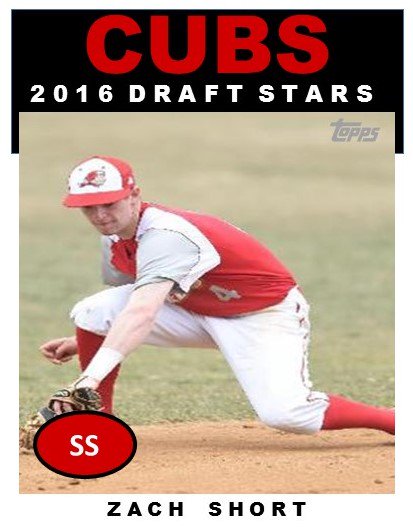 As of last night, only five players have played at either Arizona or Eugene.
Michael Cruz – C – Arizona – Despite how might profile better at first base, Cruz has been focusing on playing behind the plate.
Trent Giambrone – 2B – Eugene – He was a welcome relief as the Ems did not have a backup or third infielder. In four games, he's hit 1 HR and driven in two.
Sam Tidaback – C – Arizona – He's only gotten in one game so far. He went 0 for 3.
Connor Myers – OF – Arizona – He made his debut Sunday and went 0 for 4 and then went 1 for 3 Monday afternoon.
Zach Short – SS/2B/3B – Arizona – He is doing the best at .333 in 6 games. He could find his way to Eugene soon.
*All stats are prior to Tuesday night's games.
I think next year will be the year we see what this class really can do. With a heavy amount of pitchers drafted, things may not sort themselves out till next May or June. I would expect a few starting pitchers will be at Eugene next year and you would find the rest at South Bend in relief roles. As for Hatch, I think he might be advanced enough to start next year at high-class A. Time will tell.
With the abundance of relievers selected this year, I think some could make an immediate impact just like Dave Berg did last year at Myrtle Beach. Dakota Mekkes and Chad Hockin are the most likely, and they could even go as high as South Bend. My pick to breakout out of this class is Holden Cammack out of Oral Roberts. A former catcher, he just started pitching this year. We may see him bring his incredible arm strength to the mound this summer. Word is is mid 90s heat.
I am excited to see what this class can do in the next couple of months. There's a lot of variety here. I think the Cubs do well in picking different types of players.