This has been quite the week for Cubs pitching prospects. Two pitchers in the Dominican each struck out ten batters. Hector Garcia did it Monday. Alfredo Colorado, Tuesday. On Wednesday, Trevor Clifton took a no-hitter into the 8th inning. On Thursday, Preston Morrison did the same into the 6th. Also, Zach Hedges pitched 7 shutout innings in his second start at AA. The Cubs' top pitching prospects are not who they used to be.
Injuries, at different times this year, have struck Dwayne Underwood, Dylan Cease, and Oscar de la Cruz. All have missed substantial parts of the season. While Underwood is completely out for the year, Dylan Cease has returned, somewhat. A forearm strain caused Cease to miss two turns. When Cease did come back, he only pitched 1/3 of an inning after walking four and striking out one. Cease returns to start tonight, but he will be on an extremely limited pitch count. Oscar, though, will get 80 pitches tonight. What Oscar does with that pitch count should be exciting. I, for one, cannot wait!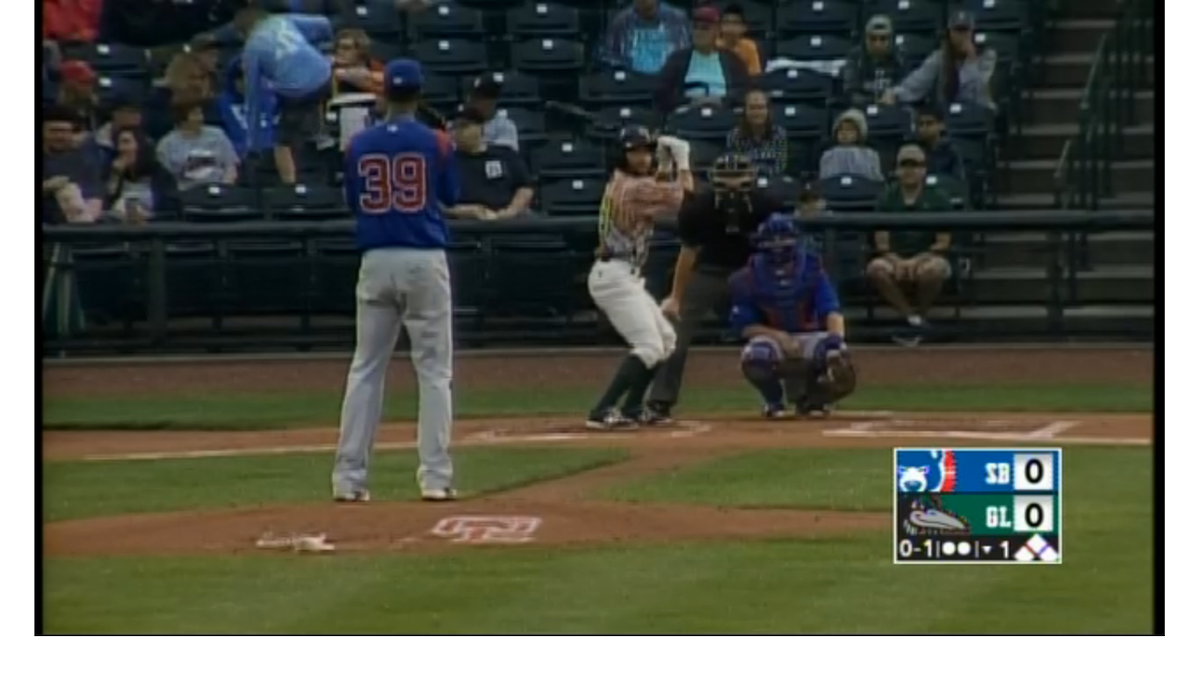 To find out what how Oscar is doing, let's go back to 3 weeks ago. Prior to de la Cruz's return from the DL, John Manuel of Baseball America said this about the prospect:
The breakout pitching prospect of the Cubs' 2015 season, de la Cruz has not been able to follow up yet thanks to forearm soreness. The Cubs have been cautious with the physical Dominican righty but he has been throwing bullpens since June, building up for a late-July return to short-season Eugene. He's hit 96 mph with his fastball there; now he has to stay healthy for the finish. He has more upside than any other Cubs pitching prospect.
Fast forward to tonight, Oscar de la Cruz will be making his second start for South Bend. His first start for the low a class A affiliate went very well. He was on a pitch count but he managed to muster 4.2 innings with seven Ks and did not allow a run. It was the second consecutive start I saw from Oscar and he looked quite good.
With his size, Oscar is an intimidating presence on the mound. The first thing you will notice about him is that he works quickly. There is not a lot of wasted time between pitches. There's not a lot of arguing between him and the catcher. He just rocks back in a nice, smooth delivery and runs it up there between 93-96 miles an hour. I think his curveball has also developed a lot from last year. It has a nice 1 to 7 break on it and hitters do not get a good look at it. It comes to the plate between 78-82. Oscar does move the ball up and down in the zone well but doesn't really go in and out as much as I would like to see. He also throws a change that comes in about 86.
The hardest thing to describe about Oscar is how heavy a fastball he throws. His fastball gets a lot of groundballs that are pounded into the dirt because of the angle at which he throws it. At 6'5"-6'6", Oscar throws from an overhand angle on a "steep downhill plane" that creates a lot of ground ball action as hitters just cannot square up the ball unless he leaves it up in the zone, which he has been known to do at times.
I think his next month at South Bend should be pretty telling. When he came off the DL in the middle of July, he threw three innings in the Arizona Rookie League, made 2 short starts in Eugene, and has made one start for South Bend at Great Lakes. He gives the South Bend Cubs something they didn't have before, someone with an intimidating power arm.
Over the next month, I'd like to see him work deeper into games and keep his pitch count low. I'm not too concerned about strikeouts right now. I'm more concerned about him being able to work both sides of the plate and up-and-down throughout the zone. I'd also like to see him throw his changeup some more. Come the playoffs, he's going to give West Michigan all that they can handle. At the rate he's going, he could turn out to be the ace of South Bend by September 12.