The big league club clinched home field advantage Friday night for the National League Playoffs! The Cubs won their day game against the Cardinals, and then later that night, Pittsburgh defeated Washington. As a result of the Cubs owning the tiebreaker, the Cubs clinched a day early. Now, 100 wins would be nice to conclude the regular season.
It also appears that with a week to go, Chris Coghlan has moved ahead of Tommy La Stella for one of the final playoff roster spots. Albert Almora should make it as well, although the race between Almora and Matt Szczur is a lot closer.
---
In a small ceremony held before the Cubs game on Friday, Trevor Clifton and Eloy Jimenez were presented with their awards as Minor League Pitcher and Player of the Year. The awards were announced the week before and congratulations are still in order.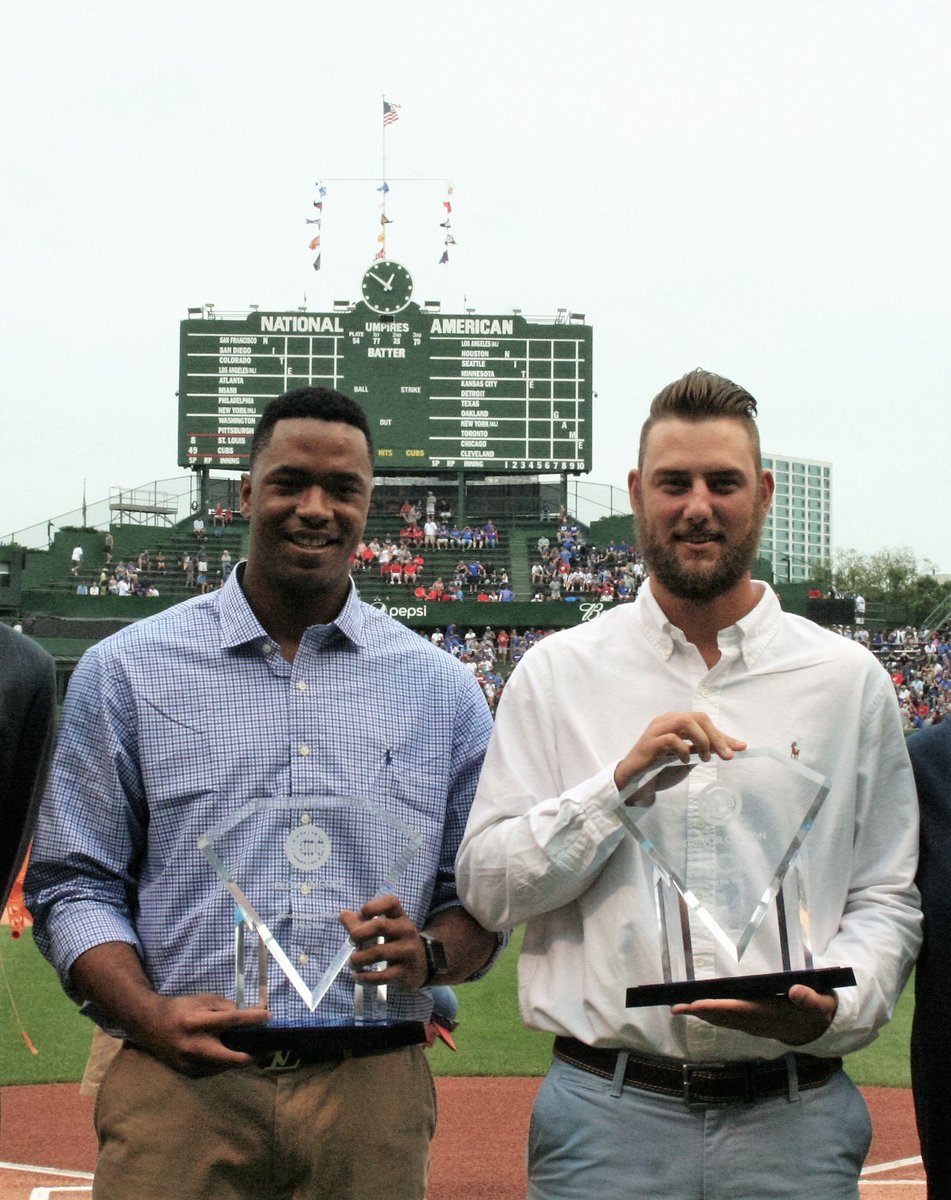 ---
In fall instructs, Tom Hatch made his pro debut pitching BP and impressed Cubs Den's John Arguello. The Cubs 3rd round pick from 2016 did not pitch in the Cubs system this summer after throwing 130 IP in college ball this spring.
---
When it comes to the Cubs Convention, I haven't decided if I am going. Unfortunately for me, it begins on a school improvement day. I don't know if I will be able to get out of that commitment. I really enjoy going to the Saturday and Sunday sessions the following days.
---
I have a new Top 21 List up.

There are several changes throughout the list. It keeps getting younger and younger. And those younger players keep moving higher and higher. After graduating a lot of high profile bats, the list now has a majority of pitchers for the first time ever. Moving up the list quickly in the past two months are Zach Hedges and Trevor Clifton. Dylan Cease is still entrenched in the top 3. I almost put him at #2.
And like previous lists, this one, too, will only be temporary. I could change it after fall instructs, but I would rather wait until early January. The main reason is I think the Cubs are going to move some top prospects to acquire a young, cost-controlled starting pitcher.
Come 2017, I think a lot of the International Free Agent Class of 2015-2016 will be knocking on the doors of the US to get in and play some rookie ball in Mesa, and/or short season ball in Eugene. There's a lot of talent in that group led by Jonathan Sierra, Aramis Ademan, and Yonathan Perlaza.
---
Upcoming Posts
Cards of the Year
The Pitching Urgency
A Year Without Schwarber
Top Cub Moments of 2016
---
*Thomas Hatch card made from a photo by John Arguello