By Todd Johnson

Ian Happ (jaw on floor).

— Len Kasper (@LenKasper) March 13, 2017
It's not uncommon for a Cubs prospect to come up to spring training and do well. Last year was Jeimer Candelario. This year it is Ian Happ. Happ has been crushing the ball to the tune  of a batting average over .400 with some serious power and the ability to play second base and the outfield.
Happ is currently is one of the 40 players still on the Cubs spring training roster. If he were to make the club, a 40 man roster spot would have to be made available. I don't see that happening. At all. And like Candelario from last year, Happ will eventually be set back down to the minor leagues. His season will most likely begin in AA Tennessee where he has some unfinished business.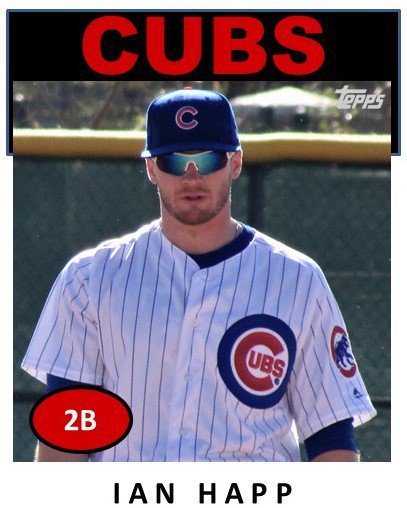 On the other hand, I think Ian Happ could return to Chicago to make another roster, the one for October.
A month ago, no one would've asked the question about whether Ian Happ could break camp with the big league club. While Happ is an incredible talent, he's also is streaky one.
After an amazing June and early July last summer, he was promoted from Myrtle Beach to Tennessee. In that span between the two clubs, he hit over .600 with an OPS well over 1.000.
While Happ has only been a professional for year and a half, he does have many attributes the Cubs are looking for, especially for October. One is he is a switch hitter who can play all three outfield spots and second base. He's an exceptional athlete who is probably going to hit better the higher he progresses through the system. The reason I say that is that the pitchers will be around the plate more. It's hard to hit well A ball when some pitchers are just randomly wild.
I have been critical of Happ's streakiness at times and I think it was warranted. I do think he needs to be a more consistent player and I think this is the year that will happen. Being a professional is not easy. Considering Happ's first year, he had to deal with the death of his father. Last year saw him taking on his first year of full season baseball. That's an adjustment for anyone. Now that he's got that under his belt, I think he will be physically and mentally stronger for it.
Why I like him so much is I think he can hit for average and for power and get on base at a high clip. At every level he has shown a propensity to take his walks despite a fluctuating batting average. His power, like any power hitter will come and go. I think the ability to see balls and strikes is something that never changes.
While I don't think he's ready for the grind of a major league season just yet, nor would he see the playing time he probably needed, I do like him for October much more than La Stella and/or Szczur. There's just something about the way he hits the ball and hits it hard. Watching his hands go through the zone is perfection. It is the sweetest part of his swing.
While his name has been bandied about in trade talk for the past six months, I don't think the Cubs are quite ready to send him off after the spring he's had. In fact, I think they would rather see him in Chicago, especially in October.