Let the Games Begin!
It is going be 70 degrees today in northern Illinois! So, with five games happening this afternoon, it will be great to feel the breeze come in my office as I watch one game on the TV and four on MiLB.TV.
Last night was a good night to watch three games the same time. I had the Cubs and Milwaukee on the TV, South Bend on the computer, and Tennessee on my phone. I got to see great pitching performances by Dylan Cease and Trevor Clifton, a resurgent offense as Kris Bryant got his first hits of the year, and later, Jeimer Candelario and Ian Happ both hit home runs for the second night in a row.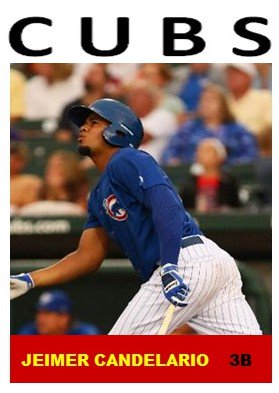 Here are a few things I have liked just after three games:
1. Iowa is going to win a lot of games. They have a potent offense from 1 to 9 and a talented bullpen.
2. Tennessee has a mixture of excellent defense, starting pitching, and a couple of guys who I think can really play and David Bote and Trey Martin.
3. Jen-Ho Tseng was fairly decent in his debut on Friday night. He looked more like The pitcher at Kane County than he did like the pitcher of the last two years.
3. South Bend is an extremely young team. They only have a couple of position players with college experience. Their bats could take a while to warm up.
4. Oscar de la Cruz will be the pitcher I look forward to seeing most today. In fact, just the first three days showed how good pitching now is in the Cubs' system.
5. Pitchers Tyson Miller and Duncan Robinson both looked very good for South Bend as they only gave up one earned run between them.
---
Around the System
Iowa: 3-0; This team is going to win a lot of games. They did well this week by taking down some of the Dodgers' top prospects
Tennessee: 2-1; They are sneaky good!
Myrtle Beach: 2-1; The starting pitching and bullpen look very good!
South Bend: 0-3; It takes a while for the young bats to warm up in the chilly air of a Midwestern spring.
---
Weekly Awards
New Features for Cubs Central on the Facebook page
There are three new daily features that will be posted there. They are – Hitter of the Day, Pitcher of the Day, and Reliever of the Day. For the past couple of years, we have done "The Weekly" awards every Sunday. I wanted to reward the daily efforts as well this year. Here are the winners from this week.
Thursday – Eddy Martinez, Eddie Butler, Scott Effross
Friday – Jeimer Candelario, Thomas Hatch, Rob Zastryzny
Saturday – Jeimer Candelario, Dylan Cease, and David Rollins
Draft Update News
Oregon's David Peterson (77 Ks in 52.1 IP) continues to roll as does Brendon Little (86 Ks in 55 IP) The two lefty starters have to be on the Cubs radar for the
Sad News
The Cubs signed shortstop Vincente King last summer as an international free agent. The 16-year-old was killed in a motorcycle accident in the Dominican Republic. He was set to begin to play in the Dominican Summer League later this year. Our prayers go out to his family and friends.
---
Upcoming posts
Opening day in Chicago – Rain needs to stay away
From Small Things, Big Things One Day Come
10 Things I Think
The Bullpen