By Todd Johnson
I know this is going to sound strange, but the Major League Baseball Draft will be taking place in just a little over 2.5 months. I know…it is getting here fast. Originally, I didn't want to spend too much time this year making full fledge draft profiles as I had in previous years. Instead, I have been doing previews of groups of players. I've done college bats, college arms, high school pitchers, and high school bats. I even took a look at some schools who have several prospects the Cubs might be able to take on day one and two.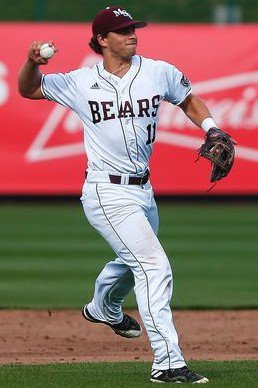 With the college baseball season in full swing, several prospects are rising and falling. Some top 200 lists have a little itchy trigger finger when it comes to moving prospects up and down. For example, Baseball America used to have shortstop Jeremy Eierman of Missouri State ranked in the teens on their first top 200 list. After a very poor start, Eierman dropped into the mid-to-late 20s after just two weekends of baseball.
In that range, Eierman could be available for the Cubs. He's playing shortstop now but he could play third. His bat, however, might be best suited for second base. But for Eierman, Baseball America will probably have to move him back up the list. Over the past week, he went 11 for 20 to move his average up to almost .300 and push his OBP over .400. He also hit his first home run of the year. He looks to be back on pace as one of the top bats in the college ranks.
Two players who used to be ranked in the late to mid 20s might be out of reach of the Cubs if they continue their torrid pace. Third baseman Alec Bohm and outfielder/1st baseman Greyson Jenista, both of Wichita State, have averages in the upper .300s and on-base percentages of almost .500. Bohm has cranked out five home runs in less than a month and it's not even warm out. I really like Bohm a lot but I just don't think the Cubs will have a chance to draft him.
Two other players that could be heading the Cubs way are outfielders Steele Walker of Oklahoma and Jake McCarthy of Virginia. Both are ascending players with good hit tools who can both play centerfield. Originally, most lists had them in the low to mid 30s and now they are creeping up. McCarthy, whose brother played in AA for the Tampa Bay last year, could have the better long range hit tool out of the two. MLB Pipeline said the following of McCarthy
McCarthy moved into the starting lineup as a sophomore and promptly hit .338 with a .425 on-base percentage and an ACC-leading 27 steals in 29 attempts. While he didn't hit well playing for Team USA over the summer, he did find his footing with a solid late stretch in the Cape Cod League. Some scouts aren't in love with his swing, which features a flat bat path, but others point to a pretty good track record of making consistent hard contact. He hasn't hit for much power to speak of, but some changes to his mechanics could allow him to tap into his raw pop at the next level. He has a fringy arm, but has the speed and instincts to play center field.
Another rising player who is close to getting out of reach is 6'11" Kentucky right-handed pitcher Sean Hjelle, who has been pitching out of his mind. After Friday night's start, Hjelle's ERA stood at 1.35 in 4 starts despite giving up 3 of his 4 earned runs this year in that start. He's struck out 26 in 24 innings this year while walking only 4.
I've also been religiously checking on is former 2015 Cubs draft pick John Cresto. The third baseman spurned the Cubs to go to Santa Clara and he has improved every year. As the 2018 season has gone on, Cresto has been getting better. He is currently hitting .328 with five home runs and 11 RBIs to go with a slugging percentage of .603. I think he could easily be a Day Two target of the Cubs, perhaps somewhere between the third and the fifth round. What I like about Cresto is he does have good size (6'3" and 225 lbs.) and he's not done filling out.
I still think the Cubs are going to go college bat or high school arm in the first round. With college players already having a month's head start, the high school season is now just getting underway and many of the northern players will not be getting warmed up until mid April. As a result, they are going to be a lot more fluctuations in the draft.
Now that Jake Arrieta has signed with the Phillies, the Cubs currently have 5 picks in the top 100. That depth could go a long way to revitalizing the system. Next week, I will go through some possibilities for some picks on Day Two of the Draft (Rounds 3-10).