By Todd Johnson
With five picks in the top 100 selections in this year's draft, the Cubs have a legitimate opportunity to remake their farm system at 24, 63, 77, 78, and 99. The draft's strength lies in a collection of college bats and high school arms. The Cubs are going to get five very good players by the end of the third round. Considering they'll have two more picks in the top 150, and one more in the top 200, that is eight very good players. Eight!
So far this spring, I have focused on who the Cubs might take at number 24. To go beyond the first round, several factors besides performance come into play as to whom the Cubs might select. Signability is one. Another is projection, and the third is makeup.
As someone who has been following the draft very closely the past several years, I can never tell you what's going to happen. One reason is some teams are cheap while others gamble on a prospect and even more tend to take the safe route. As a result, it's hard to predict what's going to happen.
The Cubs' draft tendencies have been changing a bit the past couple of years. While USA Baseball and succeeding in wooden bat leagues have been key components in selecting players in the past, the Cubs have also been exploring secondary markets more so than usual. Last year, the Cubs made inroads into high schools in Puerto Rico and picked Nelson Velasquez and Luis Vasquez. The Cubs also went more into Division II schools. Then again, they've also gone hog wild on selecting pitchers. I do believe the Cubs will ditch that trend in 2018 as there are several impact bats in the top 100.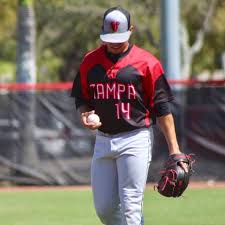 When it comes to pitching beyond the top 100, two arms have caught my attention. One is the University of Tampa's David Lebron and the other is Cal Baptist's Justin Montgomery. At the earliest, both could be considered third or fourth-round picks, or, for that matter, anywhere on Day 2 of the draft. Today's post looks just at Lebron.
Lebron is a senior who has had an interesting collegiate career. Originally from the Miami area, Lebron had Tommy John Surgery at the end of his senior year in high school. He sat out a year and then attended College of Central Florida where he played for two years. In addition to his accolades on the field, he was an honor student off the field.
At 5'11" and 190 pounds, Lebron doesn't project much physically. However, that does not preclude him from being taken in the draft. While he does not have a starter's prototypical body, he misses a lots of bats. As a junior, he struck out over 100 hitters in 90 innings and 40% of those he caught looking, an amazing statistic. This spring, Lebron has been striking out hitters at a higher rate than last year at 14.05/9 innings. So far, he has struck out 63 in 41 innings while only walking 10 hitters. A 6.3:1 K/BB rate is outstanding.
Lebron told the Tampa Bay Times that Tommy John surgery actually changed how he pitched. He can still throw in the low to mid-low 90s but Lebron tends to focus on command. Lebron also told the paper:
"… It's not always about blowing guys away. When you get to the professional level, anybody can hit a 95 mph fastball. It's about consistently hitting your spots, knowing your location, keeping hitters off balance. That's what I have learned."
For Lebron, his own personal story reflects a kind of character of the Cubs look for in their draft pick. His father died when Lebron was in his early teens and his mother has worked hard to support him since. He has worked hard for his own success and he is still trying to improve every outing. On Friday the 16th, he went 7 innings with 11 Ks and no walks while giving up an earned run.
I am really enjoying checking up on how he does every week. It's hard to tell if he's going to be a starter at the next level but I think it might be worth a shot to let them try that first before trying to make him a reliever just because of his size.
Next week, I will dig a little deeper into Justin Montgomery's season.