By Todd Johnson
It was an interesting week in the minors. Everyday saw a great pitching performance or two. On Sunday, Erich Uelmen went six scoreless while Jen-Ho Tseng had the first of two good starts on the week going 7 innings with 9 Ks and 2 runs. On Monday, Michael Rucker went 6 innings with 8 Ks while allowing 2 runs. Javier Assad struck out 7 on Tuesday.
Wednesday was the big day as Brendon Little went 7 scoreless while fellow first rounder Alex Lange went six scoreless with 10 Ks. Duane Underwood also did well on Wednesday along with Trevor Clifton, whose start was cut short due to rain.
On Thursday, the pitching parade continued as Matt Swarmer went 6 scoreless with 7 Ks before leaving in the 7th with a tired arm. He should not miss a start. On Friday, Bailey Clark went from piggyback starter to a full-fledged rotation piece at Myrtle Beach with 4 innings of 1 run ball. That same night, Cory Abbott went 6 strong with 5 Ks and 1 run.
Last night, all four starters were magnificent as well. Keegan Thompson got things started off with 6 scoreless and 8 Ks for Myrtle Beach. South Bend's Erich Uelmen went 5 scoreless and 8 Ks, too. The only difference between the two was that Thompson gave up just one hit while Uelmen allowed three. Alec Mills continued the night with 6 innings of 1 run ball. Oscar de la Cruz looked very strong for Tennessee, even taking a liner off his knee and staying in the game. He went 7 innings with no runs allowed while striking out 7 and scattering 5 hits.
As the temperature warms up, so has some hitting. 
Christian Donahue is an infielder who currently plays for South Bend. After coming off the DL on the 16th, Donahue's bat has taken off with steady playing time. He's hitting .400 for the month. He seems to be a doubles machine as he has a .964 OPS despite not having a home run. But what I like the most is Donahue's hustle. He plays the game hard. Being an undrafted free agent out of Oregon State might have something to do with that. I will flesh out his bio a little later this week.
Some Good News
Ryan Williams returned to action for the first time in 2 years yesterday. The "Big Lumberjack" threw 46 pitches (3.2 IP) yesterday in an EXST game. He didn't light up the radar gun, but he was effective the first two innings. In addition, Erling Moreno came on in relief throwing harder than usual at 96-98. Arizona Phil of The Cub Reporter wondered if Erling is being transitioned into a reliever.
Roster Changes
Victor Caratini is back in Iowa while Chris Gimenez is now in Chicago. Victor really needs to play everyday. I am sure the experience was good, but Victor's future is not as a backup to Willson, Victor, more than likely, will be his own catcher at some point. Efren Navarro of iowa, who was on track to make this month's All-Star team at 1B, was designated for assignment yesterday.
Jim Callis Draft Interview
On Saturday, Jim Callis of MLB Pipeline was on 670 The Score's "Inside the Clubhouse" talking about the draft. Callis said the Cubs have to let the draft come to them picking at #24. Callis talked about how the Cubs may have a strategy of looking for a college bat, but players drop or fall for various reasons. Callis used Alex Lange dropping last year as an example. Callis brought up some college arms who could fall to the Cubs including lefty Shane McClanahan of Central Florida, Logan Gilbert of Stetson, and Jackson Kowar of Florida as guys who could be bypassed earlier in the draft in favor of college bats.
One interesting name that came up as possible bats at that position, aside from Callis' pick of Trevor Larnach, was Indiana high school outfielder Nick Schnell. The Louisville commit has a nice 6'2" 180 lb. frame and bats left while throwing right. Callis called him an all-around player.
Another player I hear gaining traction, and not just for the Cubs, is Georgia prep catcher Anthony Seigler. Though decent behind the plate, his bat is his true calling card. He also has the experience of playing USA Baseball, a box that scouting director Jason McLeod like to check. If he shoots into the first round, he could mess up a lot of draft boards.
https://twitter.com/j_nyy/status/1000145385535373312
Around the System
Iowa – 5-2 (18-29)
Tennessee – 3-3 (25-23)
Myrtle Beach – 4-4 (21-28)
South Bend – 4-3 (21-26)
Players of the Week
Card of the Week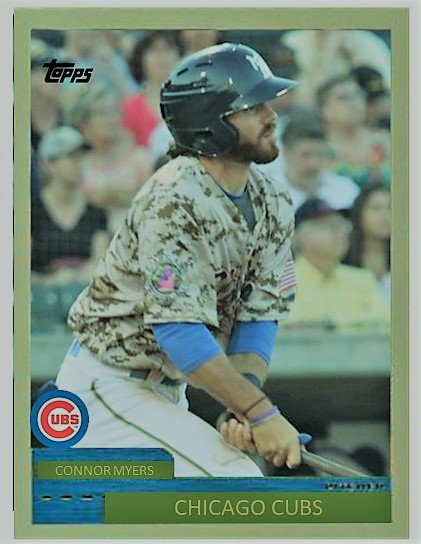 Coming Up Next Week on Cubs Central
Monday – Draft Questions
Tuesday – Christian Donahue
Wednesday – Pitching in the MiLB
Thursday – ???
Friday – May MiLB All-Star Team
Saturday – May Cards of the Month
Sunday – The Weekly
Monday the 4th – Draft Day #1
As for Me…
I wrapped up another year of teaching on Thursday afternoon. That, to me, means the beginning of summer. When I am not checking in on baseball the next few weeks, I am going to do a lot of little things around the house and yard while trying to figure whether I am going to South Bend or Des Moines for a trip the week of June 11th.