By Todd Johnson
8:10 – Everything is done and updated. I am going to collapse for a bit.
6:15 PM
The draft is over but I will be filling in the profiles as the night goes on. Lots of nice picks today. Once I am done with that, I will start breaking down and analyzing what the Cubs accomplished with today's selections.
40th Round – Itamar Steiner  – IF – Niles North – Skokie, Il – Throws Right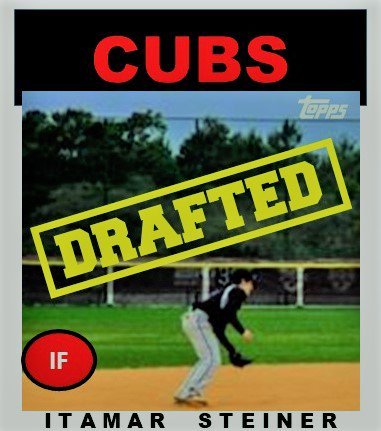 His father was killed in a bus crash in Uganda a few years ago. His father was a documentary film maker. Nice that the Cubs drafted him.
39th Round: Pierson Gibis – C – Wauconda HS, Wauconda, IL – 6′ 175 lbs. Bats Left and Throws Right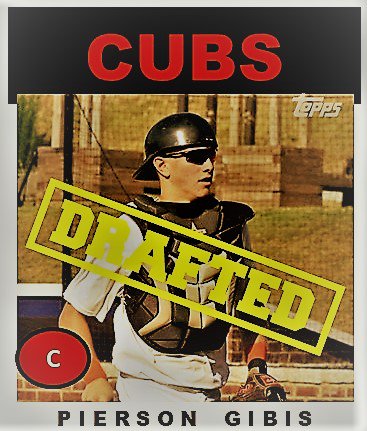 Doubt he signs, but Gibis is a pediatric cancer survivor.
38th Round: Chase Hanson – OF – Edison HS Huntington,  Beach HS – 6'3″ 170 lbs. Bats and throws Right
The UNLV commit will likely attend college. He has a nice upper frame to hang some more weight on and add some power.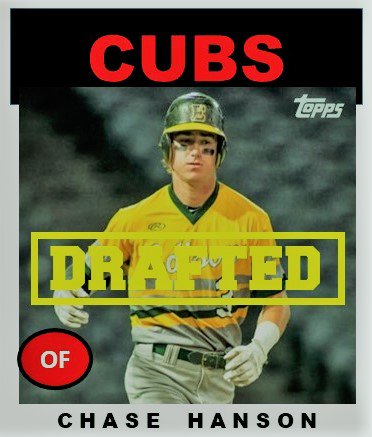 37th  Round: Henry Anthony Villar – SS – Westminster Christian HS in Miami – 5'11" 170 lbs. Bats Left. Throws Right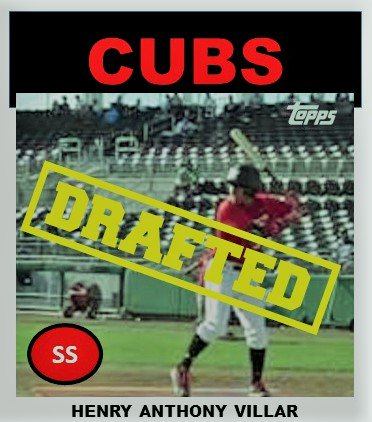 5:11 PM: 36th Round: Jacob Campbell – C – Craig HS, Janesville, Wisconsin – 6′ 200 lbs. Bats and Throws Right
He is committed to play at Illinois in the fall. Likely goes to school, but the Cubs are his favorite team.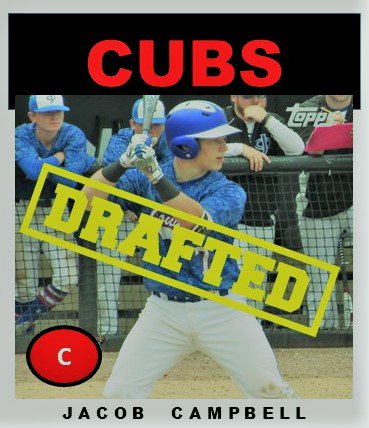 35th Round: Edmond Americaan – OF – Chipola College – 6'1″ 170 lbs. Bats and Throws Left
He hit .413 with a .490 for the Junior College powerhouse. He's still growing. I don't know if he going to sign. I am still trying to find if he is going to a 4 year school yet.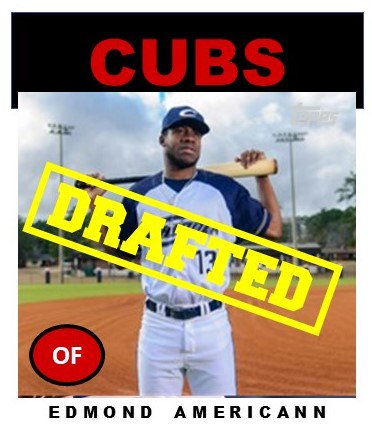 4: 33 The Internet is fixed and the cards are all caught up on Twitter. I will begin catchin up on the last 7 or 8 picks.
34th Round: Miguel Pabon – SS – Leadership Christian Academy – 6′ 165 lbs.
Originally committed to Broward College. He could be a sneaky sign. Check out his skills below.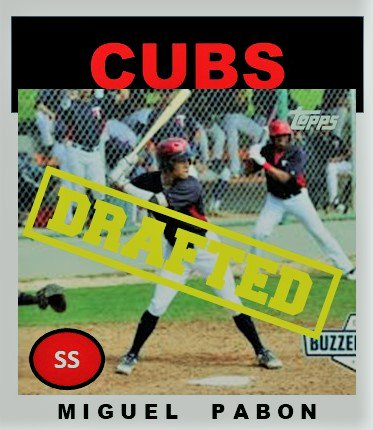 33rd Round: 
Tyler Ras – RHP – MIddletown, NJ – 6'4″ 200 lbs.
Committed to Alabama.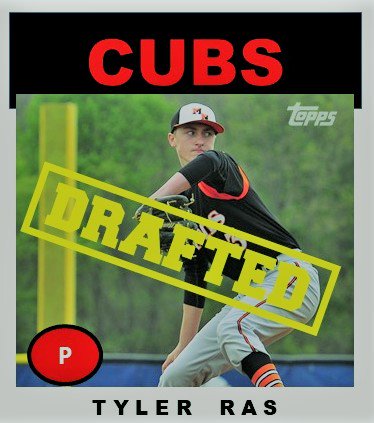 32nd Round: Jack Patterson – LHP – Bryant University – 6′ 210 lbs.
He struck out 101 in 82 innings as a senior. He's got a solid body. He did miss almost two seasons. He was the  Northeast Conference Pitcher of the Year and had one complete-game shutout and K'd 10 batters 4 times this year. Interesting selection.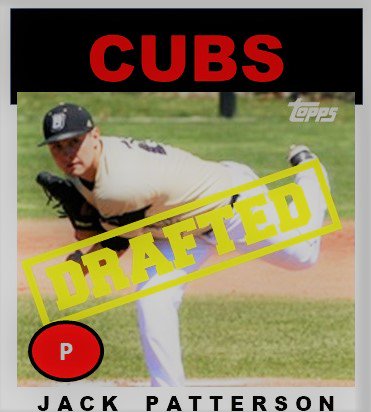 31st Round: Daniel Clayton – 2B – Jacksonville State – 5'7″ 160 lbs. Bats and Throws Right
He hit .325 as a senior. He also had a nice OBP at .397. Not big, could be a nice system guy who could handle a stick.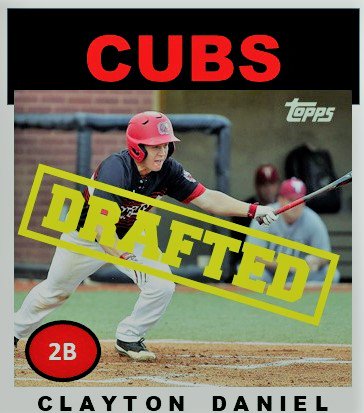 30th Round: Drew Wharton –  OF – Clemson – 6'3″ 190 lbs. Bats and Throws Right
He didn't see much playing time in his four years until this year when he cranked 8 out of the ballpark. he hit .245 with a .325 OBP.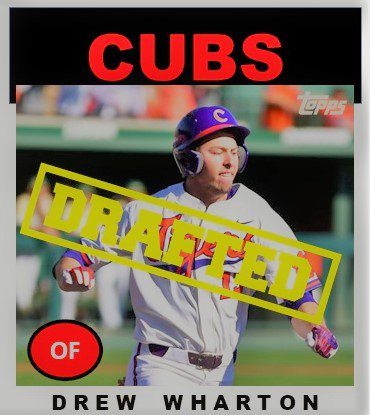 29th Round: Levi Jordan – SS – U of Washington – 5'8″ 170 lbs. Bats and Throws Right
A four-year senior, he saw a huge uptick in power this year going from 1 to 8. Hit .277 for four years as a Huskie.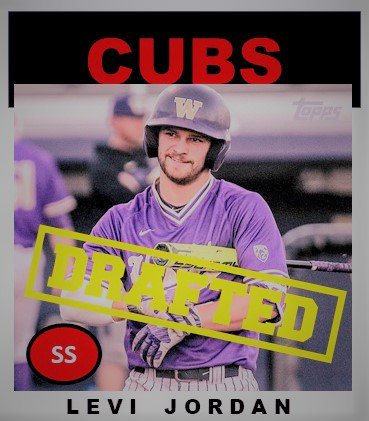 28th Round: Parker Mitchell – LHP – Manzano HS, Albuquerque, NM – 6'3″ 190 lbs.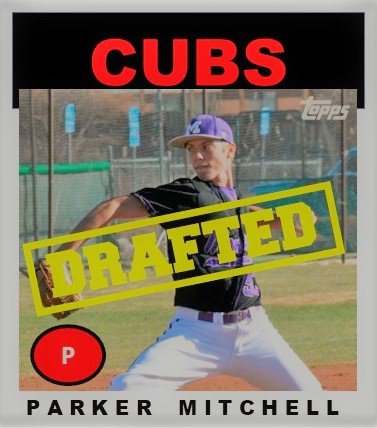 27th Round: Niels Stone – RHP – Indian River State College – 6'1″ 190 lbs.
A Freshman, he had a 7.42 K/9 and  he hit 91 to 94 consistently, sometimes getting it up to 97. Originally, he committed to Florida Gulf Coast before transferring to Indian State.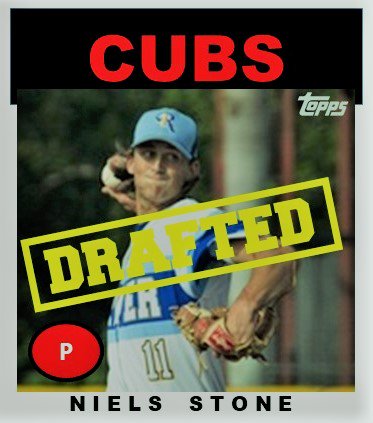 2:45 PM 26th round: Julian Boyd – OF – Saint John Bosco HS – 5'10" 143 lbs. Bats and Throws Left
He's a former two sport athlete who committed to play baseball at the University of Nevada Reno.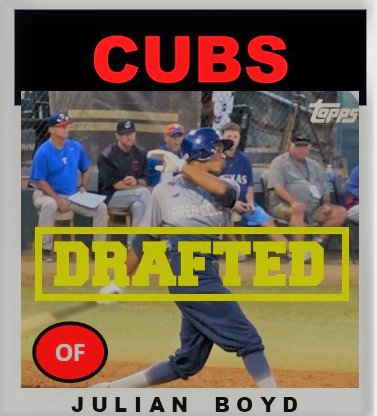 And this pick signals the beginning of the end. The Cubs usually draft several high school picks the rest of the way in order to have some insurance if other picks don't sign in the top 10. And also, it doesn't hurt to build a relationship with that player as we saw with Jake Slaughter from LSU. Boyd
2:35 25th Round: Dalton Hurd – OF – Seattle University – 5'9″ 180 lbs. Bats and Throws Right
He hit for average all four years but saw a power uptick his senior year. Hit .309 last spring with 8 HRs.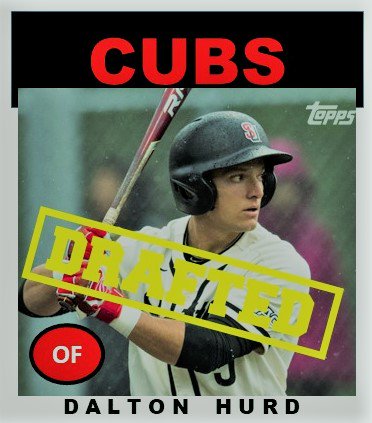 2:20 24th Round: Blake Whitney – RHP – South Carolina Upstate – 6'3″ and 185 lbs
I will let you guess what Whitney can do… That's right, throw strikes. The 4 year starter had a 2.81 ERA in 13 starts this year striking out 82 in 73.2 innings. He only gave up 3 HRs on the year, too. He has a nice sized frame and could add some weight without much effort. I like this pick.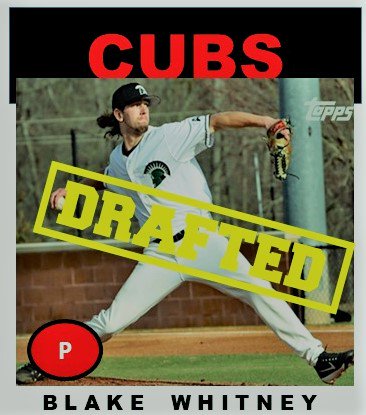 2:05 PM 23rd Round: Hunter Taylor – Catcher – South Carolina – 5'11" 226 lbs. Bats and Throws Right
A second team All-American in HS, the senior catcher has worked with some very good pitchers the past four years. He had his best season as a senior this year with 8 HRs.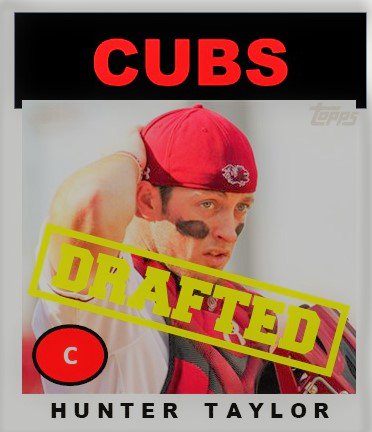 As deep as the system is in backstops, I didn't think the Cubs would be drafting a catcher, especially a senior. There must be something they really like.
1:50 PM 22nd Round: Jamie Galazin – OF – St. John's 6'4″ 200 lbs. Bats Right, Throws Right
The more I read about him, the more I like. Hits a little over .300 with an OBP of over .400. A senior, look for him in Eugene soon at the top of the order.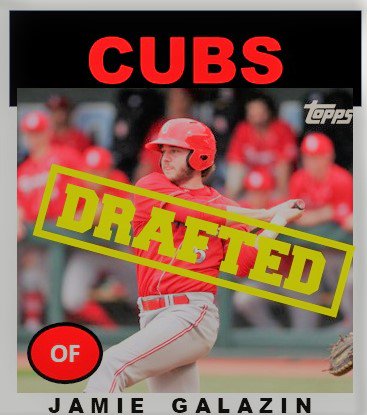 1:30 PM 21st Round: Carlos Vega – RHP – Southeast Missouri State 6'2″, 220 lbs
He did a mixture of relief and starting this year. A senior, he amassed 85 Ks in 73 innings with a 2.45 ERA. I like his frame. Probably not going to get much bigger.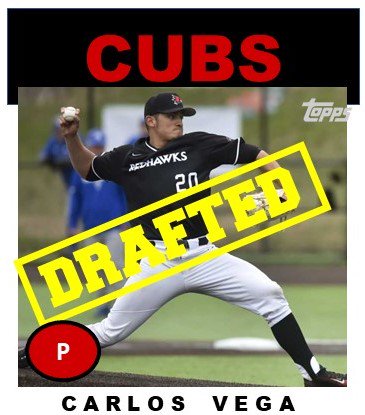 1:25 PM
Since there is a break in the draft, I thought I'd take the opportunity to analyze what has happened so far. The Cubs are continuing to go to college route very heavily. I expect that to continue for the next 10 picks, even though we might see then dip more into the junior college arena and maybe even Divisions II or III.
I also like that the Cubs are starting to find some left-handed pitching. I talked about it a couple of hours ago if you scroll down below on what some of the needs the Cubs' system has. This is usually the part of the draft where the Cubs shift from best player available to what we might call organizational guys. However, some of those organizational guys turn into prospects. You never know what can happen.
1 PM
The Internet has gone out so I can't do cards until it comes back on. Meanwhile, I will keep up on my phone with the selections.
20th Round: Chris Allen – LHP – Marin Community College – 6'4″ 180 lbs.
Good numbers as he put up a 1.34 ERA in 100.2 innings while striking out 102. He only walked 23 for K/BB ratio of almost 5. Impressive!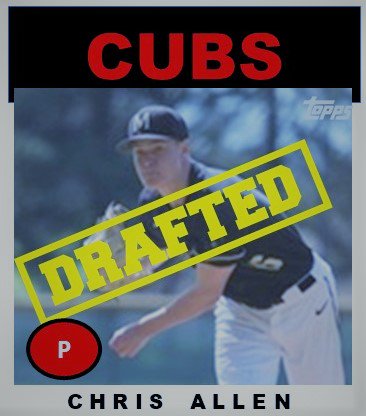 19th Round: Layne Looney RHR – University of Richmond -5'10" 200 lbs.
He had huge numbers this year as a reliever. He pitched 30 innings but struck 51 batters while only walking 13. His ERA was 0.60. Should be interesting to see him in Action, likely at Eugene.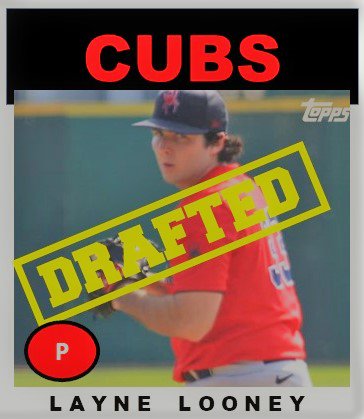 12:50 18th Round; Jake Slaughter – SS – LSU – 6'3″ 200 lbs. Bats and Throws Right
The Cubs redrafted slaughter, they first took him a couple of years ago out of high school. I like this pick. While he does have two years of eligibility left, the Cubs could not have selected him today without his permission since they drafted in 2016 already. Slaughter hit .247 this year, which was down from last year, but doubled his HR total to 7 in 2018.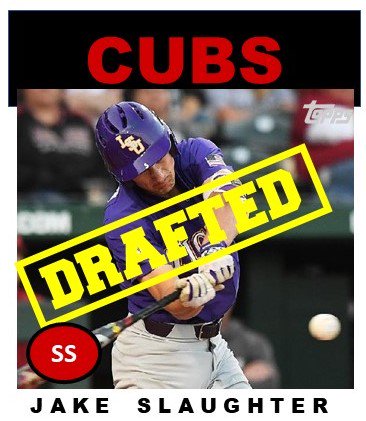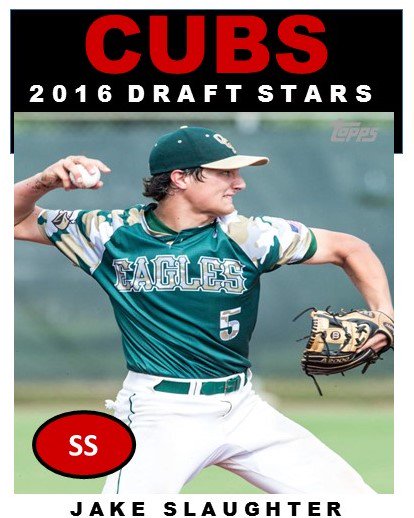 12: 30 17th Round: Jake Reindl – RHP – U Arkansas Fayetteville – 6'2″ 195 lbs.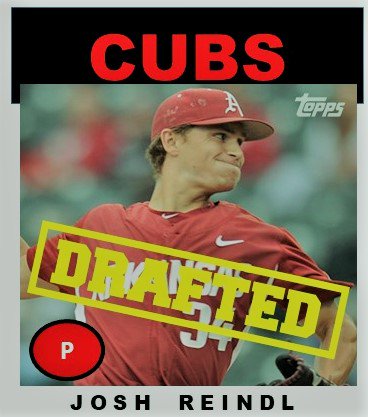 12:20 16th Round: Josh Sawyer – LHP – U of Texas – 6'3″ 180 lbs.
He's pretty excited about being drafted. 2018 is his first year healthy in the last three as he has had assorted minor injuries. he has one year of eligibility left but he will likely join the Cubs. You can see him in action Friday in the Super-Regional.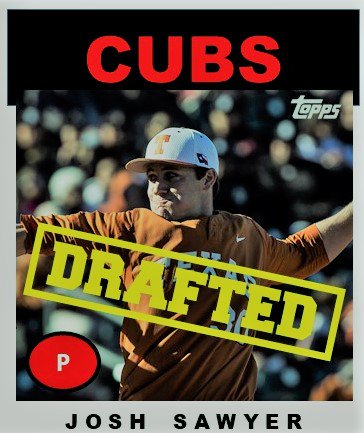 He's going to be a reliever.
12:10 15th Round: Tyler Durna – 1B – UC San Diego – 6'0″ 205 lbs. Bats Left Throws Left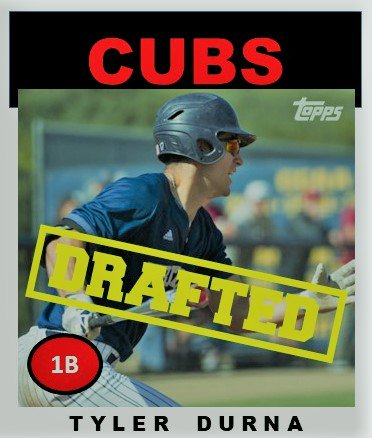 The Cubs haven't drafted a 1B since 2012. He's not that big but hit .333 with a .469 this year with 7 HRs.
12:00 14th Round: Riley McCauley – RHP – Michigan State – 5'11" 205 lbs.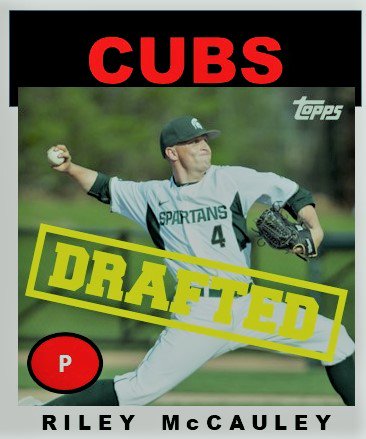 The last pitcher the Cubs tooks from MSU is working out fine. McCauley did a bit of both starting and relieving. I'd expect him to be a reliever. Has a nice 3-to-1 K/BB ratio. He is a draft eligible sophomore and could return to school.
11:50 13th Round: Ezequiel Pagan – CF – Prp Baseball Academy – Puerto Rico – 6'1″ 163 lbs. Bats left, throws right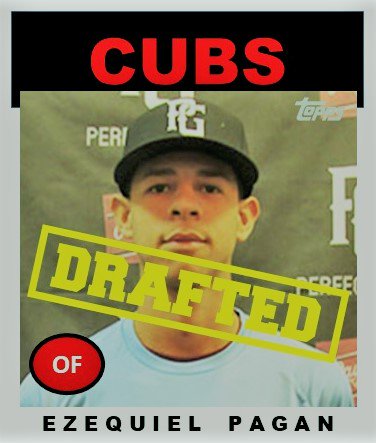 Definitely have to look to see if he is related to Angel
11:40 12th Round: Cameron Sanders – RHP – LSU – 6'2″ 175 lbs.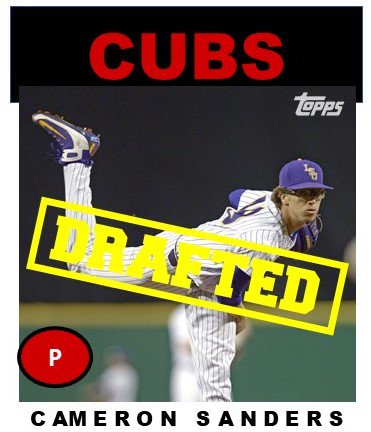 Ranked 475 by BA. Played just 1 year at LSU, mostly in relief. He's all arms and legs. Big arm, hits low to mid 90s but had control issues earlier in the year. Likely a reliever to begin.
11:25 11th Round: Riley Thompson – RHP – Louisville – 6'3″ 206 – Throws Right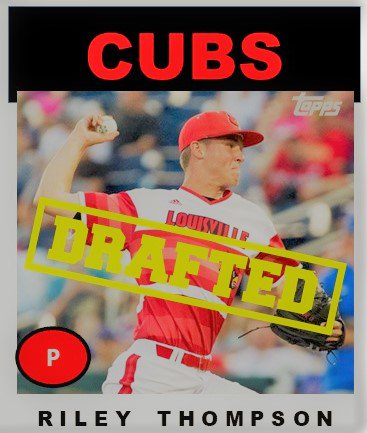 Ranked #216 on BA Top 500. Has a mid 90s fastball, a plus curve, but needs a lot of polishing. He had TJS surgery in 2016. Lots of upside here if he responds to pro coaching. Could relieve, could start. Likely heads to Mesa. Just turned 21.
10:50 am
It's going to be a long day. About every 15 minutes today, I will repeat the following process 30 times:
1. Get their name spelled right, school, position, height, weight, and picture.
2. Make a card
3. Upload said card to Twitter and Facebook
4. Find some sort of info about them either at BA 500, MLB Pipeline Top 200, college team website, the Baseball Cube, or Google
5. Type it up and click the update button.
6. Rinse and repeat.
Does that seem a bit rushed to you? Well, that's day 3 in a nutshell.
Questions I Have for Today
1. Will the Cubs continue to have a somewhat balanced approach of taking a mixture of hitters and pitchers?
2. Will the Cubs still be selecting a clear majority of college players again? So far, 9 out 12 have been college ballers.
3. Will the Cubs take a chance on selecting one of the top prep players like Cole Wilcox or Kumar Rocker? If they do, it would be in the 30s. Highly doubt they could sign one, but you never know.
4. The Cubs have certain needs in the MiLB system. Will they draft to those needs or take the best player available? They are in need of shortstops who can field and left handed starters and relievers. McLeod is not going to target them en masse, but the position breakdown will be something to analyze later.
5. How many of these will realistically sign? In the Theo Era, the CUbs usually sign around 25, +/- 2 or 3. Last year was aberration as they inked 29 to contracts.
6. And when they do sign, does that second Mesa team become the staging area for them? It will be interesting to see how that new affiliate is used for late June and early July. Both Eugene and Mesa begin play on Friday the 15th.
The draft comes at you quick.
Let's get it started.