By Todd Johnson
Around the System This Week
Iowa – 2-4 (23-37)
Tennessee – 3-5 (31-31)
Myrtle Beach – 6-0 (32-29)
South Bend – 6-1 (31-30)
DSL 1 – 3-3 (4-3)
DSL 2 – 0-6 (1-6)
For the better part of the first half, only Tennessee had a winning record among the Cubs affiliates. Both Myrtle Beach and Iowa got off to horrible starts while South Bend was extremely inconsistent from series to series. Now that things have warmed up quite a bit, the system is seeing some outstanding pitching on a nightly basis. There are a few hitters who are starting to heat up, but it's been impressive to watch the starting rotations go out at night after night across the system. At the end of this week, two out of the four major affiliates were above .500.
There is just one week left to the first half of the 2018 The fact that the Pelicans are in contention is a testament to manager Buddy Bailey and to the hard work of the team. They sit just 2.5 games back with 8 to go including 3 against first place Winston-Salem.
The Smokies sit just three behind Chattanooga.
Outside of the Draft, the big story of the week was the combined no-hitter for Rollie Lacy and Ben Hecht of South Bend. Lacy went 7 IP on Wednesday with 6 Ks against Lake County and Hecht finished them in 2 innings with 2 strike outs. What I loved most about the night was that Lacy's curve was just so dominating and the defense made a couple nice plays behind him.
Promotion Debuts
This week also saw the pitching debuts of several prospects at their new affiliates. Cory Abbott went six innings at Myrtle Beach and gave up two runs while striking out 8. Matt Swarmer had a tougher time at Tennessee. He only managed four innings while giving up three earned runs and striking out three.
At AAA Iowa, Dakota Mekkes threw a scoreless inning hitting 95 on the gun in his debut earlier in the week. Last night, he got in some more work. He went 1.2 IP with 4 Ks, but was removed with the bases loaded and two innings. He was not charged with a run. Trevor Clinton made his AAA debut. He got through it. He went just 4 and allowed 2 runs with 3 Ks, but used 85 pitches to get it done. Now that the butterflies are out of the way, his next start should be better.
Short Season Leagues to Begin Friday
On Friday night the 15th, three more Cub affiliates join the fray when Eugene and the two Mesa teams begin play. Hopefully, they'll be a lot of draft picks in tow. At some point during the week, Eugene will release its roster and I will do an official preview of the team.
Me and Theo On the Air
In other news, Theo Epstein and I spoke on the radio this week, although not to each other. He spoke to 670 the Score about current state of the Cubs, Jason Heyward, Yu Darvish, and other assorted sundries.
https://omny.fm/shows/the-spiegel-and-parkins-show-on-670-the-score/theo-epstein-and-jason-heyward-join-the-show-hour/embed
I was on the Kent Sterling Radio Show in Indianapolis (1430 AM) subbing for Evan Altman in his weekly radio spot. I talked with Kent about my love for baseball cards, the draft, and Tyler Chatwood.
I also appeared on fellow Cubs Insider Sean Holland's Holy Cow podcast this week to talk about the draft at length. We also touched on the current state of the minors, the draft, and presidential scandals. Hopefully, that link will be released shortly. I will send it out on Twitter when Sean releases it.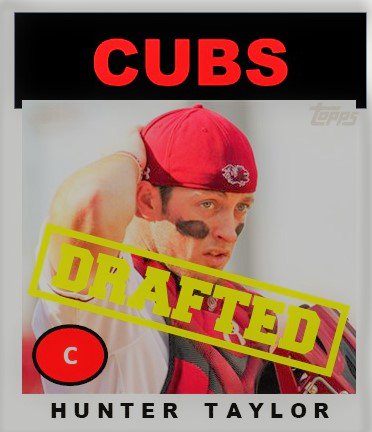 Draft Signings Update
It's only been a few days since the draft ended, but it looks like the Cubs are going to get a pretty good haul this year. When Theo first took the over, they signed a little over 20 that first year and that has been creeping up the twenties ever since. In 2016, they signed 25 and last year they signed 29. This year, it's looking like they're going to sign between 30 and 33 players. Most of the high school kids in the 30s are not gonna sign but it looks like almost everyone else will.
And some of the draft picks are playing in the College World Series this weekend. Here's how they did yesterday.
Pitcher Ethan Roberts from Tennessee Tech – 4 IP, 1 runs, 4 Ks
SS Levi Jordan from Washington – 0-4
C Hunter Taylor out of South Carolina – 1-4, 1 RBI
CF Jimmy Herron who plays for Duke – 1-3, BB, 2 runs
Coming Up Next Week
Both Myrtle Beach and Tennessee will be the majority of this week's coverage as they chase down a playoff spot. I do have a Duane Underwood update ready to go. That should be out on Monday. Later this week I will take a look at the Mesa and Eugene rosters before they begin their season on Friday. They should be very interesting to see which of the young international kids make which team.
Other Stuff I Wrote This Week
@BP Wrigleyville
5 Things to Like About the Cubs' Draft
Second Round Picks Raise Some Eyebrows
@Cubs Insider
High Risk/HIgh Reward Second Round Picks
Players of the Week
Card of the Week