By Todd Johnson
The big change in the Cubs' minor league system this year is the addition of a new rookie league team in Mesa. The impetus behind the new affiliate in the Arizona Rookie League was to provide more playing time for the team that uses that plays and trains at the Cubs' Sloan Park. In the past, players that have injuries of a more serious nature get their work in at the Cub's training facilities and begin playing games there. The problem with that is that a rehabbing player would take away at-bats and innings from young Cub prospects, sometimes for a week or two at a time. A second affiliate at this level was supposed to open up opportunities for those prospects while still allowing other players to rehab.
So How's That Working Out?
So far, it seems to be working out on the surface. Each rookie league affiliate is assigned 35 roster spots. On the AZL Cubs 1 team, only pitchers Ryan Webb, Corey Black, and Justin Stelle are rehabbing. Before, OF Chris Coghlan spent some time with the club before heading back to Iowa. On Cubs 2, 1B Tyler Alamo from Myrtle Beach is getting some work in. He's played in 7 games to date and I would expect him to not be there much longer. At some point, Drew Smyly ought to be working some things out soon.
Last summer, the Cubs signed over 40 international free agents after signing 35 the year before. Add in 32 new draft picks and 3 non-drafted free agents, the Cubs have a lot of spots to fill. About 1/3 of each roster is filled with recent draft picks and the other 2/3 is made up of international free agents, mostly from the past 3 years.
As for the Product on the Fields…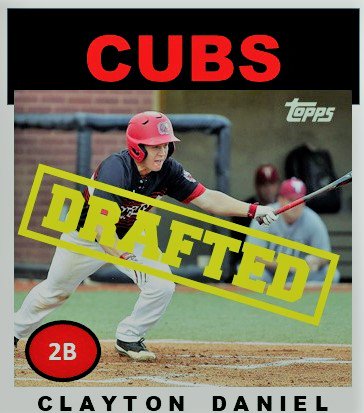 By having two teams, there was the thought that the Cubs would have watered down a team, but that is not the case at all. Heading into Tuesday night, Cubs 1 was in first place in their division at 11-6 and Cubs 2 is 7-11 and just a few games back in a different division. At some point, the two will play each other a few times.
However, some panic did set in the first two weeks of the season as the Cubs thought they would have enough pitchers signed from the draft to fill out the roster. Those picks did not sign fast enough. So, the Cubs had to muster up some arms in a rush from Cubs 1 and the DSL, a couple of whom have stuck with the team.
In addition, draft picks DJ Artis and Brennon Davis were injured in their first couple of games and haven't seen action since.
On the other hand, 31st round pick 2B Clayton Daniel has been outstanding hitting .370. Other players off to good starts include Fidel Mejia, Grant Fennell, Yonathan Perlaza, and Luke Reynolds. Meanwhile, Pitchers Jesus Tejada, Didier Vargas, and 2017 round draft Peyton Remy look like they might have something.
And most recently, this happened:
It's been a weird three weeks so far, but adding the second affiliate in the AZL seems to be working out and doing everything it is supposed to – giving prospects a spot to play and helping rehabbing players get back in shape.