By Todd Johnson
The Playoffs
It has come down to the last week. Eight days from now the minor league season will be over and only Cubs 1 in Mesa has secured a spot. Iowa and Myrtle Beach are eliminated while South Bend and Tennessee should be any day now.
The only other team with a chance to get into the postseason is Eugene. They are currently neck and neck with the Salem-Keiser and it's going to come right down to the last week. They actually play each other in a three-game set at Salem-Keizer this week.
Cubs 1 will defend their Arizona League championship starting this week on Wednesday in a single elimination semi-final match. If they win, then they play a best of three series for the title.
DSL Season Ended Yesterday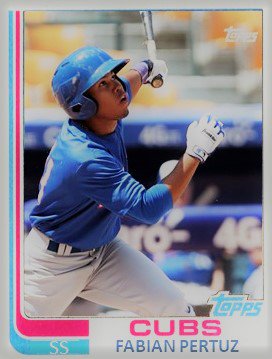 It turned out to be a very hopeful season for the Cubs' two Dominican Summer League teams. The 2 team wound up with a 27-45 record while the 1 team went 41-31. That's pretty good considering the Cubs had no "big-name" international free agents on either roster as the Cubs were restricted in their international spending the past two years.
There are a few prospects I have mentioned throughout the course of the season who have either put up good numbers or flashed some potential. Shortstop Fabian Pertuz has hit at, or near, .300 for most of the season. Pitcher Misael Garcia has had an outstanding second half of the year. Top starter Luis Rodriguez has an ERA of 0.73. Hitters Pedro Martinez, Rochest Cruz, Ervis Marchan, and Widimer Joaquin showed the ability to put the ball in play. I thought that maybe some of them would make their way to Mesa for the playoffs, but so far, none have.
Promotions

After the Daniel Murphy trade for Andruw Monasterio, there were a parade of promotions this week. Duncan Robinson moved to Iowa where he proceeded to go six scoreless in his first AAA start. 1B Tyler Alamo advanced to Tennessee along with Justin Steele, who is just 1 year removed from Tommy John surgery. Utility player Christian Donahue of South Bend continues to rake this month and hit his way to Myrtle Beach where he quickly endeared himself to the Pelican faithful with a home run in his first game.
While all promotions are big, the biggest surprise of the week was pitcher Brailyn Marquez getting promoted to South Bend. I found it odd because Eugene is right in the middle of the playoff hunt and Marquez has arguably been their best arm the whole year. Still, his appearance at South Bend, as a 19-year-old starting pitcher, will be very exciting.
After missing two months, Bailey Clark made a few appearances in Mesa and returned to Myrtle Beach this week where he threw two scoreless innings. Hopefully, Bailey can make up that lost time in the Arizona Fall League.
South Bend 2019 Schedule

South Bend released their 2019 season schedule this week. I was pretty excited to see it just to find out when they play Burlington, Clinton, Wisconsin, and Beloit. I am not going to be able to make it down to Burlington this year because it takes place during school time, but I will be able to make it over to Clinton for three games as they play over the first weekend in May. I'll also be traveling up to Appleton, Wisconsin in July for a couple days to see South Bend play the Timber Rattlers. That's going have to be an overnight stay while Beloit is just 35 minutes from my house.
In addition, I keep hearing people raving about Fort Wayne's ball park. I'm going to try to get over there for a couple of games and then swing back through South Bend at some point next summer
Busy Week Ahead
Matt Swarmer gets updated Tuesday and then on Thursday I look at who should/could be on the Cubs's playoff roster. The deadline to be on the Cubs' to eligible is this Friday.
I also started assembling two all-star teams this week – one for the month of August and one for the second half. The August all-star squad will be rolled out on Saturday and the second half group will come out on Tuesday the 4th, the day after the regular MiLB season end. I will also have a new Top 21 list sometime the week after Labor Day.
Players of the Week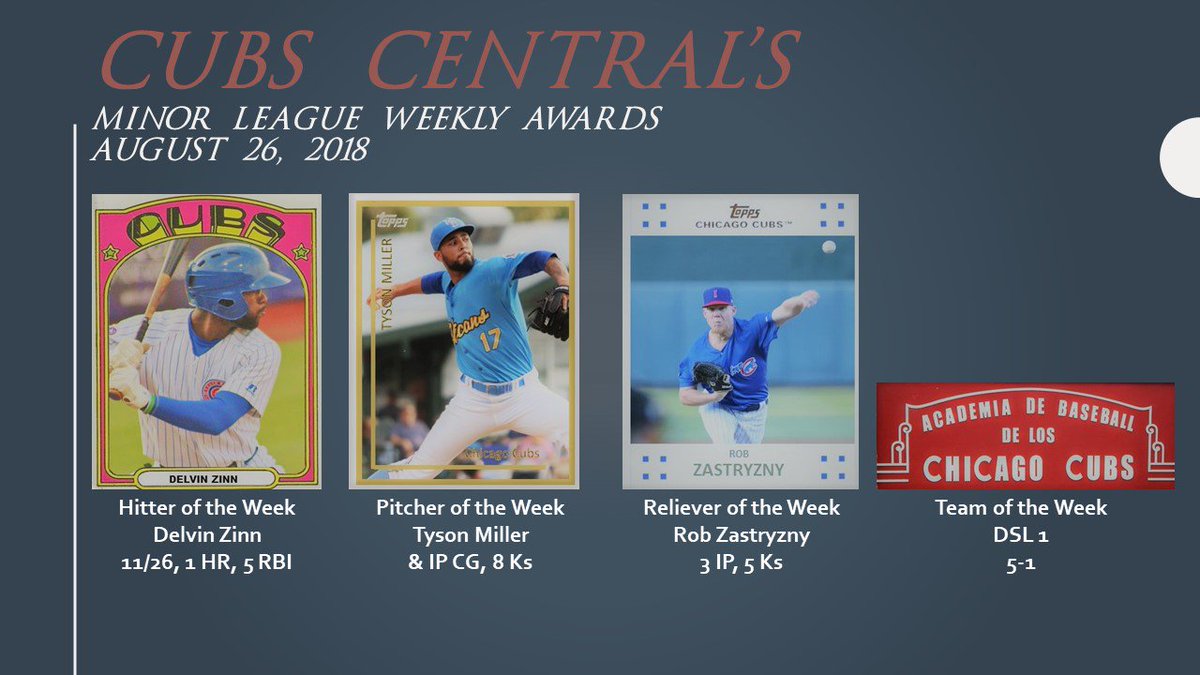 Card of the Week