By Todd Johnson

Monday is a big day. On the 19th, the Cubs' 40-man roster could contain  a few new names to protect them from being taken in the Rule V Draft slated for December 13. Expect to see Trevor Clifton, Justin Steele, and Jason Vosler get added. PJ Higgins, Erick Leal, and Jhonny Pereda are longshots to be put on the roster. The Cubs will likely roll the dice by leaving the last three off. A year from now, Pereda probably will get added and the same for Leal, if 2019 goes well.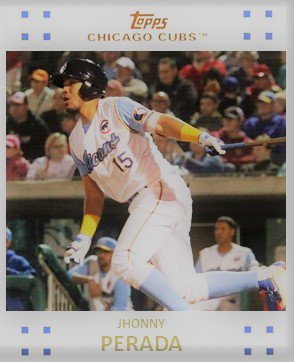 I am really starting to dig Jhonny Pereda more and more. He had a great first half at Myrtle Beach this year. Like most catchers, he slipped a little in the second half as the grind begans to wear the catcher down. However, Pereda's season wasn't done as he was assigned to the Arizona Fall League. Pereda only played in 8 games there but hit a reasonable .278 with a .354 OBP..
While some may be focusing on his bat, Pereda handles a pitching staff fairly well. He caught some of the Cubs' best prospects in 2018 and managed their games in an excellent fashion. He also caught an outstanding 38% of base runners stealing this year.
Pereda will be at Tennessee in 2019. It should be interesting to see how he does at AA. Considering he held his own in the AFL, the odds are in his favor. Hopefully Pereda can stay strong all year and see some more time at first to keep him a little fresher down the stretch.
Prospects Lists Getting Closer – I saw where Baseball Prospectus will be publishing their top 10 Cubs prospects on December 11, Baseball America started releasing their lists this past week, and Minor League Baseball has 4 done and more to come. I don't have any idea about Fangraphs while MLB Pipeline is going for January 1 for their top 30, the same date as my new Top 21.
As well, Baseball America released their Draft Grades for the Cubs. I did very well in my predictions. I only whiffed on a couple, but then again, I might be right.
MiLB Transactions – The Cubs did have two transactions this week of the minor league variety. The Cubs re-signed speedy outfielder Wynton Bernard and reliever Jose Rosario, who was injured most of the past two summers.
The Mailbag – Those posts are going well. I have one I am working on about the developmental process in the system based on a question from Rikk Carlson. Then, after that, I have questions about pitching in the last draft and a Zach Hedges query. Still, I could go for more questions to write about and more posts. Those questions help beat the doldrums of winter and writer's block. They actually make me energized! The next mailbag will be the week of the 26th. It would not bother me in the slightest to answer them all winter long!!!
Position Breakdown Series – This popular yearly series returns with its debut on Friday, the day after Turkey Day. I am read to get the catchers out there first. 
Other Stuff on the Web – I am trying to write more original content for Cubs Insider this winter. This past week, I wrote about Erick Leal and Trent Giambrone. Over at BP Wrigleyville, my last two articles were on the Arizona Fall League and the 2015 International Free Agent Class.
The 5 Series – Originally, Levi Jordan was going to be the first player profiled in this off season series. Instead, I changed my mind and decided to go with Jimmy Herron, whom I have a lot of questions about. I haven't written one word on Herron. Then again, on Saturday (yesterday), I was watching the snow come down and all I could think of was Jose Albertos. Who knows what I will do? The 5 Series debuts on the 27th. Stay tuned!
Card of the Week