By Todd Johnson
As usual, I'm going to split the right-handed starting pitcher system evaluation into two posts. Last year, it was a number ranking thing where I had 12 to 7 in one post and then 6 to 1 in the other. This year, not so much. I decided to split them up into the top two levels of the minor league system and then Myrtle Beach on down. Rankings be damned! This post will look at exactly who the top arms are and who should be throwing at Iowa, Tennessee, and hopefully Chicago in 2019.  
1. It all starts with Adbert Alzolay this year. Even though he missed three months in 2018, he still had a lot of impressive moments at AAA. While technically still a starter, I would not be surprised to see him in Chicago as a reliever at some point this summer.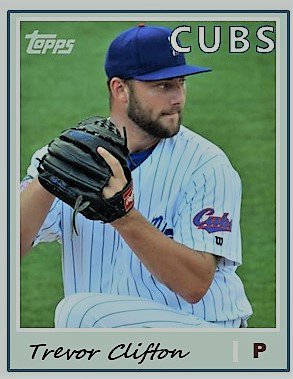 2. Trevor Clifton looks to be close to being ready for Chicago. His efficiency to get deep into a game is what's going to keep him a starter in the majors. The same movement that he got on his curveball has now been added to his changeup, and his fastball continues to have good armside run in on a right-handed hitter.
3. Cory Abbott is the best pitcher the Cubs took in the 2017 Draft. He dominated two levels in 2018 at South Bend and Myrtle Beach. It took about 2-3 weeks for him to make adjustments and then it was on. It is not unreasonable to think he could he do the same in 2019.
4. For Duncan Robinson, he has the efficiency that Clifton is looking for. His second half was amazing at Tennessee and that earned him 2 starts for Iowa at the end of the year. The 6'6" righty out of Dartmouth has pushed himself to to being a guy the Cubs might consider for a spot start this summer. He did it all in a little over two years. Look for him to take the bump a time or two in Mesa with the big league club this spring.
5. Matt Swarmer's 2018 is a kind of Hollywood type story. The big gangly kid added some muscle and some miles per hour to his fastball and everything just clicked. Now he's able to throw 92 to 94 with a vicious curve and a wicked change. I don't know if he starts in Iowa to begin the year or in Tennessee. Either way, he is not that far away.
6.  Michael Rucker is my guy. I think in the long term he might be a reliever because his stuff plays up a bit out of the pen, but when you throw 70% strikes, that turns a lot of heads.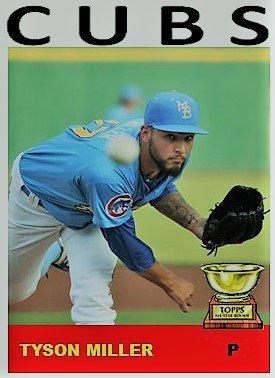 7. Tyson Miller took off last year at Myrtle Beach and should be at AA to start 2019. If he continues adding onto his rather large 6'3" frame like he did last year, his stuff could tick up even more. It was fun to watch an arm who had gotten through the lower part of the system by using his command and control to have some added fire power with the same command and control. I'm excited to see what happens with him in 2019.
Still watching – Keegan Thompson looks like he could be a guy as he dominated high A Myrtle Beach. He was somewhat inconsistent at Tennessee but at times he was good. As well, I hope the Cubs can get Alex Lange on track. He has 2 plus pitches and a pedestrian fastball. If he could get his fastball to have some movement, he could get going upward. Lange can get teed up or he could strike out 10. You never know. Then again, Lange finished very strong in August with a 2.74 ERA for the month with opponents only hitting .160 off him. I'd like some more of that Alex Lange, please.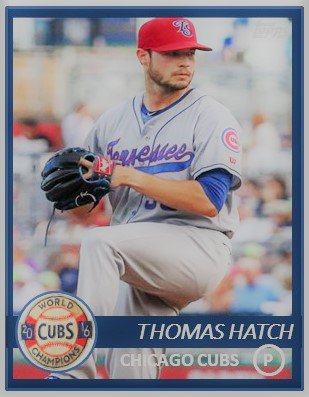 Sleeper – Thomas Hatch – Whatever happened to him in August, whether it was something he ate or drank or changed, needs to continue next year. He was a freaking beast on the mound with a 2.51 ERA in 5 starts, his best month at AA. I hope he can begin 2019 like he ended 2018.
The de la Cruz Factor 
When Oscar de la Cruz's suspension ends, it will be intriguing to see if the Cubs stretch him or put him in the pen. His injurious past affected the suspension and putting him in the pen might kill two birds with one stone.
It is going to be a fun year for watching pitching at Iowa and Tennessee.