By Todd Johnson


The longer this off-season drags on, the more tension there seems to be throughout the Cub universe. Almost all of that negativity has to do with major talent acquisition, or the lack thereof. In other major professional sport leagues, when free agency comes, there is a ton of movement in the first few days when teams can officially sign players. Baseball is just not that way. That should be a bone of contention the next time they open up the collective-bargaining agreement.
I like to think that I'm a pretty positive guy. As a Cub fan there are still plenty of other things to remain hopeful and excited about for 2019.  Here are a few things I am looking forward to seeing this year.


1. The Copa de la Diversión will begin spreading out to more minor league teams this year. Last year, Eugene did an excellent job with Monarcas de Eugene. I'm excited to see what Myrtle Beach and Iowa will come up with this year. Rest assured, I'll be buying some gear the day they start selling it. Hopefully, Tennessee and South Bend will be a part of Copa de la Diversión in 2020.
2. Competition – I'm going to be relying on Arizona Phil for the rosters of the class A teams during spring training. It's going to be a hot mess because there will be a lot of competition for roster spots at Myrtle Beach and South Bend. The rosters will probably in flux right up to opening day. I find that exciting to follow.
3. Three More Prospect Lists – Baseball Prospectus,  Keith Law, and MLB Pipeline are taking their time in assembling their top Cubs Prospect lists. Baseball Prospectus should be releasing their's next week on January 17. I look forward to seeing each list and who they have at number one and just all who they have in their top 10. MLB Pipeline goes to 30 and that should be to fun to examine for its depth.
4. A Dominator – One reason the Cubs' farm system has not been highly ranked for the past two years is that they just don't have a dominating player(s). There is no guy that just tears up a league on the mound or in the batter's box. That could change this year. In fact, I think there are three or four guys could come out and just destroy a league, depending on the level. By the end of the year I would not be surprised to see three Cub prospects listed on a top 100 list. Nico should be on that list as could a few of last year's draft picks.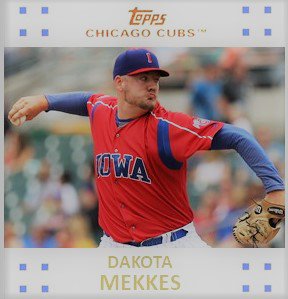 5. Despite the pace of this off-season, I'm still very much interested to see the configuration of the 25 man roster…in July. It's definitely going to change from Opening Day as players come and go as the Cubs' brass adds and subtracts based on injuries and production. I am looking forward to seeing exactly which players are going to be Cubs for the home stretch of the 2019 season. WIll Dakota Mekkes be there? WIll Norwood? Adbert Alzolay most definitely should.
I know it's hard, but there are positive things happening in the Cubs' system. Anyone who is focusing on the negative wears me down. However, no amount of fan vitriol will cause Theo Epstein to change anything. Theo's going to do what he thinks is in the best interest of the team in the short and long term. It's worked so far. Yes, last year was disappointing. This year, we will just have to have some patience until an actual deal is made.