By Todd Johnson
I was expecting to have a nice and quiet Saturday. I wound up running errands to Rochelle, DeKalb, and Rockford. And lo and behold, the Cubs did something on the roster front by the time I got home.
Most of the moves were expected as Adbert Alzolay and Jen-Ho Tseng are heading to Iowa. Justin Steele and Oscar de la Cruz are going down to Tennessee. In addition, several other players were assigned to minor league camp. They include Duncan Robinson, Ian Clarkin, Alberto Baldonado, Craig Brooks, Carlos Ramirez, Colin Rea, Ian Rice, Charcer Burks, Evan Marzilli, and Jacob Hannemann. Some of them will still see some action in big league games over the next two weeks.
The good news to take from this is that Dakota Mekkes, James Norwood, and Dillon Maples are still in big league camp. Their odds of making the 25-man roster are at about a 0.01% chance. Still, they have been impressive and this experience will only help them when needed later this summer.
A MiLB Trade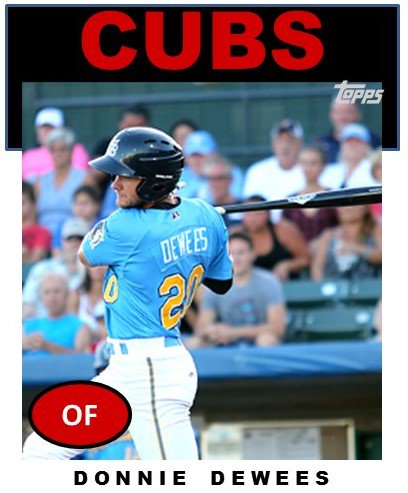 The Cubs also re-acquired outfielder Donnie Dewees from the Royals in exchange for Stephen Ridings, who has yet to pitch past Eugene. Dewees was a second round pick of  the Cubs in 2015 and played at Eugene, South Bend, and Myrtle Beach before being traded for Alec Mills prior to the 2017 season. I profiled Dewees during his scintillating stint at South Bend.
But as Royal, Dewees did OK in his first year in their system in 2017. At AA Northwest Arkansas, Dewees posted a 109 wRC+. In 2018, he split his time between AA and AAA. It was not his best year as his OBP dropped to just barely over .300 and his wRC+ fell under 100. His average dropped 25 points from his tenure as a Cub while his walk and K rates stayed the same.
Dewees should be playing along Mark Zagunis in the outfield at Iowa to start out 2019. His re-acquisition speaks to the lack of depth of position players who are ready for AAA. That deficit is due in large part to the Cubs loading up on pitchers in 2016 and 2017 in the draft. Still, I like the move.
I am excited to watch him play as he hustles with the best of them.