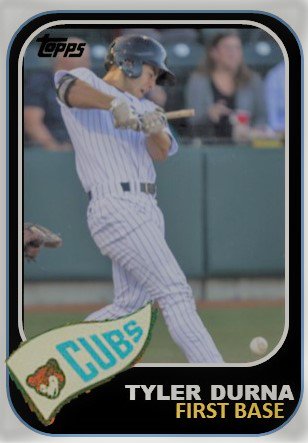 One of the cool things about watching the Eugene Emeralds play every summer is that I get a sneak peek of what prospects might be playing at South Bend the following summer. Most of the players tend to be the most recent draft picks and that was the case last summer. One of them was first baseman Tyler Durna.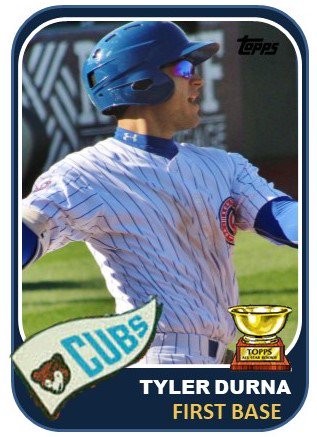 Basic Info
Ht: 6'
Wt: 205 lbs.
Bats – Left
Throws – Left
Strengths – Approach, Pitch Recognition, Defense
The Cubs selected Durna out of UC San Diego in the 15th around last summer. He played a little bit for Eugene before he was pretty much shut down the month of August. Heading into this season, I did not think much about him in terms of being in a lead bat in South Bend's lineup. After two weeks, I'm pretty excited to watch him hit every game and every at bat.
You have to cut me a little slack on this one as I focused in on Nico Horner in Eugene last summer and a few other prospects who had a little more shine. After watching Durna every day now, he's pretty impressive. I had an inkling something might be happening with him back in the middle of March when Arizona Phil of The Cub Reporter talked about how good of a spring Durna was having and that he should be on the Myrtle Beach squad. Phil was disappointed when Durna was moved down, but Myrtle Beach's loss is South Bend's gain.
What Durna can do is give an outstanding at bat every time up. He has a great knowledge of the strike zone and I love it when he chokes up with two strikes. He was hitting .326 before Wednesday's game with an on base percentage of .354. His value as a run producer is easy to see as he's posted a wRC+ of 130 in two weeks of action.
He leads off this highlight below with his 2 strike approach. It is a thing of beauty.
Durna is also an outstanding defender at first base. He's got a pretty good floor but I'm not sure what his ceiling is going to be. In three years at UC San Diego, he only had 14 home runs. Home runs are hard to come by in April in the Midwest League, but I would expect to see Durna start to crank out a few. At 6 feet and 205 pounds, he's close to being maxed out. But if you look at him, he carries that 205 pounds well and he might be able to add 10 pounds of muscle without it slowing him down.
What is going to carry him forward in the organization is his bat and approach. The Cubs have shown time and time again that if a prospect can hit, they will find a place for him to play. Since he does throw left handed, it limits where he can go, but the bat should propel him through class A this summer. To be quite honest, he looks a little advanced for the Midwest League. Maybe after the draft, he'll get bumped up to Myrtle Beach where he probably should've started the year.