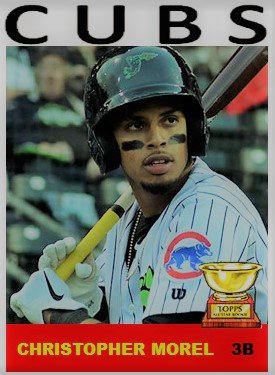 When I first saw Christopher Morel at Eugene in the summer of 2018, I thought if he turned sideways he was going to disappear. The then 18-year-old third baseman began the season with the Emeralds/Monarcas and really struggled to hit balls that begin with a C. He struck out 29 times in 25 games. Once the college kids signed from the draft, Morel went down to Mesa to work on his game. And he did fine in Mesa for a kid his age hitting .257 with a .331 OBP.
Here is what MLB Pipeline said about Morel heading into this season:
Morel has some of the best bat speed in the system but will need to add more muscle to his skinny frame before he can translate it into power. He has a nice right-handed swing and bat-to-ball skills, but his NWL experience showed he'll need to refine his approach at the plate. An average runner out of the batter's box, he's a step quicker once he gets going.

Morel's athleticism and solid arm strength give him a number of defensive options. He broke into pro ball as a shortstop and may have enough quickness to stay there. He spent the majority of his time in 2018 at third base and the Cubs believe he may be able to handle center field in the future.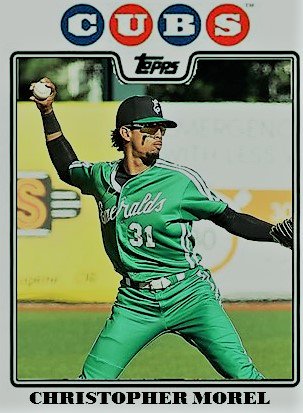 Basic info
Height – 6'
Weight – 175 (a guesstimate)
Bats – Right
Throws – Right
Strengths – Potential Power, Arm
Acquired – International Free Agent from the Dominican Republic in 2016
ETA – 2023
Fast forward to 2019.
When South Bend third baseman Fidel Mejia went down with a hand/wrist injury after 6 games, Morel was bumped up to South Bend. Now 19 years old, Morel seems to be flashing quite a few tools on both the offensive and defensive side of the ball.
When Morel showed up in South Bend in 2019, my first thought was that this could be interesting. Here's a 19-year-old kid playing in the cold environs of the Great Lakes region after spending two months in warm Arizona. In the first few games, Morel showed that he was much improved from 2018. He looked more patient at the plate, he did not seem to be trying to cream every baseball.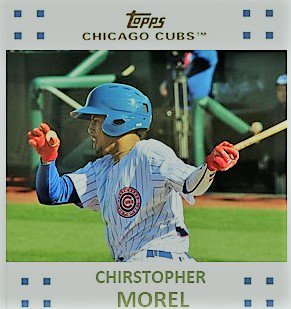 It's on the offensive side of the ball that Morel is showing the most improvement. In just 8 games, he is putting up an average of .241 with an OBP of .267 and a wRC+ of 103. It's a pretty small sample size so his numbers will fluctuate wildly for a while. But for now, he's hit one home run.
He's about 3-4 years below league average and seems to be holding his own with some newfound pitch recognition skills.He's watching the ball into the catcher's glove. I like it when kids can track the ball the entire way. It helps to develop pitch recognition and teaches them to pick up the spin on the baseball. Morel also is showing off his rifle of an arm at both third and shortstop.
In March, I thought for sure that he would begin the year at Eugene and that he could do well there. But it looks like things are going well at South Bend. If it continues, he could stay with the young Cubs if and when Mejia returns. Here is some video by Prospects Live from spring training.
As for his future, he has a very high ceiling and a lot of things going to have to go right for him to reach that ceiling. When he signed he was only 140 pounds. Now he looks to be carrying around 175 pounds with plenty of room for more. Already, he has a plus arm and  adding more weight will only add to his power profile. It's little uncertain where he's going to play in the future. But for right now, playing shortstop and third without favoring one over the other is fine.
Get used to the name Morel as the Cubs signed his little brother Rafael last summer.