While Nico Horner and Robel Garcia were getting all the press down in Tennessee for the Smokies to begin this season, one guy that's also did well was PJ Higgins. He came out of the gate hot and has cooled off some. This year, Higgins has been playing a mixture of catcher, first base, and third base and he's been doing it at a high-level.
When the Cubs signed PJ Higgins in 2015, he was the last player to sign and he played a mixture of third and second that summer. Then come 2016, he was behind the plate for South Bend. Even then, I loved his approach and his ability to put the bat on the ball. 
He even caught the eye of Fangraphs before 2017. They said,
A viable but unspectacular defensive catcher with a solid hit tool and exceptional approach, Higgins had nearly as many walks as strikeouts in the Midwest League last year but was 23 and his complete lack of power has many skeptical about his ability to sustain his walk rate at upper levels.
At South Bend, Higgins played 77 games behind the plate and 17 at first while also getting a lot of plate work in as the DH. It was a very successful year as he hit .283 with a .389 OBP and wRC+ of 127. At Myrtle Beach in 2017, Higgins had some bad luck in front of the dish but not behind it. His BABIP was an uncharacteristically low .260. He would rebound in 2018 at Myrtle Beach as he had a scintillating first half with a 126 wRC+, thanks in large part to a .381 OBP.
When Higgins got his promotion to Tennessee, he kept on catching as he got in 21 games behind the dish in July and August.
Things went well enough for Higgins last year that the Cubs sent him to play in the Arizona Fall League. That did not go so well as he only hit .158 for the term. Then again, he only played in 10 games out of 38. But 2080 Baseball did get some video of him in action.
Things are changing this year for Higgins, but not when it comes to hitting.
As of May 16, he was hitting .285 with a .364 OBP and a wRC+ of 129. He also had 3 HRs and 16 RBI at that time. Except for 2017, Higgins has always been able to square up the baseball, draw a walk, and get on base at every level. His power may have been a concern but not his pitch recognition skills nor his approach at the plate.
The Cubs have a lot of depth at catching right now, and to stand out, any prospect is really going to have to get noticed on both sides of the ball. That prospect is going to have to throw out runners, manage pitchers, and produce at the plate. Higgins did that at both stops in class A.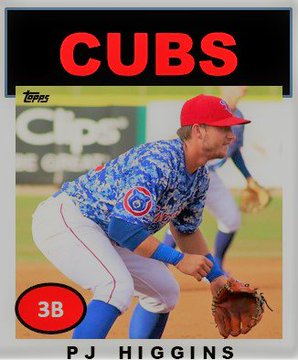 However, his fielding position is now different in 2019. He is playing the field much more than catching. This year, he only has five games behind the plate. He's spent 18 games at first, one at second and 13 at third. He started playing the infield more and more when he was promoted last July. And that trend looks like it is going to continue through this year.
When I start thinking about what Higgins role could be for the Cubs, it is a little cloudy due to the Cubs depth. Still, Higgins could be an asset as a utility guy considering his bat skills, versatility as a fielder, and consistent double digit walk rates throughout his career. Higgins can hit, but can he hit enough to keep moving up? And just exactly what position is he going to play?
It should be an interesting summer in Tennessee.