It is hard to believe that this is the sixth year that I have been handing out draft grades. Every year things change as players come and go, especially earlier in the Theo era. While some of those first classes produced bats, no class since 2014 has a player currently on the 25 man roster. However, a year from now, that all could change.
2011 – Previous Grades – B, B+

Baez and Maples are all that is left. Last year there were 4 guys, but attrition happens quicker than you think in the minors. Still, this class is far from done. With the Vogelbach trade bringing Mike Montgomery, that adds a little more to the class. Javy amd Monty are going to be around for a at least 2 more seasons.
2019 Grade – A.
2012 – Previous Grades – B+, A-, B, B-, B-
I used to think this class was going to be really special but it just did not pan out. Albert Almora still is the headliner, but David Bote really seems to be stealing the show. Duane Underwood is still hanging around the minors, but I don't know for how long.
2019 Grade – B.
2013 Draft Class – Previous Grades – A, A, A+, A+, A+
This draft class brought a MVP, a Rookie of the Year, and a World Series title. And that's just Kris Bryant. Down in the minors, Trevor Clifton is knocking on the door while Jake Hannemann and Charcer Burks are still plugging away at AAA and AA respectively.
2019 Grade – A+
2014 Draft Class – Previous Grades – A-, A, A, B
There are still nine guys in the system left from this draft. That's quite a bit for 5 years, but just two are currently on the 25 man roster. Both Kyle Schwarber and Mark Zagunis play in the OF in Chicago, but most of the others are still hanging on at AA and AAA hoping for a chance.
2019 Grade – B-.
2015 Draft Class – Previous Grades – B, B, C
12 guys remaining from this class are still in the game for the Cubs. However, the impact at the MLB level is nil this year. While Ian Happ struggled in April, May has seen some improvement by him. Meanwhile, PJ Higgins and Craig Brooks are off to great starts this year. While there is still hope for this class, they are stuck in the logjam that is the Cubs' system now.
2019 Grade – C-
2016 Draft Class – Previous Grades – B-, B+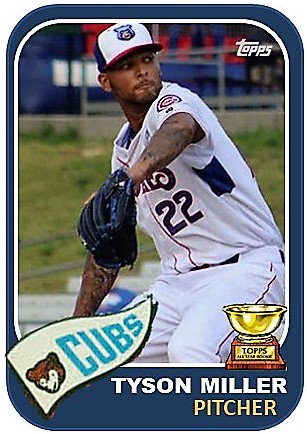 16 guys still remain with many of them having a legitimate shot at Chicago in the next two years. Tyson Miller looks to be at the head of the line as a pitcher and could be the first Cubs' draft pick in the Theo era to stick in the rotation in the next two years. Zack Short leads the hitting side, but he is probably slated more for a utility role in the future. Dakota Mekkes, Duncan Robinson, and Matt Swarmer are at AAA and the top pick, a third rounder at that, Thomas Hatch is at AA with Bailey Clark and a few others. Eventually, there could be 3-4 guys make it from this class which outpaces any class on this list.
2019 Grade – B+
2017 Draft Class  – Previous Grades – B-
In just two years, this class is all over the place. There were several cuts already, some surprises, some injuries, some trades, and some players who look close to being Chicago-ready just two years after signing. Cory Abbott, right now at least, has the makings of a rotation guy in the next two years. Some of the other big arms the Cubs took in this draft are not having their best year or a year at all in some cases. Jeremiah Estrada hopefully will be ready to go for Eugene in a few weeks and Nelson Velazquez is off to a great start at South Bend to begin this season. I am still waiting for Keegan Thompson and Erich Uelmen to start it back up this year.
2019 Grade – B-.
2018 Draft Class – They will get their own post and grade next Tuesday. And it's a good and very hopeful one that involves some hitting, for a change, and some surprising pitching.