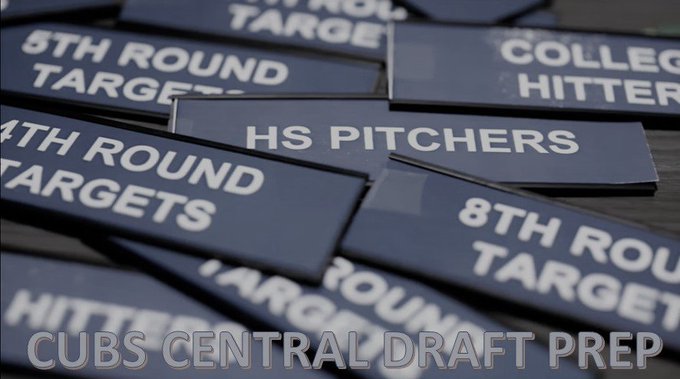 Normally at this time of year, I am knee-deep in scouting reports and videos of possible draft picks and international free agents. This year, not so much. About a week ago, I read an article by Keith Law about the implications that the shut down is having on the draft. It was an interesting read about just exactly what could happen with regards to the players that are picked.
On Wednesday, there were a few reports about the draft and IFA being cancelled to save cash strapped owners some money. For the Cubs, as an example, signing those players would cost the Cubs about $13-14 million. I don't like the idea of the skipping the draft at all. That's not a lot of money to companies that bring in $100s of millions every year.
On MLB Pipeline's podcast Thursday, Jim Callis spoke about the uncertainty of the draft and IFA. He reiterated a point that nothing has been decided by MLB about the draft. Callis went on to say that he saw the draft as possible. He saw having combines, summer leagues, and showcases happening as a way to mess up the 2021 draft cycle. In fact, Callis said he talked to a few scouting departments that have enough data to have a draft tomorrow or next week.
And then on Friday, Baseball America chimed in ($) with an article that basically summed it all up by saying that they saw no reason why the draft should not take place.
Here are a few thoughts that I have on what could be taking place with regards to the draft and international free agency.
Risk
Without scouts in the field, there's a lot more risk associated with drafting players that haven't played since early March. And it's an even bigger risk if you're taking high school kids who barely have any games in the northern part of the country, if at all.
But here's the thing, most of that risk would only be associated with with high school pop-up guys who took a huge leap in development this spring. Most of the college prospects on teams' draft boards have been scouted since they were in high school. As a result, the clubs pretty much know what they're going to be getting with most of them. The same is true for most high school prospects who have been on a team's radar for up to three years.
However, if a kid showed great growth in the spring, whether in college or high school, those are going to be the players that are the riskiest picks or the ones who missed out this year. Ideally, most scouts have seen guys in the summer against elite competition and that might matter more to scouts, according to Jim Callis.
If teams go after junior college guys in abundance, they have the same data from Rapsodo and Pitch Tracks like the pros use. It's not going to be a shot in the dark. If a scouting department is doing what it is supposed to do, that should eliminate most of the risk.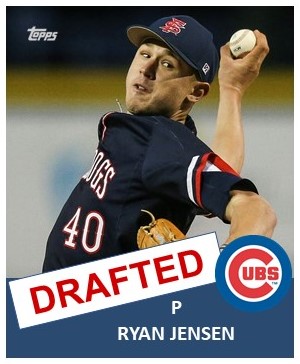 Pitching
Normally, if a pitcher is drafted, they usually have innings limits and pitch counts because they have already pitched a full season. In 2020, they have not done so. Most college pitchers only saw action in four games, maybe five, tops. As a result, the pitcher could sign their contract and pitch 60-70 innings and there would be no risk to their arm. In fact, it might move up their development a full year ahead of schedule.
The Date
Right now, the draft is supposed to place June 10-12. It's not that far away. I see no reason why it can't take place as most of it's done on conference calls (38 rounds) except for the first two rounds and those two rounds can be adjusted to take place over the phone as well.
Possible Changes
The only thing I can see happening is they cut down the number of rounds. Maybe they don't go a full 40 rounds. I could see a scenario in which 20 to 25 rounds would be fine.
College Seniors still have a little leverage
Usually, if seniors get selected, they have no leverage whatsoever. It's either accept our offer or try and find someone else to pick you. This year, those seniors can technically go back to school, but how are they going to pay for that extra year of college. Most schools don't offer full rides to every player for baseball. As a result, the seniors do have some leverage, but not a whole lot when you think about what they would have to pay to go back to school or the time they would lose in development.
Internationally
Honestly, most of the major IFA prospects are going to sign on July 2 as those deals have been in place for quite a while, some up to two years. For the Cubs, they were linked to top shortstop Cristian Hernandez as early as last fall on Baseball America along with catcher. In February, the Cubs were also linked to catcher Moises Ballesteros.
The Cubs have been signing a lot of late bloomers lately, guys that are 18 or 19 who come at a cheaper price. Those are the guys who were going to be affected most as they cannot be seen until the scouting ban has been lifted. The Cubs can't hold tryouts or anything of that nature at the present time.
As a result, we will see a flurry of signings on July 2 and then nothing for a while. Later, probably in the winter, most of the other signings probably will occur or officially be announced.
As to whether either of these two ways to acquire talent happen this summer, it is going to be interesting.