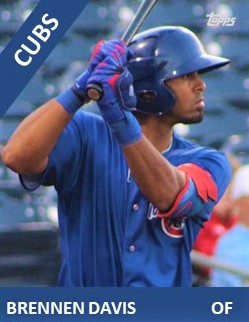 Coming into the 2021 season, most people thought that pitching would dominate over the course of the year because they had a much more productive off year than hitters did. There is no substitute for a hitter facing live pitching. You can do soft toss, batting cages, live BP, but it all pales in comparison to functioning with adrenaline in actual game situations.
It took many of the Cubs young hitters until the second half of 2021 to start to put things together. At one point this summer, I thought that Justin Stone might lose his job if the rut continued. As the year wore on, a lot of improvement took place in the second half all throughout the system.
According to Greg Huss of the Growing Cubs Podcast, Out of the Vines, and Cubs Insider, one key storyline is guys coming back who missed most of 2021. "Something to look out for during the 2022 campaign will be the return of several players that were injured and missed most of this past season." For two hitters, Miguel Amaya and Cole Roederer "are now staring down the barrel of nearly 2 straight years without playing in a competitive game," Huss added. "Will they bounce back to the top prospect hype they once had or will the time off be too much for them?" Those are some good questions to ask this winter and answer next spring.
Heading into 2022, I'm excited for several other possible storylines involving hitters.
The obvious choices for my top spot is Brennen Davis making it to Chicago. I don't think I need to mention much in this article because that's going to be everybody's number one hitting storyline. But there are more tales to tell and to watch come next spring. I broke this year's article down by affiliate rather than individualized profiles.
Iowa – I'm looking to see the Iowa Cubs' roster filled with a lot of actual prospects next year rather than minor league free agents or AAAA type players. I hope to see Chris Morel, Chase Strumpf, Darius Hill, Nelson Maldonado, and Nelson Velasquez join Jared Young and possibly Miguel Amaya to open the year in Des Moines. That's a pretty formidable group of players to watch on an everyday basis with Brennen Davis and Levi Jordan. Considering the Cubs' certain current circumstances at the MLB level, some of these guys are going to get looks at some point throughout next summer. Rather than go out and get some bats for Chicago, the Cubs may actually be a self-sustaining club by the end of the year. Whether the players mentioned in this section will be ready for Chicago is another story.
Along with Davis, the one who might be most ready is Nelson Maldonado. The 2019 draft pick out a Florida just killed it at Double-A before he was injured in August. He should be good enough to start next year in Triple-A Iowa. Nelson Velazquez might also make a run for it the way he is hitting in the Arizona Fall League.
Tennessee – Most of the 2021 Smokies' roster should be retained except for a few players heading up to Iowa that I've already mentioned. Yonathan Perlaza and Bryce Ball might be the main attractions to start the year in Tennessee, but we should see Bryce Windham and Bradlee Beasley ply their trade there as well. Right now, the Smokies 2022 squad is a bit up in the air. However, who comes up to Tennessee in the second half will probably be the biggest storyline in AA. The South Bend and Myrtle Beach squads are just loaded. I would not be surprised to Alexander Canario and Yohendrick Pinango in June. It is almost becoming a hit or get of the way scenario as the system's depth is moving up the ladder.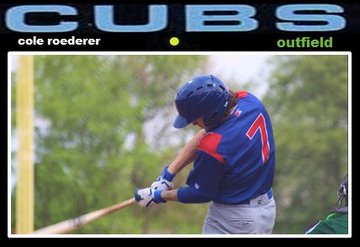 As Greg Huss mentioned earlier, one of the most interesting storylines is going to be the return of Cole Roederer. I wonder exactly where Cole starts 2022. Coming off of Tommy John surgery, I would not be surprised to see him play the outfield just a couple times a week and do a lot of designated hitter work until his arm has been fully cleared. It'll be interesting to see how long he actually spends in South Bend to begin the year. He'll still only be 22 when the season begins. It's still a pretty young age to be at AA.
The South Bend Cubs are going to be exciting to watch. They will probably start out with Alexander Canario and Yohendrick Pinango returning as both only played a few weeks of High A baseball. You can add Jordan Nwogu and Kevin Made to that lineup as well.
To start the year, the Ed Howard storyline could be the biggest story to follow. He struggled quite a bit in the first half of the year at Myrtle Beach. He rebounded some in August and did very well in September to end the year. In addition, he played quite a bit more at 2B in the second half as well. Seeing where he plays this year might be just as important as his bat.
As for Myrtle Beach, The Pelicans are going to be lit at the plate with Owen Caissie, Reggie Preciado, Kevin Alcântara, Felix Stevens, BJ Murray, and James Triantos. There is not going to be a weak spot in that lineup and I feel sorry for whoever has to face that lineup six games a week all summer long.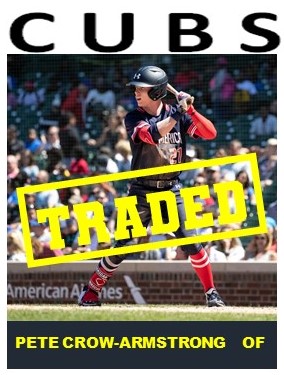 The biggest story at Myrtle Beach might be just how good Pete Crow-Armstrong is going to be. Drafted in the 2020 by the Mets, and acquired by the Cubs in the Javy Baez trade, Crow-Armstrong might be the best player the Cubs got in any of last summer's deadline deals. If he shows no ill effects from missing most of 2021, I wonder just how long he stays in Myrtle Beach and if he makes it to South Bend quickly or by mid summer. He will be all of 19 when spring training begins and he will turn 20 just before opening day.
As for the rookie league in Mesa, the biggest hitting storyline in the system after Brennen Davis is just exactly where Cristian Hernandez is going to start his first full season in the states. There are three options here. He can just go to extended spring training and then start playing in Mesa. He could go to spend extended spring training and then somehow find his way to Myrtle Beach, which is a decent option. And the final choice for the Cubs is that he could just go to Myrtle Beach.
A lot of things can happen over the next four to six months with Hernandez. He's more than likely to make his way stateside for a few camps but the second option might be the best. He could come north and participate in extended spring training and based on how he does there he could find his way to Low Class A at 18-years-old, just like Kevin Made did in 2021. That would be pretty cool. However, that's a huge step to go from facing guys in the Dominican to college pitchers to begin the season.
As always, there will be plenty of other storylines pop up throughout the next year. Some, like the ones above, draw our attention. Others, the unforeseen ones, will be just as interesting and just as exciting.