Yesterday was a rare day where I had to teach all day and I did not have any kind of free time. I did check out a few things online for about five minutes but I didn't have time to write a post. When FanGraphs' top Cubs prospect list came out, it might've been the most shocking thing that could've happened to me this winter. 
Over the past couple years, FanGraphs published their top Cubs list right before the draft. Two years ago was on the day of the draft and their prospect list for 2021 was published about a week before the draft just five months ago.
So what changed?
There's a really simple answer to why they put out their list yesterday. The Cubs had fall instructs this year. FanGraphs was able to attend, see all the players they wanted to possibly see, and they put their list out seven months in advance.
The actual list of Cubs projected to have a Fantasy value of 35+ or higher turned out to be 49 prospects. That's pretty close to last year I think. There's not a lot of real shockers in terms of who's on the list and who's not.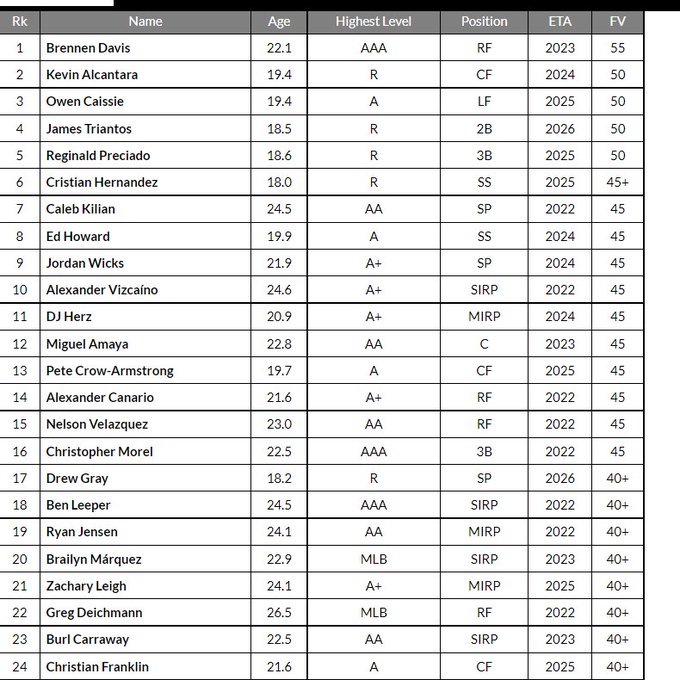 I was surprised that Cristian Hernandez was not in the top three. Seeing Zac Leigh at 21 was pretty cool and I thought Pete Crow-Armstrong was rated way too low. Seeing Drew Gray at 17 is pretty heartwarming. A year from now, that could be way too low.
And I was also surprised to see Alexander Vizcaíno at the 10 spot. In talking with my fellow prospect writers, they really struggled with that selection or that ranking.
I necessarily don't.
Here's why.
Alexander Vizcaino has an electric arm. There's no doubt about the fact that when he's healthy that he has some amazing stuff. He might be top four or five in the entire system in terms of the quality of pitches that he throws to the plate. The problem with Alexander is that he has trouble staying healthy with some shoulder issues. The club shut him down in September with some discomfort and hopefully he'll be ready to go in spring.
For FanGraphs, that's what that ranking is based on is his potential. If he were to reach his performance ceiling, that's really based upon the fact that he can gas it up there at 97 with ease on a regular basis. If he's in a relief role, "Boom!", we're talking 99 or 100.
There really is a fine line between performance and production and prospect analysis. Some publications go all in on the skills that a player has in their potential. Others other sites and evaluators tend to be top-heavy towards players that performed at Double-A and Triple-A. Brennen Davis is the perfect example of that. Once he started to produce at Tennessee, next thing you know he's the number 14 prospect on MLB Pipeline. That just goes to show how conservative some sites are when it comes to ranking prospects.
With most of the Cubs top 49 under the age of 21, this list is going to fluctuate wildly from year-to-year depending upon performance. Right now, the potential is good.