By Todd Johnson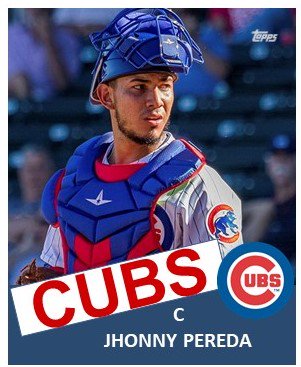 "Call me when they get to AA."
That saying has multiple meanings. For me, AA is the level where prospects meet the ultimate challenge. AA contains the best collection of pure prospect talent. AA is where most of the current MLB Cub players dominated or performed at a very high level. AA is also the place where prospects peak in recent years in the Cubs' system as AAA contains more MLB retreads than actual prospects.
In 2019, 22-year-old catcher Jhonny Pereda is scheduled to go to AA.
After a blistering first half in 2018 at Myrtle Beach, Pereda was one of the breakout players in the Cubs system. Originally, Pereda was slated to head back to South Bend to start the year. However, then Pelican manager Buddy Bailey insisted that Pereda break camp and head to the Carolina League. It was one of the better stories of the year.
Pereda excelled under the tutelage of Bailey in the first half and hit .284 with 5 HRs and 36 RBIs with a .368 OBP. He slipped a little in the second half as Pereda almost doubled his career high of games caught in a season with 83. He also saw action at DH in 39 more. And to top off the year, Pereda played in the prestigious Arizona Fall League. While he only saw action in 8 games, he held his own hitting .276 with a .344 OBP.
Here's a great up close look at his swing
His swing is short and to the point. He is not going to hit for a lot of power, but he could hit for a decent average. He shows a great eye at the plate as he does not swing at a lot of bad pitches. Last year, his K rate was at 13.7% while his walk rate was a solid 10+. Both those stats bode well for 2019.
The fact that Pereda went to the Fall League is a good harbinger for how he is valued in the system. While his bat was the star of the first half of the system, don't sleep on his defense. He showed excellent poise behind the plate last year in handling some of the Cubs' top prospects at Myrtle Beach. He also has an excellent arm. He caught almost 40% of base runners who tried to steal off him last summer. That is just outstanding!!!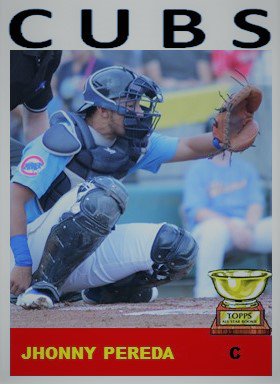 Marc Hulet of Fangraphs said the following about Pereda's potential:
I think he's going to continue to hit. He has a quiet set-up at the plate, a controlled swing and a great base for balance. I'm not sure he's going to grow into much more power unless he changes his stance and/or swing. But his current approach allows him to make a lot of contact and he has a good eye so he doesn't strike out much and he gets on base at a good clip via the free pass. Defensively, he has a good reputation and does an excellent job throwing out base runners. I see a big league back-up here with the potential to be a second-division starter if the bat continues to develop.
As for just 2019, AA is going to be a challenge for Pereda. He's going to face competition similar to what he saw last fall. He should get in some MLB action in spring training the next few weeks. While he does profile as a backup catcher, the Cubs will have to make a decision on him by November 20. He will have to be added to the 40 man roster or he will become a 6 year MiLB free agent. Odds are, if he has a good season at Tennessee, he will have one of those coveted 40 man spots.