By Todd Johnson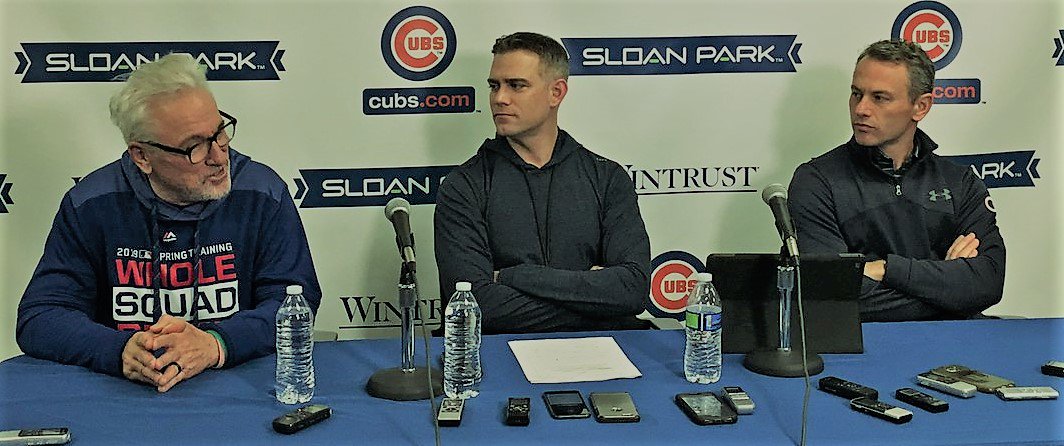 It was a strange afternoon.
While blizzard conditions whipped around northern Illinois, I sat down in my recliner to watch Theo Epstein, Jed Hoyer, and Joe Maddon kick off Spring Training with a press conference. The first 20 minutes were about as surreal a baseball chat as I've seen in recent memory.
The presser began with just manager Joe Maddon. He started by talking about the players and what "great condition" they are in. Then, like always, Joe laid out his theme for 2019, "Own It Now." Filled with anagrams, this year's perfunctory slogan is meant to get players into the moment. "A big part of our success this year is going to be the fact that we own each moment. And if you take the word 'now' and turn it around, it becomes 'won.'"
Eventually, Theo and Jed arrived at the table and questions about baseball soon to a back seat to Addison Russell and Joe Ricketts. Theo spoke for about 15 minutes (see the video below), and quite eloquently at times. I don't think that's what Theo would rather be talking about. Baseball should be the order of the day, but it wasn't.
I did like what Theo said at one point in his "monologue" about what the Cubs are doing in response to Mr. Russell's actions and responsibilities. Theo said, "We hold Addison Russell to an extremely high standard and we expect him to abide by that or he won't play another major league game for the Chicago Cubs ever again."
Theo spoke with both a sense of firmness when discussing all the things the Cubs are doing as an organization in regards to domestic violence.
Eventually, the presser did get down to talking about baseball. Joe Maddon explained that he's going to be doing a bit more coaching this summer rather than having the coaches do it all. Joe went on to explain that he wants his hitters to be versatile. He wants them to hit dingers, go the other way with two strikes, hit away for the shift, and to make productive out with runners on third.
Joe also spoke about he wants the team to play two bases at time, both at the plate and on the baseballs. He wants his offense to be aggressive to put pressure on the other team to make mistakes or to make good plays to get outs.
Late in the press conference, Jed Hoyer did announce that Adbert Alzolay would be about two weeks delayed due to a pinge in his side. It is nothing serious, the Cubs are just being cautious.
Watch the video for the whole presser.
https://www.facebook.com/plugins/video.php?href=https%3A%2F%2Fwww.facebook.com%2FNBCSChicago%2Fvideos%2F2272578819622836%2F&show_text=0&width=560