It's been an interesting week in the minors. The most notable news item was the promotion of Robel Garcia to AAA Iowa from AA Tennessee. There was not a corresponding move for a middle infielder in the rest of the system. And there might not be until the middle of June. Nico is still on the injured list along with Zack Short. As a result, we get to see what Garcia can do and if he might be a guy in the short term who could help in Chicago. He went 3/4 on Friday night and 1/2 with 2 BBs on Saturday.
Pitchers Tommy Nance and Jake Stinnett also got their first action of the year. First at Myrtle Beach and then at Tennessee. As well, reliever Sean Barry debuted at South Bend on Thursday night with one scoreless inning and a save. And for Iowa, Jake Hannemann returned on Friday night.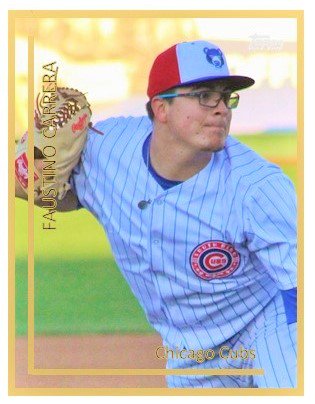 On Wednesday's Midweek Report, I wrote about some guys that were heating up. I can add a few more names to that list. Javier Assad of Myrtle Beach has thrown 14 straight scoreless innings and Faustino Carrera of South Bend is off to a great start in May. I got to see Faustino on Friday, May 3 in Clinton, Iowa. He can throw His fastball in the mid to upper 80s, but his curve and changeup are just outstanding. I can see why as the weather warms up those pitchers will succeed more than they would in the first couple weeks of April's chill. And Oscar de la Cruz had a heck of a week for Tennessee – 11 IP, 1 Run, 12 Ks.
I remember a couple weeks ago I said to be patient with Cole Roederer's progress. He's now got a nice 10 game streak where he's showing his hit tool and some patience at the plate as well. Considering that he's just 19, I'm excited to see him really go at it in June. Why June? It just gets a little warmer and he's just going to be more comfortable playing in that kind of heat. The chill of the north is not always kind to some warm weather kids in April.
In other good news, Jose Albertos was lights out in extended spring training on Friday. In two scoreless innings, he struck out the side in the first and got weak contact in the second. According to Arizona Phil, he threw 25 pitches, 18 of them were strikes!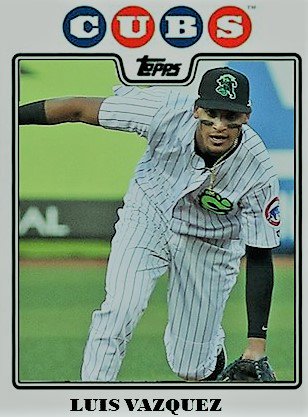 19-year-old Luis Vazquez is filling in for Nico at AA Tennessee for a couple of weeks. Everyone knew that the youngster could handle the defensive part of position. But offensively, AA was thought to be way above his abilities. So far, though, he's surprised everyone by holding his own by hitting .277. When Nico comes back, Luis will probably head back to Mesa, but he's probably close to ready for a full time gig of his own at South Bend later this summer after the draft.
On Thursday, I posted an article about Cubs' recent international free agent strategy. Later that day, MLB Pipeline released more footage of catcher Ronnier Quintero batting and it's pretty impressive.

 A post about SS Kevin Made soon followed.

As for last year's class, Richard Gallardo has been pitching in extended spring training as a 17-year-old. He's going to stay in the United States this summer and play in the Arizona Rookie League. Arizona Phil of The Cub Reporter put out a mini scouting report in the comment section this week that is worth reading.
For a 17-year old he's very polished and poised. If I didn't know better I would think he was a D-1 college draft pick. High floor type pitcher. 91-93 MPH FB, solid CV, CH looks promising. Throws strikes. Stuff isn't electric. Doesn't get a lot of swings & misses. He's probably not quite as much of a prospect as you would think he would be given his $1M signing bonus. I would call him (at best) a younger version of Paul Richan, or Javier Assad might be even a better comp. He's a good prospect but he's not elite. Because he is so polished at such a young age I would say he is one of the Cubs Top 10 pitching prospects, but he's not one of the Top 5.
To counter what Phil has to say, consider this: Gallardo is essentially a junior in high school who is going to be playing professional baseball in the US. That's a good 2-5 years before most young players begin their careers in the Arizona Rookie League. Give him time to grow physically and develop professionally. Remember…who he is now is not who he is going to be in 4-5 years.
The Roundup

Iowa (5-2; 24-12) – This team is clicking on all cylinders. The starting pitching is starting to come around and Trevor Clifton just continues to be lights out this year. Duane Underwood has not allowed an earned run this month.
Tennessee (2-5; 17-18) – All of a sudden, the offense went kaput. Hopefully, Nico will return this week from his bruise. Tyson Miller continues to shine along with Oscar.
Myrtle Beach (3-3; 12-24) – Things are improving after a dreadful start to the year. The offense is picking up a bit and the starting pitching has been excellent. The bullpen blew three late leads this week otherwise they would have been 6-0. Still, they are 5-5 in May , which is miles better than April. Alex Lange looks to have put a disastrous April behind him as he has a 2.21 ERA in 2 May starts. Luis Lugo is looking good as their new fifth starter.
South Bend (5-1; 19-15) – The hitters had 12 BBs on Friday night as a team. I really enjoy watching these kids grind out ABs every night and the starting pitching rotation is getting deeper as Derek Casey seems to have found a groove along with Carrera. Eury Ramos was outstanding in his start as well this week with 5 scoreless and 7 Ks. And in the bullpen, one pitcher has a 6.00 ERA for the month, the other 7 guys have 0.00…combined!
Coming Up next Week
On Monday, Tyson Miller of Tennessee gets an update while on Tuesday I have a draft profile. Here's a nice reminder – THE MLB DRAFT IS JUST 3 WEEKS AWAY! That's all I have planned for the week. Let's just see where the action, news, and trends take us.
Card of the Week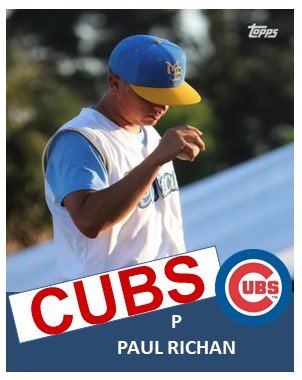 Photo by Larry Kave/Myrtle Beach Pelicans
Players of the Week

`