Since the new collective bargaining agreement changed how bonus pools could be spent in international free agency, the Cubs have shifted their strategy in signing international players. In the early years of the Theo era, they would sign some elite 16-year-olds and go way over the cap, and then buy in bulk in the penalty years. They did that for five years from 2013-2017. But those days are now gone. Instead, there's a hard cap that cannot be breached.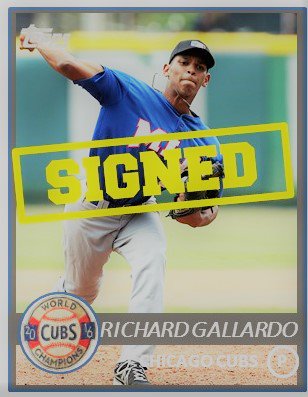 2018 was the first year of the new way of doing business in International Free Agency. To date, the Cubs have only signed 19 players since last July 2. The Cubs also acquired some $350,000 in additional money that they have to use before June 15 when this year's signing period ends. 
The 2018-2019 class saw the Cubs sign 3 of MLB Pipeline's top 30 IFAs. There was no longer the 40+ signees of 2016 or the 35+ of 2017. The Cubs went for bigger but fewer signings in using their pool.
Yesterday, MLB Pipeline listed their new top 30 IFAs for this coming signing period and the Cubs are again linked to three of the top 30 prospects including two in the top 11.
Both Quintero and Made have been linked to the Cubs for several months by Baseball America.
These three will not be the only signees the Cubs ink. And like 2018-2019, the 2019-2020 signing period should see the Cubs sign players throughout the year. This past year, the Cubs only signed 12 of their free agents in 2018. And of those 12, 8 were signed in the first two months.
It is more than likely that the Cubs will continue to sign quality players early while still looking for more pool money in trades. As the past year's signing period is ending, it is worth wondering if the Cubs will try to sign just 1 guy with the money they have left or will they buy in bulk like 2016-2017. Add in the fact that the Mexican market is now back open, anything is still on the table for this year. And who knows what might be floating around for next season.