The major league club kicked off the season on Thursday this week down in Texas. I'd say a 12-4 win kicked off the season the right way. Last night, the walkfest, the lead evaporator, or whatever you want to call it, was not a fun game to watch. The Cubs suit up at 3 today. Cole Hamels, who I love, is on the bump.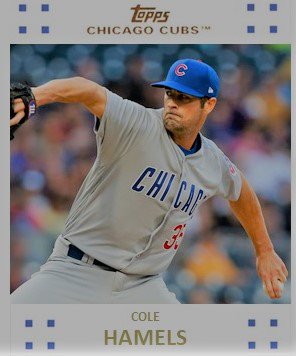 MiLB Opening Week
While I await for what I am going to call the "2019 Iowa Roster Massacre," today, I will be putting the finishing touches on the affiliate previews. Currently, Iowa has 37 guys on the roster. They have to get down to 25. Some will be cut, some will be sent to extended spring training, and some will head down to Tennessee. Myrtle Beach published their roster on Friday and South Bend did their's last night. Come tomorrow, I roll out Iowa's preview, followed by Tennessee on Tuesday, Myrtle on Wednesday, and I wrap it up with South Bend on Thursday.  On Saturday, I will have my annual preview of a preview of Eugene.
Three of the four major affiliates will kick off their season with exhibition games on Tuesday or Wednesday. Only Iowa is sitting that experience out. Come Thursday, Iowa will open the season down in Nashville while Tennessee, Myrtle Beach, and South Bend all start the year at home. Right now, I don't know which game to watch, a lot of that depends on who will be pitching. Come Friday morning, I will have a summary about opening night.
A Few Things to Watch for in April not Named Nico or Cole
1. The Pitching Hook – Considering the quality and depth of starting pitching in the system, it will be interesting to see who struggles early and how soon they get "the hook." By that, I mean removed from the rotation. The lower levels will probably more tolerant, but not at AA and AAA.
2. Extended Spring Training Performance – I like to see who is tearing it up in Mesa in the warmth of desert while 25 guys are freezing in the Great Lakes region. In doing so, that prospect could get promoted to South Bend and skip Eugene. Dalton Hurd and Rafael Mejia are two batters to watch while pitcher Yunior Perez might be one to follow. I also look forward to the progress of some injured players and the progress of Jose Albertos.
3. Promotion Logjams – Any prospect is going to have to dominate to move up but just how much? Usually there are a few promotions at the end of April/early May. I wonder how many will take place this year?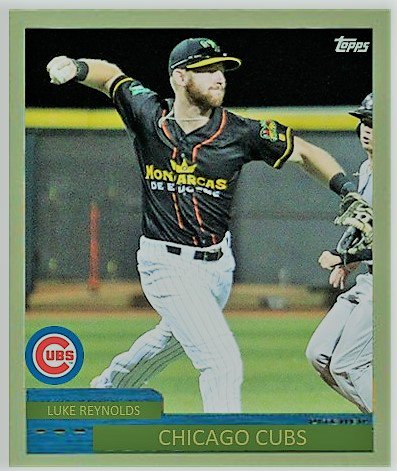 4. Luke Reynolds – People loved his approach in college and now that he is in his first full season, we'll see just how good it is. He is skipping South Bend and heading straight to Myrtle Beach. He should be fine and he should be fun to watch at the plate..
5. The Breakout for Which We've All Been Waiting – Jonathan Sierra is a physical specimen in the mold of Jorge Soler. Yet, all that muscle has only translated to 5 HRs in 3 seasons in rookie league and short season class A. Hopefully, this will be the year he puts it all together. He will in RF for South Bend to start the 2019 campaign.
The New "Awards" Page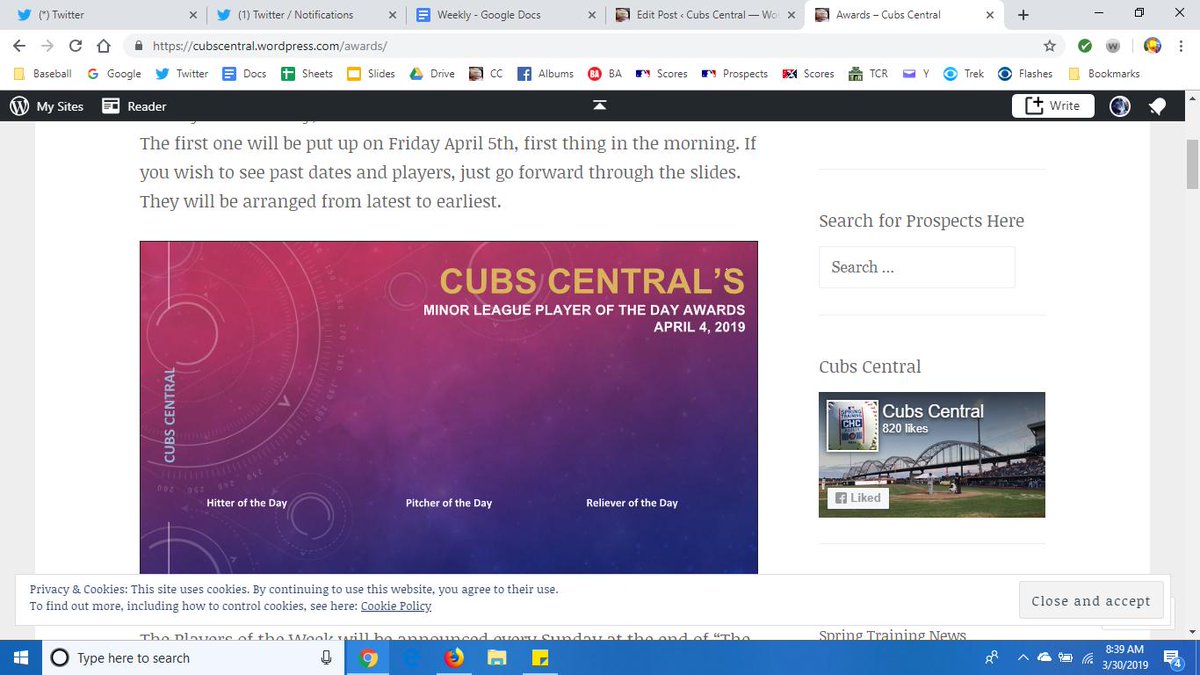 It is up and ready to go. Starting on Friday, I will put up the 3 players of the day from around the Cubs' MiLB system.
Down the Road a Bit
I am starting to get ready for the 2019 MLB Draft in more detail. It set for June 4 which is not too far away. I started writing a series called "Examining #27" where I break down draft prospects by the following categories: college pitchers, high school bats, college bats, and high school arms. I am excited about it. As well, I will probably have just a few individual draft profiles this year. The current one I am working on is pitcher Mitchell Parker from San Jacinto North JC.
Thank You
For some strange reason, March of 2019 was the second busiest month in the history of this site not named June (the draft). I don't know what it was but thank you for reading. Now I am curious to see whether April will do just as well.
On a Personal Note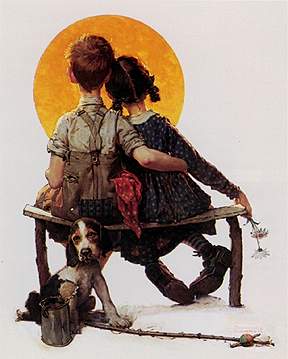 My wife Anne has been dealing with health issues the past 2.5 years. It started with vision loss and then turned to peripheral neuropathy. First, she had cancer, then she didn't, and then no one knew what she had as she slowly began to lose the use of her limbs. She went on disability in January of 2017 and began walking with a cane and sometimes rode in a wheelchair. We went from test to test and doctor to doctor. Nothing.
Well, to make a short story long, late last fall we saw Dr. Craig Torosian in Geneva who helped get us into the Mayo Clinic in Rochester, Minnesota. I drove her up there twice in the past 5 weeks. On Thursday, we finally got an answer after 2.5 years. Anne's been diagnosed with an autoimmune disease. It's treatable. We go back up to Mayo later in April to do a couple more tests, meet with a specialist, and pick the treatment plan that is best for her.
We are so thankful to so many people, especially at Mayo. Along the way, writing about baseball gave me something to do while Anne went through all her tests. I need to send out a special thanks to my friends Rikk and John for helping to distract me and also listening to me along the way. Needless to say, spring this year looks to be very a exciting season for us!
Pic of the Week
Last year's Eugene players got their rings yesterday!
Card of the Week