By Todd Johnson


It's hard to come up with an analogy or metaphor about what it's like to try and figure out the starting pitching rotations for the Cubs' minor-league affiliates in 2019. It is going to be a big challenge and I have given it some thought and eventually gave it up as a futile attempt. I made a spreadsheet to make it easier to sort and move players from one affiliate to another. It did not go well, not at all.
It got to the point where I became extremely flustered and thought, "How is Jaron Madison going to do this come the first week in April? How is he going to sort them during spring training?"
The Great Backup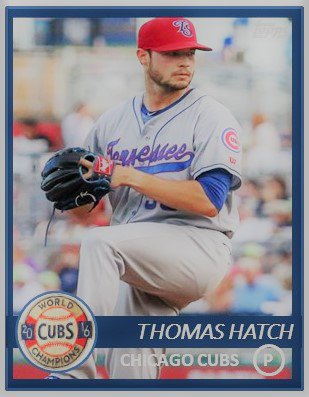 The reason for the backup is a good one. The Cubs are producing minor league pitching. Their own prospects have filtered up through AA and now into AAA and in short time. They are not going to filter up to the major leagues fully, so that's creating the log jam that is going to clog up the system for the next couple of years.
There are about 10 guys who could start at AAA Iowa this year. Iowa will, more than likely, go with a five man rotation. The odds of the AAA affiliate going with a six-man rotation just to get guys work are very slim. Adbert Alzolay and Alec Mills are going to be at the top of the list followed by Trevor Clifton and Duncan Robinson. That leaves one spot for a plethora of names that include Keegan Thompson, Thomas Hatch, Michael Rucker, and Matt Swarmer.
As a result, whoever doesn't make the AAA squad is going to be kept down at AA. And that trickles down and clogs up the system.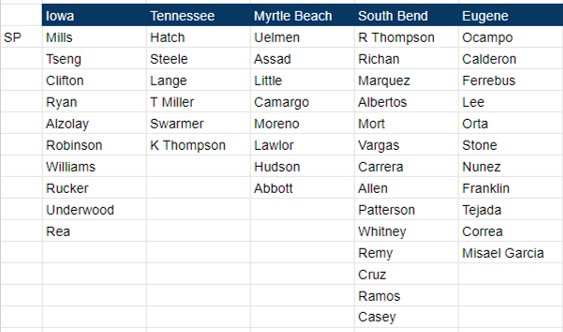 The Cubs have to have a pretty good idea of who they want to see at AAA. I doubt if it's already decided, but it has to come down to just a couple of pitchers and how they perform in spring training. Maybe the pitchers have worked on something in the off-season and that could buy them a one-way ticket to Des Moines.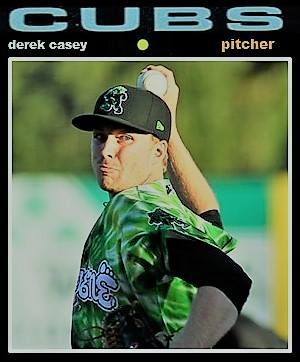 However, the most interesting staff might be in Myrtle Beach. There, a collection of holdovers from last year's club and fast risers from the 2018 draft could be on display as a six-man staff. As well, Brailyn Marquez could sneak up and earn a spot in high A as a 20-year-old. I am also interested in seeing if Derek Casey and Paul Richan are good enough to basically skip South Bend.
Down in South Bend, there could be 14 guys competing for six spots. Those that don't make a squad this spring will either end up in one of two places – extended spring training or the bullpen. It will probably be a mixture of both.
Because of the log jam and competition for spots, fans could see the best collection of pitching in the Cubs' System in quite a while. This will be one of the main stories in the minor league camp when it begins in a  couple of weeks.