On Saturday night, I was watching AAA Iowa's game against Oklahoma City. At the same time, I was also messaging back-and-forth with my friend John. Most of the conversation pivoted around why the Cubs don't seem to trust their own pitching at the major league level. There are several arms who are close to being ready and are not being given the chance. John and I began brainstorming several possible reasons why the Cubs have not been able to produce long-term success at that position.
To say the Cubs have not been able to produce success at the pitching position is a bit misleading. Carl Edwards has definitely had success at the major-league level and he started out at Daytona and pitched at three levels in the Cubs' system. Kyle Hendricks did well in Tennessee and Iowa before joining the Cubs' starting staff. And Paul Blackburn and Zak Godley have had success elsewhere. Even James Norwood was successful along with Alec Mills last late last summer in Chicago. Still, they were not given much of a chance to earn a spot in the bullpen this spring.
Here are some of the things we thought of as possible reasons.
Drafting – The Cubs have drafted plenty of guys who can throw hard and pitch. But to break this down, I think you have to look at how they drafted arms from 2012 to 2015 and then 2016 to the present. Up to 2015, those pitchers seemed to fit into a box as to the type a pitcher they were. The Cubs did not go for the Kellogg's variety pack of arms in getting different types of pitchers. They also tended to shy away from big-name arms, especially in the first couple of rounds.
Jason McLeod, the Cubs Director of Scouting, admitted their mistakes openly at the Cubs Convention (per Mark Gonzalez of the Trib) this past January.
"We put so many checks on guys that I feel we probably walked by some guys that didn't meet certain criteria at the time (referring to mechanics, health and strike-throwing efficiency). That probably hamstrung us a bit."
The thing about that quote is that can be taken in two ways. One, obviously, is looking past guys. The other way to analyze it is how they evaluate their own pitchers. There have been many times I wondered why certain guys got promoted over others. I thought Trevor Clifton should have been at Iowa after dominating the Southern League in the first half of 2017.
Since 2016, the Cubs have tended to take more risks in drafting pitchers. When you draft 27 pitchers in 2016 that's a huge risk to the strength of your organization. And then you repeat it again in 2017. Most of those guys are now at AA and AAA.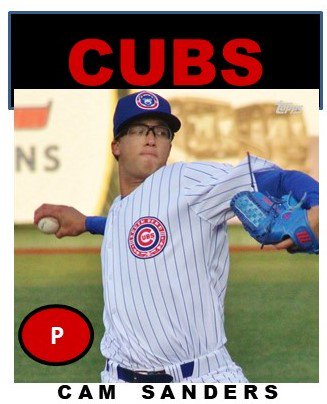 Even the 2018 class is quite different as the Cubs look like they went for some electric arms like Riley Thompson and Cam Sanders along with guys with excellent plus pitches like Paul Richan and Ethan Roberts. It was really an eclectic mix and there are still a few guys who I haven't seen yet like Kohl Franklin, Chris Allen, Jake Reindl, and Josh Sawyer.
Development – I distinctly remember in 2016 when Buddy Bailey started managing at Myrtle Beach that he told his pitchers that they were going to throw inside and own the inner half of the plate. Needless to say, several Pelican starters had their best year that year. Trevor Clifton was the Cubs MiLB Pitcher of the Year and the Pelicans won the Carolina League for the second year in a row.
The thing is this – you don't hear enough stories like that about the system. Occasionally, you will hear stories about minor adjustments like speeding up the time between pitches, adding a cutter, a four seamer, or changing arm slots. There is no organizational philosophy on pitching. Add in the fact that the Cubs, at one point, had 4 different minor league pitching coordinators in 4 years. That should raise a red flag.
Trust – When it comes right down to it, the Cubs success at the major league level doomed developing pitching at the major league level. If a pitcher is deemed ready to come up and pitch in Chicago, the Cubs major league squad does not have the luxury of time, or patience, to develop him. That arm has to earn the Cubs' trust on day one. This is about winning and winning now. And it's been that way since 2015-2016.
Now just who isn't trusting these guys to come up and stay is another story. It could be the MiLB staff or Theo and Jed thinking they are not ready. It could be Joe Maddon who might be hesitant to do more than pencil them in for a spot start and to do mop up duty in a blowout.
It's a little of both.
But here's my take – The Cubs want arms who can get major leaguers out. Those pitchers are not going to be able to do that in AAA Iowa. They have to learn how to do it in Chicago. There's nowhere else to do it. And, more than likely, the Cubs have shown time and time again that they don't have the time to develop arms at the MLB level because they have to win now.
The Cubs have at least 5 guys who could be in Chicago (Maybe not all at once, but you get my drift). Dakota Mekkes, Dillon Maples, James Norwood, Trevor Clifton, and Adbert Alzolay (when healthy) all are just sitting there waiting to develop in the majors. Duncan Robinson had 7 IP of 1 run ball the other night and he could be a guy as well.
Chicago is the final step in development and it seems the Cubs are not willing to take the time to finish that final step just yet. And that's just for guys at Iowa. Tennessee has Cory Abbott, Tyson Miller, and Bailey Clark just tearing it up to begin 2019. They will be knocking on the door soon. The question for the future is, when will the Cubs open the door to let them develop in Chicago?