By Todd Johnson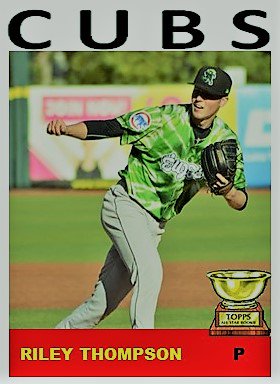 The guy I want to pick as my breakout prospect for 2019 probably won't play until June. Second baseman Reivaj Garcia is the bat I'm going to focus on later this year. But at 17-years-old, the young switch hitter's more than likely not going to be starting at South Bend to begin the year. He should be at Eugene come June 15. As a result, trying to pick breakout prospects for the first half could be rough this year.
There are a couple basic rules I follow for a first half breakout. One is there has to be a marked increase in performance from the year before. And while that player can be at any level, it's rare for a breakout to appear at AAA, but they do happen at AA once in a while (Willson Contreras). Therefore, Myrtle Beach and South Bend are the likely spots to find breakouts in the first half.
Most Cub fans already have eyes on Cole Roederer and Brennen Davis, the Cubs two second round picks from the 2018 draft. Roederer clearly broke out last summer at Mesa with a wRC+ of 129 in 36 games in Arizona. But Davis was injured most of the year after he signed. He only played 18 games but what an 18 games. A wRC+ of 138 predicts a bright future. But like Garcia, Davis likely will not begin his first full season until Eugene plays in mid-June.
Considering that I spend most of my summer covering the Eugene Emeralds on a daily basis, I have a pretty good grasp on most of the players that will end up on the opening day roster at South Bend. That also makes it hard to pick someone I saw play 60 games last year as a breakout. Add in the fact that I've written about several of those players, some multiple times, it's a little hard for prospects to sneak up on me in the first half.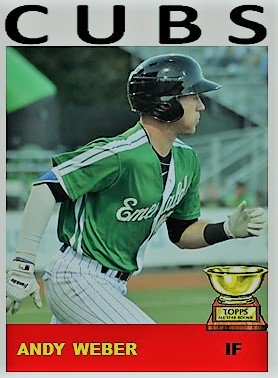 When it comes to hitters, Andy Weber is going to do very well at South Bend. He's got a patient eye at the plate and doesn't seem to get too rattled in any situation. There is some power there, I just don't know how much. However, I've written about Weber plenty of times. He's not an unknown.
As for pitchers, I think everybody knows I'd pick Riley Thompson, the Cubs 11th round pick out a Louisville, who was pretty darn good at Eugene last summer.  But to me, Thompson has already broken out a bit. But then again, he hasn't been fully unleashed on the mound for every start.
But if we're talking a true breakout, by my own definition, the guy I want to see bustout is Jonathan Sierra. The formerly lanky RF is now a muscular RF waiting for everything to click. He's shown a patient approach but the power everyone foresees hasn't taken over his game.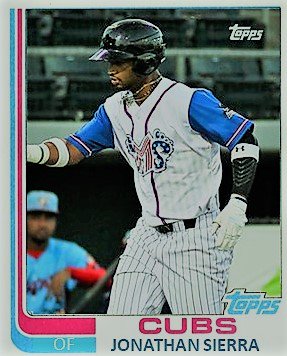 Yovanny Cruz is definitely an arm that should be at South Bend. At 19, he looks to have all the poise of a veteran on the mound who can mix and match three pitches. He spent most of 2018 in Mesa but he did make one impressive start in Eugene. I hope that he is good enough to get to South Bend to start the year.
Another possibility is a player Arizona Phil of "The Cub Reporter" recently praised. Catcher Alexander Guerra is becoming known his tool in instructs. Phil stated Guerra has "plus HR power and is a solid receiver…" Guerra played in the Arizona Rookie League in 2018. He hit .267 with an OBP of .355 and 3 HRs in 46 games. He will be 22 shortly after the season begins.
When it comes to pitching, I hope to see lefty Didier Vargas get a crack at South Bend. He was up and down in 2018 at Mesa but he came up big in the playoffs for Cubs 1. Jeremiah Estrada and Danis Correa both missed most of last year and could breakout this year. However, the odds of both getting shots at South Bend early in the year are very slim.
One of the most exciting things about covering the minors is watching a player catch fire and breakout. Sometimes, you can see the player coming. Other years, they can take you by surprise. I am hoping for the former this year…but you never know. The extra rookie league team from Mesa is going to create much more competition for spots at South Bend this spring and we could see some players become breakouts as a result.