Justin Hancock
By Todd Johnson
Yesterday, I talked about the dilemma for the backup catcher spot. Today, it's all about the bullpen. Or, as Joe Maddon now refers to them, bullpen men. The Cubs are likely to take eight of them east to Miami. Seven of those have been pretty set in stone since the beginning of camp in Brandon Morrow, Steve Cishek, Carl Edwards, Jr., Pedro Strop, Brian Duensing, Mike Montgomery, and Justin Wilson.
With just five days left until opening day, the Cubs have kept two spots open on their 40 man roster. One is likely for catcher Chris Jimenez and the other might be for one of the players they could be taking for the bullpen.
Lefty pitcher Randy Rosario has some MLB experience and is on 40 man, but I don't think he wowed anybody this spring. As a result, he was sent down yesterday to trim the roster to 34. But pitchers Anthony Bass, Kyle Ryan, and Justin Hancock are still alive and all put together good springs.
Former starter Eddie Butler more than likely looks to have one spot locked up as he is out of options. Another spot could be open as Pedro Strop is not quite ready to return and could begin the year on the DL.
Just yesterday, reliever Justin Hancock pitched two scoreless innings to close out a game, even though it was against mostly minor league players. When spring training began, I didn't think that Hancock stood much of a chance of making it through spring training, let alone this long. His ability to throw mid to upper 90s heat and to locate that heat made him an extremely viable candidate to make the team. According to Patrick Mooney of The Athletic, Joe Maddon said the following about Hancock's arsenal: "He's got a lightning bolt for an arm" and "He's got A-lister stuff." A pitcher is not going to get a much better rec than that. Hancock would need to be added to the 40 man if he did.
When Theo talked about adding strike throwers, he wasn't kidding. Anthony Bass fit that bill this spring along with Kyle Ryan. Ryan did not have a good 2017. However, he was pretty good before that in Detroit. Being a lefty gives Ryan a distinct advantage over the other two. The 6'5" 26-year-old is an intriguing option who put up a 3.07 ERA in 56 games in 2016. But will Joe Maddon want to go with four left-handers in the bullpen?
Ryan pitched just 8 innings so far while Bass only got in 5.2. Those totals don't seem enough to judge an extra reliever/bullpen man.
Part of me also wonders how much the Cubs will be looking at the waiver wire here the next few days to see if there's a player with substantial talent that gets cut right before the season starts.
Another part of me says the Cubs are going to go with the more experienced player. In that case Ryan has the most experience and has actually had some success at the major-league level. On the other hand, Bass had the best spring, but is the oldest player at 30. As for Hancock, I think he has the most talent. And to be honest, talent usually wins out.
In the end, though, the bullpen on March 24 is not going to matter that much in the big scheme of things. I look more towards how the bullpen develops over the course of the summer and the names that are going to be there in October.
At some point, Dillon Maples will enter the discussion later this year along with my guy, Dakota Mekkes. A lot can happen between now and August 31, the day playoff rosters are due. The Cubs have a lot of time to sort things out for October. For now, though, they will have to make a decision just about who begins the season on the 25-man roster.
By Todd Johnson
Getting Some Action In
While the major league players have just 10 days left in camp, the Cubs minor-league prospects are just now getting in the swing of it after 10 days as there season does not begin until April 5. Games started being played this week out in Mesa and the surrounding areas like Scottsdale in Yuma. Two key highlights of the week were four perfect innings from Jen-Ho Tseng and three scoreless from Jose Paulino. In addition, both Zack Short and Wladimir Galindo each cranked out home runs. And according to Arizona Phil, the source for all the Cubs minor-league news this spring, outfielder Eddy Martinez is off to a really strong start.
In the major league camp, the Cubs cut the roster down to 37. One of those cuts was World Series champion Justin Grimm. The writing has been on the wall for a little bit since he actually wound up going to arbitration against the Cubs. As a result, Grimm's contract was not guaranteed this year. I don't think the Cubs are going to try and re-sign him to a lesser deal. On Thursday this week, I wrote about who could possibly be the last reliever standing. Grimm's cut narrows it down to Eddie Butler and what looks to be dark horses in Anthony Bass and Justin Hancock. Not quite sure how that is going to play out over the next 10 days but there are only 3 non roster invitees left in Bass, Kyle Ryan, and the hard throwing Hancock, who pitched at Tennessee and Iowa last year.
Roster Fluidity
With just 37 players left on the major league roster, minor league rosters are starting to take shape. They are far from final, though. For example, Iowa currently has 37 players on its roster along with four players on rehab. Let's say that 7 out of the 10 nine roster invitees get signed to minor-league deals for 2018, that puts the roster at 44. Close to 15 of those players are going to have to either be moved down to Tennessee or cut. That will start a chain reaction to adjust the rosters for opening day of the minor league season. However, that's not going to happen for another two weeks. I imagine rosters will be released on April 1 or 2 for most of the minor-league clubs.
A New Toy
My wife and I broke down and used some of our income tax refund to buy a new camera. We got a Canon EOS T6 with 3 additional lenses to zoom in. She wants to use it for the birds in the backyard and I want it for baseball…imagine that! I cannot wait to take some pics with it next month.
On a Personal Note…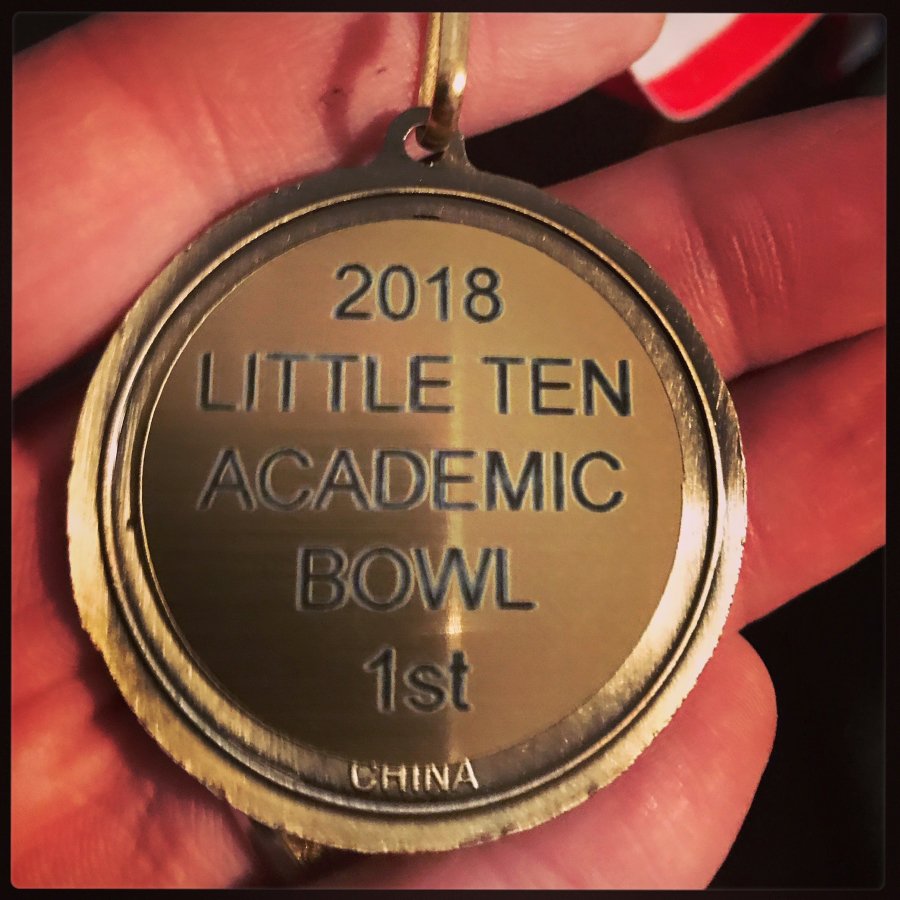 My busy season at school officially ended on Thursday night when my academic team won the conference tournament!!! It was a pretty sweet victory and I have a mostly young team that loses just two seniors, but my leading scorer this year was a sophomore. I also had three underclassmen in the starting lineup every night. It was fun to watch them grow by leaps and bounds.
As a result, I have all kinds of free time now. I began flushing out the affiliate previews a little bit more this week and I also had time to write two articles. One was for Cubs Insider on the recent minor-league pace of play changes and the other was for BP Wrigleyville on which minor league affiliate to watch this spring.
My Annual Fantasy Team
I used to play in a lot of fantasy baseball leagues. Now, I have it narrowed down to one. It's the same ten team league I have been playing in for years and we held our live draft yesterday. I think my team looks decent, although I am one starting pitcher short. Here is who I have:

C – Salvador Perez, Welington Castillo
IF – Votto, Altuve, DeJong, Moustakas, Starlin Castro, Chapman
OF – Judge, Reddick, Hoskins, Austin Hays, Marwin Gonzalez,
U – Logan Morrison
Bench – Eloy Jimenez, Gleyber Torres, Ronald Acuna, and Nick Senzel
SP – Yu Darvish, Kyle Hendricks, McCullers, Arrieta, Taijuan Walker
RP – Wade Davis, Edwin Diaz, Sean Doolittle, and Brandon Kintzler (I will be replacing him with a starting pitcher in the next week)
Bullpen – Walker Buehler, Zach Britton
I like my team better for the summer than I do for April as I took some risks in adding a lot of future rookies on the bench and drafting Britton, who is currently injured.
Coming Up Next Week
The final article in the "Leveling Up" series comes out on Wednesday. Outfielder Brandon Hughes, who should be at South Bend in 2018, has his possible future profiled about what kind of player he's going to be.
After that, I don't have anything planned for two more weeks until MiLB opening week+. Nothing is pre-written as most of the off-season is. So, I'm just gonna go with the flow of what is happening for about 10 days. It should be a lot of fun for a change. And I will probably make some cards … just like this jem.
Made from a photo by Jen Nevius
By Todd Johnson
Pedro Strop.
Carl Edwards, Jr.
Mike Montgomery.
Justin Grimm.
Justin Wilson.
Those names don't exactly exude confidence to get the final three to nine outs of a game. After yesterday's announcement that the Cubs did not tender a contract to reliever Hector Rondon, new pitching coach Jim Hickey's job just tougher, a lot tougher. At over $6 million, Rondon's contract was getting too pricey to just be a setup man. The Cubs essentially said, "Thank you for service, but no thanks for 2018." As a result, Theo Epstein and Jed Hoyer now have their work cut out for themselves this offseason.
Originally, just Wade Davis and Brian Duensing had left via free agency. The Cubs now have to replace half their pen and add depth to stash at AAA Iowa, which appears to be well underway.
Since the end of last season, the Cubs have taken some flyers on some arms with minimal MLB experience. Righty Luke Farrell could relieve, he could start. He has 13 career MLB innings. Righty Cory Mazzoni has 16 career innings to go with his shiny 17.28 career ERA. Lefty Randy Rosario's career ERA is a whopping 30.86 in just  2.1 innings. And this week, the Cubs signed 29-year-old lefty Dario Alvarez. He might be alright. He threw 16 IP in 2017 with a 2.67 ERA but also put up an unsustainable whip of 2.02. He walked 14 batters. I thought his signing was a little odd as Theo talked about adding strike throwers in his offseason press sessions. I don't think that is what he had in mind.
After seeing those stats, I am not brimming with confidence. I am not in sheer terror either, but I am concerned. The Cubs will need to find a closer and a couple of setup men while adding depth at AAA.
Theo is going to have hit the free agent market and maybe use the Rule 5 Draft (Kohl Stewart of Minnesota is one name I like) as a cheaper option. Theo has been able to find arms in the past rather cheaply and I am sure he will again. In addition, I would not be surprised to see Theo make a trade for an arm or two rather than overpay in the free agent market or in an international free agent.
Here are some free agent names to look for to see if the Cubs are associated with or show interest in over the next month:
Brian Shaw, Brandon Morrow, Pat Neshek, Brandon Kintzler, Addison Reed, Juan Nicasio, Luke Gregerson, Fernando Rodney, Matt Albers, Tony Watson, and Jake McGee.
As for internal options…

Dillon Maples is close to being ready. While he has top flight MLB pitches, it is just a matter of controlling them. At 25, he now stands a better chance of making the 25 man roster. I always thought that Jen-Ho Tseng's change-curve combo would play better out of the pen than as a starter. He could get that chance in 2018. While Rob Zastryzny is an option, but I don't know if I see him as a long term option. Justin Hancock is another strong arm. He had an up and down year year for three MiLB teams in 2017, but he does throw in the upper 90s. David Garner finally made it to AAA in August but struggled in his one month there. He is going to need some seasoning at that level. One name I like is Tommy Nance. He spent all of 2017 injured. He reminds me of Brandon Webb in that he throws a "hard" ball that breaks a lot of bats. Nance would be a very longshot to make the team, but I could see him getting a shot later in the summer if all goes well with his health.
In the end, adding three to four more arms to a corps that struggled to find the plate in 2018 is a bit concerning. All last night I kept wondering if Theo would overpay for pen security or would he try to find undervalued arms somewhere. However, heading into day 2 of the Shohei Otani watch, rebuilding the pen could take a while as the Cubs do have more pressing needs at starting pitching. Once the Otani dust settles, it should be interesting to see how the bullpen shakes down.