By Todd Johnson

22.
That's the number of spots for starting pitchers that are available when the minor league season begins on April 4. So, I sat down at the old spreadsheet trying to figure out how to take those 22 and begin to narrow it down to 6 guys for this preseason all-star team. Yeah, it was not very easy. I hit up my friends John and Cory for their top 6. They weren't even close to each other. This was going to be tough.
At one point, I thought of having starting rotation A and starting rotation B. After I thought about it for 15 minutes, that is what I did…for 15 minutes. Just to get to 12 was excruciating and I then I realized I left out three other guys. So, I had to go back to the old drawing board on Google Sheets.
My next brilliant idea was to divide it by AA and AAA vs. A- and A+. That didn't work out so well either as I had 13 guys. I only needed six but my brain couldn't understand itself.
So, I said to myself, "SCREW IT!" and I went with just 5 arms. These five are head and shoulders above everyone else. The depth the Cubs have is so good, most pitchers haven't separated themselves from each other. All the honorable mention guys have an argument to make that sixth spot.
Here is what I came up with for my first half all-star squad for pitchers.
Starting Pitchers

Duncan Robinson – Great command and control, excited to see him at Iowa all year. 1 year away..
Matt Swarmer – While his fastball is ticking up, his offspeed is other worldly. I am glad to see him start at Iowa to begin the year.
Corey Abbott – I love his tenacity on the mound in that he never gives in. Probably the most competitive pitcher in the system.
Brailyn Marquez – In terms of a pure fastball, he arguably has the best in the system. Now, let's see him learn how to use his other pitches efficiently to get him deeper into games. He only saw the 7th inning once last year.
Justin Steele – His 2018 season was a bit awe-inspiring coming back so quickly and so dominant from TJS in late 2017. Back up to 95 mph, 2019 will see him using that fastball and a plus curve to attack hitters. Now on the 40 man roster, his first full season back should see him be even stronger than he was last year. I am little giddy to see what he can do at AA. But first, he's going to stay in Mesa until he is fully stretched out.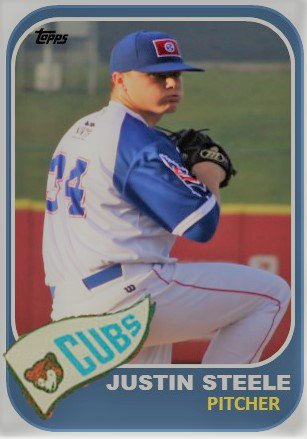 Honorable Mention Starters– Yovanny Cruz, Trevor Clifton, Thomas Hatch, Alex Lange, and Keegan Thompson.
All five of these arms could very well have been the sixth man in this list and would have had a good argument to do so. Of them, Cruz currently has the most upside and has been reportedly cranking it up to 95-96 at times in spring training. If that is true, he is easily going to be the breakout arm of the first half.
Sleepers
Riley Thompson, Derek Casey, Faustino Carrera, and Erling Moreno.
Outside of Moreno, this should be most of South Bend's starting staff. I am excited to watch them throw every night. Thompson is a kid who I almost put in the sixth spot.

The Wild Card – Jose Albertos – I still love his pitches. Hopefully, he can put everything back together this year and be a dominant guy on the mound. He should probably start in EXST to begin the year.
Relief Pitchers

Bailey Clark – He just has to stay healthy. He has everything he needs except experience in the upper levels of the minors. He looks like he is going to be doing piggyback starting to begin the year to keep him stretched out a bit.
Brian Glowicki – He didn't allow a run the last six weeks at South Bend. He's a bulldog out there.
Dakota Mekkes – I will get him a ticket to Chicago. He's ready.
James Norwood – Just biding his time while waiting for his chance.
Dillon Maples – Samesies.
Garrett Kelly – I am pulling for this kid to get even better after an off-season in the system.
Manny Rondon – He just kills lefties and I am ready to see him do it full time from the pen.

Three Sleeper Relievers to Watch: Sean Barry, Ethan Roberts, and Riley McCauley are three back of the bullpen guys who will be doing so at South Bend. They all have experience in the past year at Eugene and/or in college. Seeing who is best fit for what role could take some time as all three adapt to the rigors of pitching in the Great Lakes region in April. 
To Be Determined – Adbert Alzolay and Oscar de la Cruz
Alzolay can't seem to stay healthy while Oscar was suspended in an attempt to stay healthy. I will join everybody else in hurrying up and waiting for them to get it together. According to Arizona Phil, Osar is going to stay stretched out as a starter in EXST for when he returns from his suspension in late May.