By Todd Johnson

While everyone is hurrying up and waiting, spring training has officially begun. Still, the game's biggest free agents are without contracts. When position players officially report later this week, I hope to see something happen quickly as opening day will be just a month away.
As for the Cubs' own news, it was not the best of weeks.
The biggest news of the week did not involve a player. Rather, it involved the Cubs announcing their new regional sports network (RSN) called Marquee.  Here is the original press release.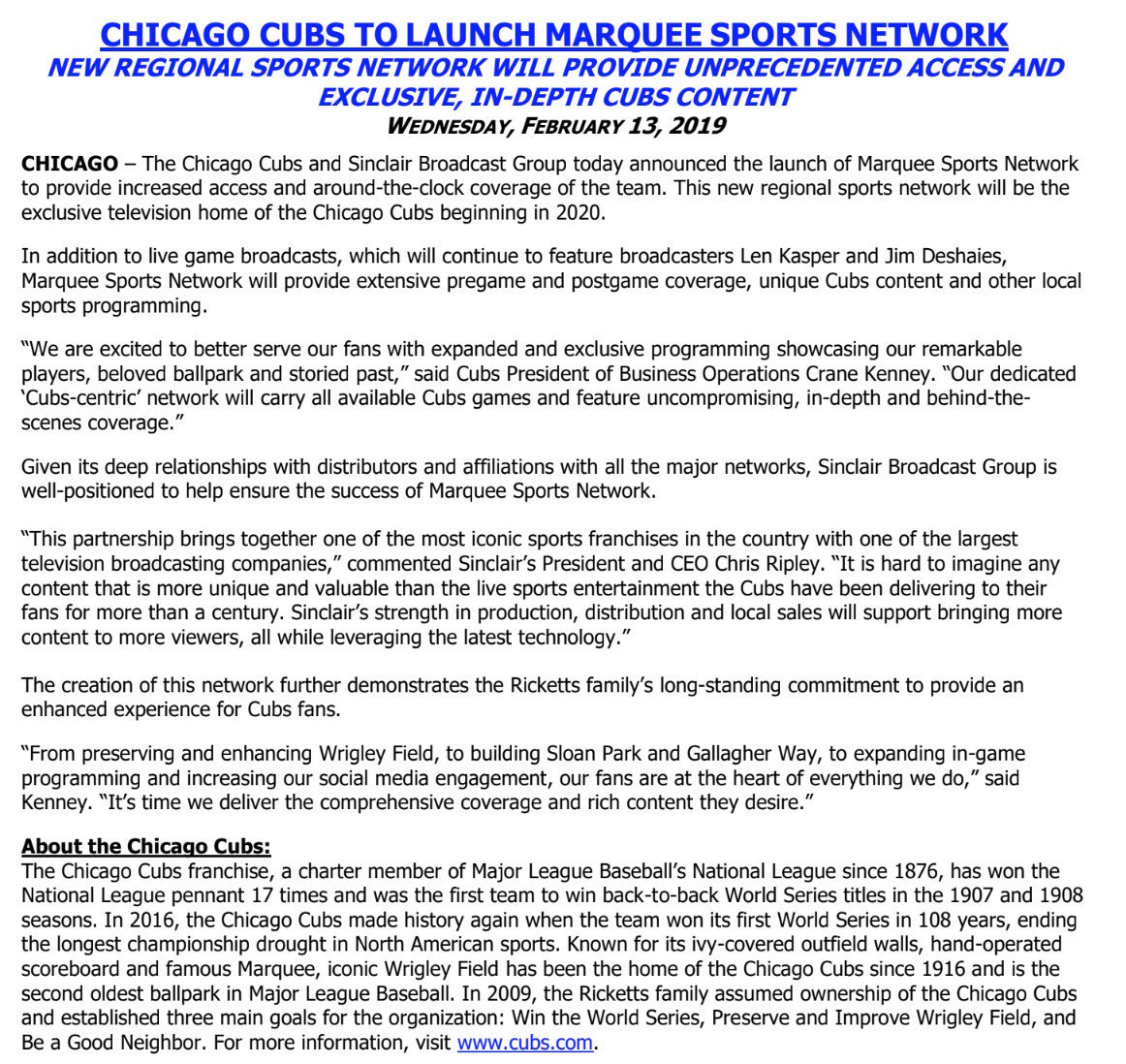 All the details  were not released for Marquee. No one knows how much it's gonna cost individually or how much it's going to affect someone's TV bill, but MLB blackout rules will still apply. More information should be coming soon as Sinclair Broadcasting will begin assembling stations and providers for the soon to be Cubs station. The Cubs will be in charge of the content on the station. That content could include documentaries, past games, pre and post game content, and interviews. There will be more details worked out in the coming months. When that happens, it will be exciting to see the impact that could have on the club and the fan base. I also wonder how this station will cover the minor league system and draft, if at all.
Other news of the week included the opening day presser on Tuesday and an awkward and poorly rehearsed press conference on Friday involving a certain suspended player. It's time to move on.
The Closer
With Brandon Morrow on the shelf for likely the first month of the season, the Cubs will need someone to close out some games. Pedro Strop should be at the top of the list while Steve Cishek and Brad Brach should be in the mix, too, as Joe could mix and match depending on the situation and usage. However, word out of camp is shows Carl Edwards, Jr. revamping his delivery with a pause that supposedly helps make him more accurate. I will hold off until it works in a game. 
The Cubs also signed lefty reliever Xavier Cedeno this week. Cedeno put together a very successful 2018 (2.43 ERA in 33.1 IP) and should stand a good shot of making the 25-man squad when camp breaks.
In minor league news…
The Cubs released 11 minor leaguers per Arizona Phil. The following pitchers were given their walking papers: Anderson Acevedo, Yan de la Cruz, Wander Feliz, Hector Alonso Garcia, Jose Alejandro Gonzalez, Ronaldo Lopez Junior Marte, Enzo Perez, Andry Rondon Freddy Tineo, and Sucre Valdez. 
Fangraphs released their Top 100+ prospects and the Cubs had a few make the list. Catcher Miguel Amaya came in at number 73 while Nico Hoerner just missed the top 100 at number 105. Shortstop Aramis Ademan was not too far behind at 119. Former Cubs Eloy Jimenez, Dylan Cease, and Isaac Paredes also made the list at 8, 58, and 118.
International Free Agency
Ben Badler of Baseball America revealed earlier this month that the Cubs looked to be in on two of the top young international free agents that will be available this July 2. C Ronnier Quintero and SS Kevin Made (subscription required for both articles) are 2 of the top 20 young players on the market. The Cubs could be in on more players as spring arrives.
Cards
Here is the link to the album for the current set of cards.
Coming up Next Week
MLB Pipeline will release their top 30 Cubs prospect list on Thursday. I will have a review of it later this week. Usually, Pipeline is hesitant and resistant to change. This year, their list could be revealing about how much the system is turning over from a pitching dominant system to young, athletic hitters like Amaya, Hoerner, Cole Roederer, and Brennen Davis. I am looking forward to seeing how much love the 2018 draft class gets.
Earlier this winter, I wrote about the many effects of the second Mesa team. I am going to expand that thought and analyze the effect of having the extra Arizona Rookie League on the possible Cub draft strategy.