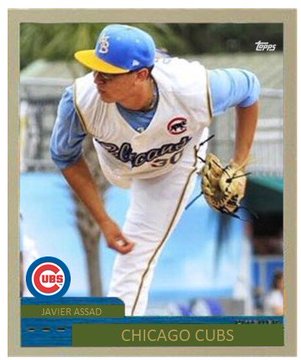 Pitcher Javier Assad is having himself a month at Myrtle Beach. Dating back to the 27th of April, he's thrown 21 straight scoreless innings. Included in there are a wave of 20 strikeouts in those 21 frames. WIth a 2.19 ERA and falling, Assad is in the running for the Cubs' MiLB Pitcher of the Month for May.
Basic Info
Ht: 6'1"
Wt: 200 lbs.
Throws: Right
Signed as an IFA in 2015
From: Tijuana, Mexico
Age 21
When I last wrote about Javier at the end of 2017, he had just finished Eugene and I said he would have his work cut out for him in 2018 at South Bend. And he did.
He came out on fire for South Bend with an 0.95 ERA in 4 starts in April and was decent in May with a 3.91 ERA. He began to labor through things a bit in June with a 5.87 ERA. Then, all of a sudden, he turned it back on in July with a 2.55 ERA In 5 starts. It looked like he figured things out. Then, he bottomed out in August as he was shelled with a 9.00 ERA. It was tough to watch at times.
Heading into this season, Fangraphs said that Assad was "a maxed-out righty with advanced pitchability for his age. His stuff is average." His stuff doesn't appear so average at this stage of the season.
Something is clicking for Assad this year. Part of it could be maturity, part of it could be he's in better shape, and part of it could be his stuff.
Currently, Assad has a 2.19 ERA over 7 starts. Take away his worst start where he gave up 5 runs in 5 innings and his ERA drops to 1.41 over 32 innings. Going back and re-watching him, I noticed some things about Assad that are happening.
1. Conditioning
He just looks more trim than in previous seasons. He used to carry, for lack of a better term, some baby fat. The upper part of his frame looks more athletic. Last fall, the Cubs changed up their offseason program for their prospects. Instructs were no longer in the fall. Instead, conditioning took its place. Assad looks to have benefitted from that change. Now, instructs take place a few weeks before spring training. Any changes he made over the winter and in instructs now carry right into spring training and the season.
2. Spots
He is hitting them with regularity. Rarely will Miguel Amaya or Teddy Payne adjust their glove for his fastball. Having good fastball command is always a key at this level.
3. Walks
He is not giving up many. He's averaging around 2.5 per nine innings.
4. Efficiency
6, 6, 7. Those are his last three inning totals this season. In April, he made 4 starts with a 4.50 ERA. In 5 starts, he only managed 19 innings. And in those five starts, his innings and pitch totals are quite different when compared to May. For April – 5 innings, 75 pitches; 4 innings, 81 pitches; 4 innings, 86 pitches, and 5 innings, 86 pitches. Contrast that with May – 6 innings, 80 pitches; 6 innings, 85 pitches; and 7 innings, 85 pitches.
What to Watch for in the Future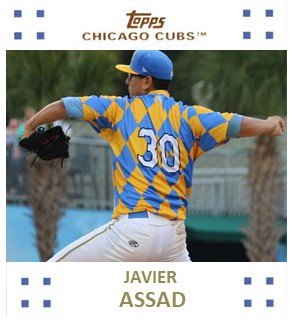 Considering the streak Assad is currently on, I am not concerned when it will end but more so how it will end. Will it be a big blowout or just a simple run or two in a single game? Finding that consistency is key. Throwing in the low to mid 90s with his fastball, he is going to head to AA at some point in the future. Could it be this summer? With the plethora of pitching the Cubs have, and the fact that Assad is still just 21, he should be at the Beach all year. You never know, though, stranger things have happened in this system.
Overall, I would just like to see him be consistent from month to month and to stay healthy. AA is going to be the big test of how his stuff could play at the MLB level. One area of concern that I have, that in spite of his troubles or successes, he is still throwing about 62-63% if his pitches for strikes. He's going to need to bump that up to 66-67% to succeed at the higher levels of the minors.