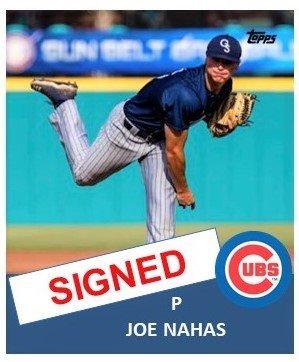 One of the most surprising moments from this summer's draft cycle was when the Cubs signed free agent pitcher Joe Nahas on July 12, the last day to sign players for this year. Nahas went undrafted out of Georgia Southern and had been pitching for the Cotuit Kettleers in the Cape Cod League. It is not uncommon for the Cubs to sign a couple extra non-drafted free agents every year, it's another thing to sign them for $135,000. That amount is about $134,000 more than they normally might sign one. 
Basic Info
Ht: 6′ 1″
Wt: 185
Throws Right
Age: 21
Non-Drafted Free Agent 2019
Georgia Southern
Every person's journey is different and most of them are not smooth. For Nahas, he fits into both categories. He went to three different colleges in three years before catching fire this summer on the Cape. Originally from Frackville, Pennsylvania, Nahas originally attended the University of Maryland in Baltimore County. His freshman year did not go very well. He got in six games, all in relief, throwing only 7.2 innings while giving up 14 runs for a massive ERA of 16.43. Needless to say, that didn't stop Nahas.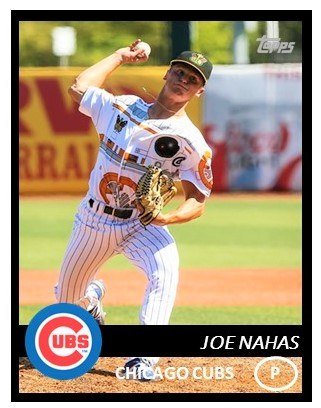 His second stop was at Chesapeake College, a junior college in Maryland. His time there was a rousing success. He appeared in 14 games, starting 12, where he threw 73.2 innings. He struck out an amazing 142 batters in 2018. That is 17.35 per nine innings. That improvement got him a trip down south to D1 Georgia Southern. 
Nahas' tenure at the division one school saw him getting in just 13 games as he only threw 38 innings. He did strike out 37 and his ERA was just under five. 
While he did go undrafted, Nahas earned a trip to the prestigious Cape Cod League where he played for Cotuit. And those strikeout rates of his sophomore year in Maryland came right back. In 18 innings, Nahas struck out 27 batters while only walking six as he posted a 1.50 ERA in five games. His last start saw him go six innings and strike out five on July 2. Based on the summer Nahas was having on Cape Cod, one could see why the Cubs had to pony up a little extra money to get him. 
It took less than 2 weeks and on July 23 Nahas suited up for the Cubs 1 team in Mesa. His first game saw him strike out 3 batters in one inning of work. On July 28, he had a bit of a rough time of it giving up five runs in 2/3 of an inning. Two days later he was on his way to Eugene.
For the most part his delivery is pretty quiet except for a little herky-jerky move with his forearm just before he begins to propel the ball forward to the plate. His fastball sits 94 to 96. Here's a quick look at that pitch.
As long as he commands it down in the zone, he looks good. Like any pitcher. If he leaves it up or over the middle, you know what happens. 
However, the pitch that really impresses me is his slider. If he can control it, it has a lot of swing and miss to it. Here's a look of that pitch in action.
This is pretty much Nahas' "money pitch."
I would not get too hung up on his stats from this year. It's been a bit of a whirlwind for him. After allowing 2 runs in his first outing, he's only allowed 1 since while striking out 10 in 8.1 IP. This year is really all about getting acclimated to the daily routine of a professional. 
I'm more excited to see what he can do next year. He's basically been throwing since February and he is still pushing it up there at 94 to 96 miles an hour. I would lean that he's going to be a reliever with his two pitch mix. I haven't really seen a third pitch from him just yet.